6 Tech and Electronics Items You'll Probably Regret Buying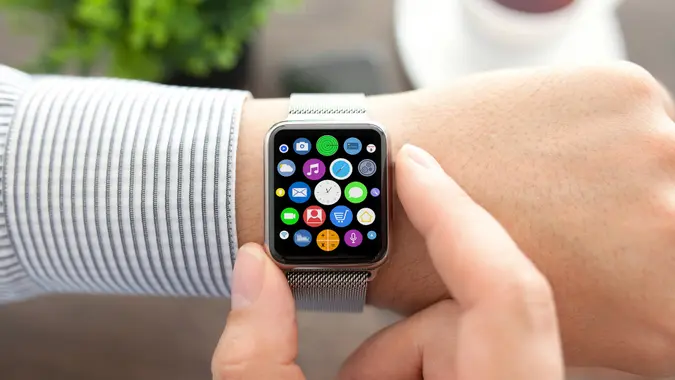 Denys Prykhodov / Shutterstock.com
Americans are crazy for tech, and they're spending a fortune on it. According to the Consumer Technology Association, U.S. tech retail revenue will top $485 billion in 2023.
Discover: 11 Grocery Items To Buy at Dollar Tree
Learn: 3 Ways Smart People Save Money When Filing Their Taxes
Food Stamps: What Is the Maximum SNAP EBT Benefit for 2023?
But how many tech and electronics items are simply not worth the hype or are just dud buys? What are better alternatives? In these rocky economic times of soaring inflation, these are important questions to ask. 
Let's look at six tech and electronic items that you'll probably regret buying — and what you should consider buying instead. 
Smart Kettles
Smart kettles offer temperature control, app programming and voice direction. They typically can be purchased for anywhere from $75 to $200.
"These are pricey and, other than offering the ability to control from your smartphone, they don't have any real advantages over standard electric kettles," said Julie Ramhold consumer analyst with DealNews.com. "You can expect to easily spend over $200 on a smart kettle, if not more; whereas, an electric kettle like the highly rated Cuisinart PerfecTemp is around $100 and still provides a great capacity reservoir, multiple temperature settings and speedy heating.
Make Your Money Work for You
"Yes, you have to physically hit the button on the kettle, but it's a better deal than springing for a smart kettle that could potentially fail and turn into a dumb kettle anyway. Even worse is if it won't function unless it's connected to Wi-Fi, so another reason a standard electric kettle is a better buy."
Cheap Security Cameras
You can get a simple one-camera security system for as cheap as $35, but you typically get what you pay for.
"There are a variety of security cameras out there for anyone who wants to build their own home security system," Ramhold said. "But, while these cheap cameras may allow you to keep an eye on your home physically, they could be opening up your defenses digitally. Shady cameras with lax security open you up to hackers and other kinds of cyber criminals. So, before you go investing in any system, you need to know the privacy policy and how your data will be stored.
Make Your Money Work for You
"There are plenty of roundups of hack-proof cameras you can buy, so it's best to check those out before you decide; however, a good general rule of thumb is to probably rely on companies like ADT that have been in the home security game for decades."
Smartwatches for Kids
"These are data privacy nightmares, but Apple Watches — even those designed more for kids — are pricey," Ramhold said. "Instead of opting for a smartwatch, consider things like the Jiobit smart tag, which features GPS tracking.
"Parents can use the corresponding app to set up trusted places and members of the care team so that any trusted person can track their child's location. It does require a subscription plan; but, considering the highest tier is $6 per month and offers things like 911 SOS capabilities and an alert button, it may be well worth the cost, depending on how often your kids are left alone. Even the basic subscription provides SMS and email notifications, which may be ideal for older kids with a busy routine."
Make Your Money Work for You
Smart Cocktail Machines
"These are gimmicky, pricey machines that may look sleek and cool as part of your home bar setup but really aren't worth the $1,000-plus cost for the machine," Ramhold said. "Even if you have a cocktail every single night, you're much better off getting a good blender like a Vitamix for things like frozen drinks and sticking with a basic cocktail setup of a decent shaker and stirrer for everything else.
"You'll be able to figure out your perfect ratios through trial-and-error, and you certainly don't need an expensive machine to craft a cocktail for you when you can mix it yourself."
GPS Devices for Your Car  
Car GPS systems can be had for as cheap as $20, but that does not include the subscription fees. As advanced as phones are these days, a separate GPS system for your vehicle might be a waste of money.
"In mid-2022, I bought a GPS device for my car, which I regret buying," said Ryan Faber, founder of Copymatic. "While using a GPS device, I understood that a mobile phone GPS app is sufficient for driving purposes. The GPS navigation capabilities of mobile devices are more serviceable and adequate for both driving and geocaching.
"There aren't many advantages to a dedicated GPS gadget over a smartphone GPS app. Voice commands, the capacity to integrate and manage other apps, and the ability to switch to a different navigation app whenever you want to make your smartphone more reliable and steadfast as compared to GPS devices." 
Audio Recorder 
Phones generally have replaced recorders, which typically cost at least $100.
"I never needed that audio recording device," said Juan Pablo Cappello, co-founder and CEO of Nue Life. "It hasn't been a user-friendly device, and the instruction booklet that came with it was surprisingly thick.
"Any smartphone you buy comes with an audio-recording application, and it's sure to work fine. There is no noticeable difference in quality — and I even asked a sound engineer to compare."
More From GOBankingRates
Make Your Money Work for You