The Average American Spends This Much on the Holidays — See How You Stack Up (and How To Pay it Off in 2 Months)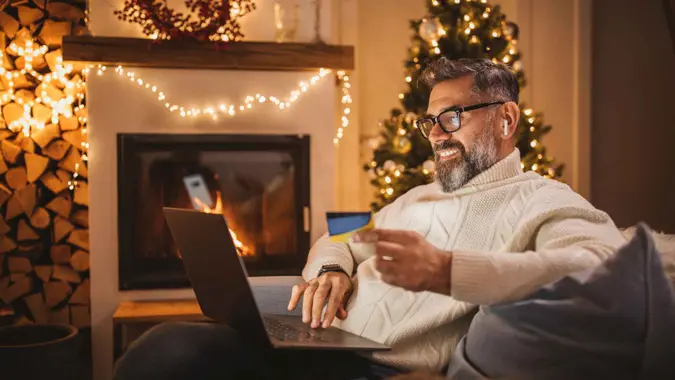 svetikd / Getty Images
After soaring inflation took a wrecking ball to holiday budgets in 2022, U.S. consumers are feeling much more confident about their finances heading into the 2023 holiday season. Spending on holiday travel is expected to rise by about one-third this year vs. last year, according to a new survey from Ally Bank, while spending on gifts should rise by 10%.
Many consumers will take on debt to pay for these things — and carry that debt well past the holidays.
The survey of 1,000 U.S. consumers, conducted in October, found that the average amount of holiday expense debt is expected to be around $1,100 in 2023. That's the same amount of money consumers are expected to spend on gift giving, up from $1,000 in 2022. Spending on travel is projected to average $1,200 in 2023 vs. $900 in 2022.
In terms of Christmas alone, an average of $1,400 will be spent on travel, gifts, entertainment, decorations and other items.
Additional highlights from the survey include the following:
More than half (52%) of consumers plan to take on debt to pay for holiday expenses this year, but less than one in four (23%) of these consumers believe they will pay it off within two months.
Nearly twice as many (44%) believe it will take them at least five months to pay off their holiday expenses.
Manage Your Spending Without Being Too Stingy
One way to ensure you're not strapped for months with holiday debt is to manage your spending wisely, according to Nicole Cope, senior director of wealth advisors at Ally.
Make Your Money Work for You
"You don't have to buy gifts for everyone," Cope stated in an email to GOBankingRates. "If budgets are tight this year, consider gifting experiences over big-ticket items or having a gift exchange instead. Have a potluck with your loved ones instead of cooking up and paying for a full dinner. Set expectations with your children and don't overextend yourself."
She also recommended purchasing all of your gifts at the same time to avoid overspending.
"Behaviorally, we tend to justify overspending in small quantities, but it adds up," Cope added.
Another wise strategy is to avoid high-interest "buy now, pay later" (BNPL) services.
"Using zero-interest or very low-interest BNPL services can be useful if you're setting aside a fixed sum of money every month to pay off your purchases," Cope indicated. "But always remember to read the terms and conditions of the BNPL service you are using, and avoid any high-interest services."
If you do pile up a lot of debt this holiday season, there are steps you can take to pay it off within a couple of months. One option is to earn extra money through a side gig or part-time holiday work. Amazon alone is expected to hire about 250,000 people this holiday season, Reuters reported. Target and UPS are expected to hire about 100,000 each.
You should also strategize over how to pay down your debt.
"Head into 2024 with a resolution to pay off any high-interest credit card debt first," Cope suggested. "Use excess savings in the new year to chip away at your credit card debt."
More From GOBankingRates
Make Your Money Work for You