The Best Day of the Week To Shop at Walmart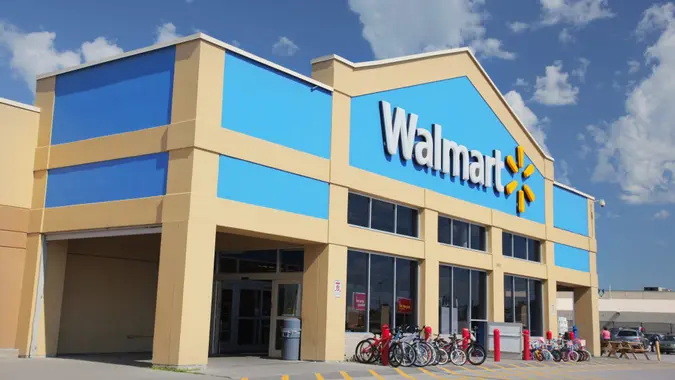 buzbuzzer / Getty Images
Timing is everything when shopping at Walmart. Whether you're hoping to score extra savings, want fully stocked shelves or hope to avoid crowds, when you shop matters.
Because there are so many different motives for shopping at the discount retailer, the best day of the week to visit may depend on what you hope to get from your trip. GOBankingRates spoke with several shopping experts to find out which day they think is best for a Walmart run.
The general consensus had weekday mornings as the ideal time to shop, but they didn't necessarily agree on the exact day. Keep reading to find out what time of the week might work best for your Walmart shopping.
Also check out the dos and don'ts of Walmart shopping.
Tuesday Mornings
Lindsey Chastain, founder and CEO at The Waddle and Cluck, said, "The best time to shop at Walmart is early on weekday mornings, specifically from 7 to 11 a.m. This window allows you to avoid the weekend crowds and take advantage of freshly stocked shelves, markdowns on perishables, a tidy and organized store environment, ample time to browse without feeling rushed, easy parking and speedy checkout."
Shopping at this time should allow you to find everything you need.
"Shelves are replenished overnight, so you have first pick of new inventory in the morning before the after-work crowds arrive," she said. "Perishables like meat and produce often get marked down first thing in the morning if they're near expiration, allowing you to save 30-50%."
Make Your Money Work for You
Mornings in general are her favorite time to shop at the store, but she also has a preferred day.
"I shop on Tuesday mornings because that's when my Walmart restocks bread," she said. "If there is a specific item you would like to get at its freshest, ask your Walmart associates when they stock that item and shop the morning they stock that item."
Monday and Tuesday Mornings
Samantha Landau, consumer expert at TopCashback USA, said, "Monday and Tuesday mornings are great times to shop at Walmart. Many Walmart stores receive new shipments and restock their shelves over the weekend."
She said this makes the beginning of the week a preferred time to shop.
"By Monday or Tuesday, they are more likely to have their stock fully replenished, making it an ideal time to find a wide selection of products and fresh items, including produce, dairy products and meats," she said. "Shopping early in the morning can also help you avoid big crowds and create a less hectic shopping experience as well."
Mid-Week Mornings
Melissa Cid, consumer savings expert at MySavings.com, "A mid-week morning, such as Wednesday, is the best time to shop at Walmart. Mid-week is when the store is actively replenishing its inventory after the weekend rush."
Fewer crowds and stocked shelves will make your shopping experience more enjoyable, as you'll get your pick of the freshest produce and meats, she said.
Make Your Money Work for You
However, if saving money is your top priority, you might want to save your shopping until later in the day.
"For those seeking significant discounts, shopping at Walmart on a weekday evening is the ideal choice," she said. "This is when markdowns for the following day occur, leading to savings of 30-50% off on items marked with discount stickers."
She said you'll find these discount stickers on a variety of products, including items from the bakery, produce and meat sections that will soon expire.
"If you notice a package of meat nearing its expiration, just take it to an employee at the meat department and they are very likely to add that discount sticker on it for you," she said.
Beginning of the Week
Jen Schreiner, founder of Inspiring Savings, said, "Shopping at Walmart during the busiest times can overwhelm the soul. Not only are you trying to rush through your list, but you also find yourself needing to dodge through a sea of people."
She said this can cause a lot of stress, so if you have the luxury of shopping during off times, it would be in your best interest.
"I like to shop at Walmart between the hours of 7 [and] 11 a.m. and at the beginning of the week," she said. "I prefer Mondays and Tuesdays best."
She said most people visit the store later in the week and on the weekends, so getting your shopping done early will allow you to get everything on your list after late-night stocking has been completed.
Make Your Money Work for You
So there you have it: Weekdays earlier in the week are generally the ideal time to shop at Walmart. In most cases, it's best to try to get your shopping done early in the day, but making a late-night trip can also pay off, so do what works for you.
More From GOBankingRates