10 Things To Always Buy at Dollarama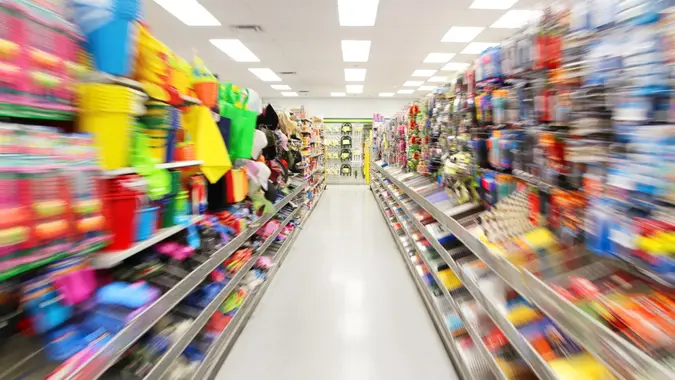 EricFerguson / Getty Images/iStockphoto
Dollarama has grown into a massive brand from its humble beginnings in 1992. Today, the company has more than 1,000 corporate-owned retail locations in multiple countries.
Learn: If Your Credit Score is Under 740, Make These 4 Moves Now
Customers love the value, quality and variety of everyday items found at Dollarama. The store offers low fixed prices on all goods, but you'll get the deepest discounts when you buy in bulk. While it won't likely be a one-stop shop for everything on your list, Dollarama stocks staples and seasonal items, and knowing what to look for can make it a worthwhile stop for any budget-savvy shopper running errands.
10 Best Things To Buy at Dollarama
Like any discount store, some deals are better than others at Dollarama, so it's best to go in with a plan to purchase the products that offer the biggest discounts. Read on to learn which products will get you the best deals at Dollarama.
1. Holiday Décor
Deals are always in season at Dollarama, which offers discounts on some of the most popular holiday items. You can cross a variety of things off your holiday shopping list at great prices from Dollarama, like candy canes, stockings and LED holiday lights.
Make Your Money Work for You
2. Cleaning Supplies
Dollarama is also a great place to stock up on everything you need to keep your home clean — and not just cheap generic brands that don't get the job done. Some of the best deals found on cleaning supplies at Dollarama include Lysol Disinfectant Spray and Clorox Disinfecting Wipes, as well as great pricing on paper towels and other supplies.
3. School and Office Supplies
The cost of school and office supplies can add up quickly. Dollarama offers deals on everything from paper and pens to crayons and paintbrushes.  
4. Hardware and Tools
Dollarama features competitive pricing on hardware and hand tools for household jobs. Find duct tape, screwdrivers, lightbulbs, gloves and several other items that will help you complete your projects around the house at seriously low prices. 
5. Party Supplies
No party is complete without paper plates, plasticware and party hats. Whether you're throwing a birthday party, celebrating a graduation or hosting your next family gathering, Dollarama has the supplies you need at prices you can stand. 
Make Your Money Work for You
6. Electronics
If you're looking for basic small electronics like headphones, batteries and phone chargers, the company offers deals that are hard to ignore. You'll have to look elsewhere for bigger electronics, though — you won't find TVs or gaming systems at Dollarama.
7. Toys
It can be tough to justify spending your hard-earned cash on "wants" like toys as inflation rates continue to climb. Dollarama offers a wide selection of toys, games and crafts for all ages at reasonable prices. 
8. Pet Supplies
Pet food and supplies are getting more expensive by the day. Fortunately, these necessities are one of the best things to buy at Dollarama. The company offers food, treats, toys and more at low prices.  You'll love the savings, and your furry friends will love the treats.
9. Health and Beauty Supplies
Maintaining a healthy lifestyle is important, and everyone wants to look good. Dollarama offers a wide selection of vitamins, toothbrushes, shampoo, makeup and other toiletry items. 
Make Your Money Work for You
10. Food
While it doesn't offer a produce section, Dollarama offers great prices on quality snacks, candy and pantry staples. Buying non-perishable food in bulk will get you the best prices, with fewer trips to the store.
Final Take
Dollarama isn't the place to go for high-end goods, and it may not have everything you need. Still, if you want to save money on some of the most popular categories in retail, shopping at Dollarama can be a great way to score discounted goods in a few key categories, and knowing what to look for before you go can make the trip worth your while.
Editorial Note: This content is not provided by any entity covered in this article. Any opinions, analyses, reviews, ratings or recommendations expressed in this article are those of the author alone and have not been reviewed, approved or otherwise endorsed by any entity named in this article.
Make Your Money Work for You