5 Things You Should Always Buy at Estate Sales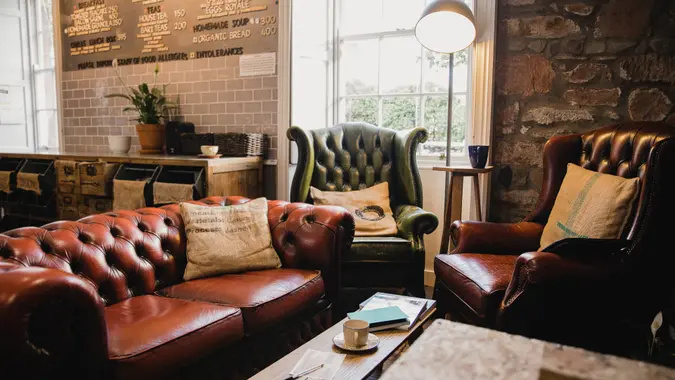 DGLimages / Getty Images/iStockphoto
Estate sales can be a great place to find unique and valuable items. Often held due to downsizing, moving, or a homeowner's death, these sales offer a variety of goods you might not be able to find elsewhere. We'll give you a rundown of five things you should always consider buying at estate sales.
The Difference Between an Estate Sale and a Garage Sale
An estate sale is a sale of the personal property, including household items, antiques, jewelry, art, collectibles, and sometimes even real estate, of someone who has passed away or needs to liquidate their belongings.
Estate sales are typically conducted by professionals who specialize in such sales and may occur over multiple days. A garage sale, on the other hand, is a casual event held by homeowners to sell unwanted personal items, often from their garage or yard. It's typically more informal, smaller in scale, and doesn't usually involve the complete liquidation of a person's belongings. There are a few items you'll want to snag:
Vintage Furniture
Estate sales are a haven for antique and vintage furniture enthusiasts. These items often have a timeless design, superior craftsmanship, and are made from high-quality materials, ensuring longevity. Furthermore, vintage furniture can add a unique aesthetic to your home and, in some cases, can be worth more than their purchase price as they appreciate over time.
Make Your Money Work for You
Art and Decor
Art pieces and decor from estate sales can be exceptional finds. From paintings and sculptures to vintage vases and mirrors, these items can bring an exclusive touch to your home decor. Art and decor from estate sales often come with a rich history and character, and can sometimes be valuable collectibles, making them worthwhile investments.
Jewelry and Watches
Estate sales are an excellent source of unique and often valuable jewelry and watches. From antique brooches to luxury watch brands, the selection can be vast and prices reasonable. These items can serve as distinctive additions to your collection or investment pieces, given that vintage jewelry and watches often appreciate value.
First Edition Books and Rare Publications
For bibliophiles, estate sales can be a goldmine for first-edition books and rare publications. These sales often feature extensive book collections, including novels, historical texts, and specialty publications. Not only can these items serve as unique additions to your library, but they may also hold significant monetary value, particularly if they are signed by the author or are in good condition.
Quality Kitchenware
High-quality kitchenware such as pots, pans, and cutlery can be expensive when bought new. Estate sales often feature these items at a fraction of the retail price, yet they remain in good condition. Opting for well-known brands and checking for signs of wear and tear can ensure that you secure premium kitchen essentials at a bargain.
Make Your Money Work for You
Getting a Great Deal
Estate sales can be a great way to acquire unique, valuable, and reasonably priced items. Whether you are a collector, an investor, or someone looking to enhance your living space, consider venturing to estate sales to discover hidden gems in vintage furniture, art and decor, jewelry and watches, books, and more. With a discerning eye and a bit of luck, you might just stumble upon hidden treasures.  
Editor's note: This article was produced via automated technology and then fine-tuned and verified for accuracy by a member of GOBankingRates' editorial team.
More From GOBankingRates