7 Things You Should Never Buy at Discount Stores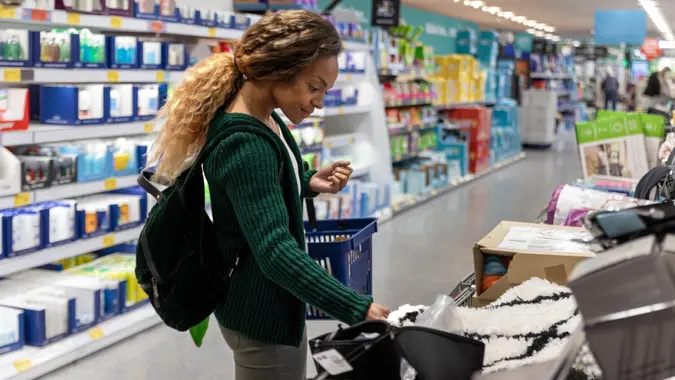 Discount stores can be a treasure trove of exciting deals and surprises. However, the outcome of your trip to one can either be an epic success or a total bust. For example, have you ever been sucked in by a luxurious face cream at a discount store that left your face broken out or beet red, or a pair of shoes that fell apart after a week or two?
Discount stores like Marshalls, Ross and TJ Maxx can be great places to score deals on top-label goods, but they don't always offer the best quality or value. Here's a look at seven things you should think twice about buying at discount stores.
Cosmetics (Makeup and Skincare)
No one wants to be using expired makeup and skincare on their face, and one reason why these products land at discount stores is that they've passed their expiration date. Using expired makeup and skincare can lead to ineffective results, skin irritation, clogged pores and breakouts. So it's best to carefully examine the packaging before you purchase, or better yet, avoid this section altogether.
"The price of beauty products at a discount retailer might be right, but I would skip this category, unless it's a product with a long/limitless shelf life, like face powder, powder blush and eyeshadow, or tools, like brushes or facial devices," said Trae Bodge, smart shopping expert at TrueTrae. "There's no way to tell how long it's been since the product was manufactured, so freshness is questionable."
Make Your Money Work for You
In other words, while it's wise to steer clear of skincare, mascaras, lip products and any cream makeup, makeup tools are generally a safe bet and can offer you significant savings.
Food
After hours of shopping, it's tempting to pick up the bags of candies and snacks from the checkout line of discount stores. However, it's best to check expiration dates and storage conditions to ensure the foods are safe for consumption.
"Like with personal care products, I wouldn't trust how long those products have been sitting on store shelves," Bodge said. "In addition, discounters usually receive products that have been shipped and delivered a couple of times, so I wouldn't feel comfortable buying delicate foods, like chips, for example. You might end up with a bag of crumbs."
Designer Clothes
Who doesn't dream of scoring designer deals for less? However, authenticity and outdated clothing can be a concern. Designer items at these stores can sometimes be irregular, knock-offs, or older styles. If you're looking for authentic, up-to-date fashion, it's best to buy from the brand's official channels or reputable department stores. 
"While designer duds are priced to sell, remember that they are from a season or two ago," Bodge said. "This is OK with classic pieces, but anything trendy isn't going to be in style for long, and therefore, it may end up in the back of your closet. If you do decide to buy designer items, use your phone to search for the MSRP to make sure you are getting a deal worth springing for."
Make Your Money Work for You
Furniture
"While furniture may be a good deal at these stores, check pieces very carefully for damages or flaws like wobbly legs, sticky drawers, etc.," Bodge said. "These styles may be from a limited run that didn't sell well, and there is likely a reason for that."
Furniture often ends up at these stores because it didn't pass inspection checks. While it may save you a little money initially, you'll likely have to replace it in the future, making it a less-than-ideal investment. 
Cookware 
No one wants to keep buying the same items repeatedly, which can happen when you buy cookware from discount stores.
"Brand-name pots and pans at discount stores may be made cheaper specifically for those outlets, which could mean degraded quality, cheaper handles that break more easily and other issues," said Scott Lieberman, founder of Touchdown Money. 
In addition to cheaply made, flimsy products, these stores often carry measuring cups and spoons with painted labels, which become useless after a wash or two. Most of their cookware is also made of Teflon, a controversial material due to the chemicals found in the coatings of non-stick pans.
Toys
The prices of toys at discount stores are unbeatable, but they are likely to lose their appeal when they break during a birthday party. Often, toys in discount stores don't meet safety standards, posing risks with small parts, flimsy materials and breakage.
While not all toys at discount stores are dangerous for children, they do provide some risks that are essential to be aware of. Checking for safety certifications from reputable organizations and inspecting toys carefully before buying is essential if you decide to purchase at these stores.
Shoes
Shoes provide another often deceptive deal at discount stores. While they might look great in the box, they typically don't offer the same quality and support as mainstream stores.
These stores also have a limited selection of sizes and styles, which might not cater to people who need more arch support or specific food needs. Overall, the quality and comfort of discount store shoes are hit or miss and may be a flat-out waste of money if they wear and tear quickly. Frequent shoe replacements add up over time, making it more cost-effective to buy a high-quality pair of shoes that last.
More From GOBankingRates