TikTok's Humphrey Yang: 10 Best Purchases Under $200 To Save Time and Money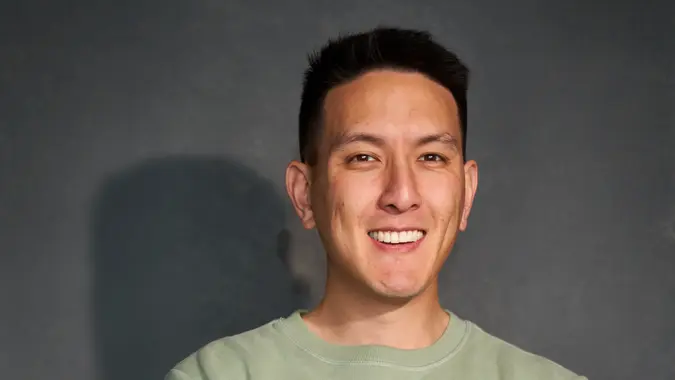 ©Humphrey Yang
In a new YouTube video, online financial influencer Humphrey Yang shared 10 of his favorite purchases for under $200 that can save you time and money. According to Yang, each of these items can increase your efficiency, reduce unnecessary stress, and streamline many everyday processes in your life — all without breaking the bank.
Here is Yang's list of 10 super helpful items for less than $200.
Locking Cookie Jar
A large locking cookie jar is a great option for anyone who wants to stow away items that can easily cause distractions, such as a phone or other small device. You can also lock away treats and other items.
With this jar, you can set an automatic timer that keeps the jar locked for a specific duration. According to Yang, this works better than simply putting these small distractions in another room because it reduces the temptation to use them.
On Amazon, a locking cookie jar costs around $59.
Sunrise Alarm Clock
This Philips alarm clock works by producing a light that's meant to imitate the sun's natural rays. Unlike other alarm clocks, it doesn't use a loud sound to wake you up. Rather, the light will start growing in intensity around 20 minutes before the time you set your alarm to. If that doesn't wake you up, the clock will then produce a soothing sound — like birds chirping — to wake you up gently.
Make Your Money Work for You
Yang said that this sunrise alarm clock might also improve your quality of sleep, especially if you refrain from using your phone or other electronic devices shortly before bed.
On Amazon, this clock costs around $110.
Manfrotto Mini Tripod
Capable of fitting in your back pocket or backpack, this tripod is a must-have for content creators who work on the go. It's lightweight, is compatible with most smartphones, and is versatile. It's also durable.
On Amazon, this mini tripod costs around $43.
Digital Analog Timer
The digital analog timer works slightly differently from other timers. Instead of counting down, it counts up.
The reason Humphrey Yang recommended it, besides its overall affordability, is its positive impact on his efficiency. Yang mentioned that he used to do the Pomodoro technique, which breaks up work into 25-minute intervals with a 5-minute break in between each one. With this timer, it's easier to keep track of your productivity and efficiency. The biggest issue is that it's possible to find yourself in a situation where you're in the middle of something and don't have time to complete it before the 25 minutes are up.
The Learning Resources Digital Timer is around $11.
Rewards Credit Card
Next up on Yang's list of recommendations is a rewards credit card — like the Chase Sapphire Reserve credit card or the Chase Freedom Unlimited credit card.
With rewards credit cards, it's important to note that they often come with an annual fee, usually $200 or less. However, with careful planning and proper use, it's also possible to make up for this fee — and then some — by taking advantage of the perks.
Mr. Coffee Machine
Many people, including Humphrey Yang, start their day with a cup of coffee. That's why he recommended the Mr. Coffee Machine, which makes drip coffee and can be set to a timer. With this machine, Yang estimated that he spends around $0.29 per cup — a major discount over going to a cafe.
Make Your Money Work for You
This particular coffee machine is also durable and resistant to bacteria with its stainless steel, double-walled carafe and easy-to-clean water reservoir.
When not on sale, it costs around $99.
Peak Design Everyday Backpack
Although Humphrey Yang himself has a 20-litre backpack that costs $280, he suggested getting a cheaper model with a zipper rather than a metal flap. The more affordable option comes with three separate compartments that makes it easy to store, organize, and access your things. It even has a luggage passthrough, meaning you can easily add it to a rolling suitcase.
The zipper version of this backpack comes in a 15-litre and a 20-litre size. It starts at around $189.
Soho Sketch Pad
Another one of Humphrey Yang's favorite purchases for under $200 is the Soho Sketch Pad. While he purchased his in Japan, you can also get one for $8 at the Philadelphia Museum of Art.
The paper is textured, meaning you can use pen, colored pencils, or even watercolor paints on it. The sketchpad itself has a glue binding and 70 pages. It's also lightweight and can fit into small spaces.
Yeti Water Bottle
This reusable water bottle is easy to hold and can save you money while traveling, according to Yang. At 32 ounces, it's vacuum-insulated with its double-walled construction and consists of durable stainless steel.
It costs $50 on Amazon, though you might be able to find a cheaper version of it. Yang suggested making sure it's double-walled.
Hand Towels
Another of Humphrey Yang's best purchases for under $200 is the hand towel — or, rather, multiple hand towels. By purchasing a significant amount of these cloths, you won't need to buy paper towels or napkins. This can save you money in paper products.
There are many types of hand towels to choose from. They come in different sizes, colors, and even shapes. Yang's recommendation is the Utopia Towels Cotton Washcloths Set, which comes with 12, 24, or 60 towels.
The 24-pack costs around $15.99.
Honorable Mention: TSA Precheck
Yang also suggested paying for the TSA Precheck if you're a frequent flyer. It costs $78 and gets you access to a separate security line. In this line, you don't have to take off your belt or shoes. You can also keep your laptop in your carry-on bag.
This can save you time and cut down on stress as you go through security and head to your flight.
More From GOBankingRates