5 Tips for Decoding Aldi's Price Tags To Save More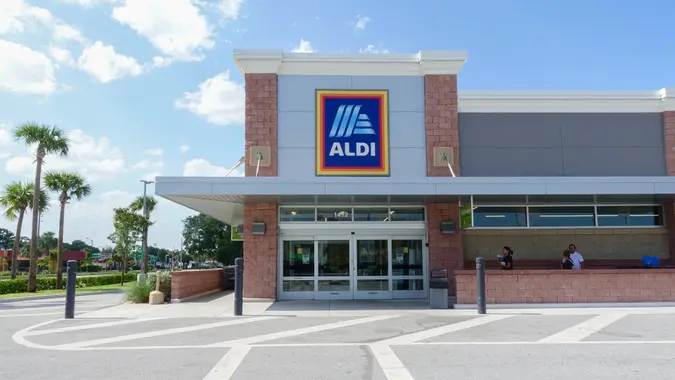 Joni Hanebutt / Shutterstock.com
If you've ever been grocery shopping at Aldi, chances are you might have noticed Aldi price tags come in different colors. Yellow, white and red tags: Do they mean anything? 
The answer is yes. Savvy Aldi shoppers know a thing or two about how to read Aldi price tags and get all the best deals when grocery shopping. Follow these five tips for decoding Aldi's price tags to save more money.
Green, Yellow and White Indicate Regular Aldi Price Tags
Let's start by decoding Aldi's price tags for items and products the store carries on a regular basis. Julie Ramhold, consumer analyst at DealNews.com, said green, yellow and white tags indicate Aldi's consistent, regularly stocked offerings.
Breaking it down even further, Ramhold said a green tag usually indicates produce. Yellow tags with black writing are used for regular items you can find at any time of the year. Frozen products that are regularly in stock receive white tags. 
Red Writing on White Tag Backgrounds = Aldi Finds 
Shoppers who come across white tags with red writing are looking at Aldi Finds, aka limited-time items. If you spot these tags, it's recommended you add them to your cart while you have the chance.
"Aldi Finds are released every Wednesday," said Ramhold, adding that Aldi shoppers can get a preview online. "They're only available as long as supplies last. For some seasonal items, you may see them return at certain times of the year, but they won't be available on a constant basis." 
Make Your Money Work for You
Where can shoppers find Aldi Finds in their stores? Rachel Singer Gordon, blogger at Mashup Mom and Almost All Aldi, writes that many Aldi Finds are found in a special buys Aisle of Randomness and in separate refrigerated and freezer sections designated just for Aldi Finds.
Aldi Red Hot Specials Have Red Writing on a Yellow Price Tag
If you spot one of these tags, it indicates you've found an Aldi Red Hot Special. Singer writes on the Almost All Aldi blog Red Hot Specials differ from Aldi Finds in being limited-time special buy items and often seasonal specials. The "Red Hot" indicator means shoppers are getting either a fantastic price or a great item.
Blue Tags Indicate Aldi Seasonal Favorites
Spotting a blue tag with a Seasonal Favorites logo means you've just come across seasonal items, like canned pumpkin during Thanksgiving or ice cream bars sold during the summer months. Typically, Singer said these tags will mark items available in store for a month or more. 
Handwritten D and Print D: What's the Difference? 
If you see a price tag with a handwritten "D" on it, Ramhold recommends grabbing this item while you can. The "D" stands for "discontinued." 
There is some discourse online about differing reports on D notation, particularly when decoding whether the handwritten or printed D on an Aldi price tag means the item has been discontinued. What savvy Aldi shoppers should pay attention to, Ramhold said, is whether a D is printed on the tag following a number. 
Make Your Money Work for You
"This indicates the item is shipped to the store frozen and the number denotes how many days the product is good for after thawing," Ramhold said. "Apparently this shows up frequently with baked goods."
More From GOBankingRates