5 Ways To Optimize the TJ Maxx Return Policy to Your Advantage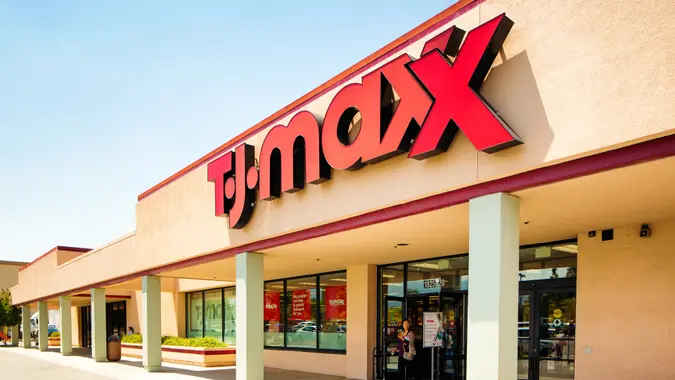 NicolasMcComber / Getty Images
TJ Maxx is a popular discount retail store that offers deals on clothing, furniture, toys, cosmetics and more. If an item is unsatisfactory for any reason, the store will accept a return. It even offers an extended holiday return period that runs over the standard 30 days. 
Learn: 3 Easy Tips to Turn Your Credit Woes into Wows
Optimizing the TJ Maxx Return Policy
Keep these rules and guidelines in mind when shopping at TJ Maxx.
TJ Maxx Return Tips

Keep receipts, because non-receipted returns only receive merchandise credit. 
Return the item within 30 days for in-store purchases and within 40 days for online purchases returned by mail. 
Handle purchased items carefully, since the store will not accept damaged or worn items for returns.
You can return gift card purchases for merchandise credit only.
It's a good idea to check the company website for any updates to the TJ Maxx return policy before attempting your return.
How to Return TJ Maxx Items Purchased in Stores
For in-store purchases, keep these guidelines in mind:
1. Return the Item Within 30 Days
Here are the requirements for making a TJ Maxx return.
Return the item no more than 30 days from the date of purchase. 
The return can be made for an exchange or a refund.
If the 30-day window has passed, the store will only give merchandise credit for a return.
Make Your Money Work for You
For example, if you've purchased an item for $50 and bring that item back after 30 days have passed, the store will give you a $50 credit towards the purchase of another item. 
2. Keep the Receipt
Remember to keep your receipts. When provided with a receipt, the store will refund the purchase price in the original form of payment. 
If your receipt goes missing, TJ Maxx still allows the return of items with some caveats:
The store requires a photo ID with your name, address and signature for these returns. The store uses this information to match you with the original purchase.
You will earn a merchandise credit rather than a cash refund.
When the merchandise credit is used, the store will ask for a look at your photo ID to ensure the names match — you can't give the credit to someone else to use.
3. Handle Purchased Items Carefully
Make sure the item is in its original condition. The store has the right to refuse items that are damaged.
Clothing that shows signs of use is non-returnable. You can only return swimwear and intimate apparel that still have the original tags attached.
4. Bring the Item to a TJ Maxx Store 
The TJX collection of retailers includes TJ Maxx as well as several sister stores, including Sierra, Marshalls and Home Goods. TJX does not allow returns between these different stores, however. For example, TJ Maxx items cannot be returned to  a Marshalls store.
Make Your Money Work for You
Like many other retailers, TJ Maxx has systems in place to verify that anyone returning an item was the original purchaser. In the case of suspected fraud, the store reserves the right to refuse a return.
How to Return TJ Maxx Items Purchased Online
TJ Maxx has a robust online storefront that allows returns. These returns can be made to any TJ Maxx store within 40 days of the original order date.
If getting to the store isn't a practical option, you can return the item by mail. However, because inventory is constantly changing, the online store cannot make exchanges, only returns.
Optimize the store's online order return policy by following these best return practices:
1. Keep the Receipt
Your receipt will be on the packing slip that came with the ordered item. If you no longer have the receipt, you can use the shipping confirmation email you received when the item shipped from the TJ Maxx warehouse. It will include the order number and a description of the item.
Make Your Money Work for You
2. Return the Item by Mail
To save time, return by mail using the return shipping label that was included with the shipment, but make sure you stay within the 40-day window. If the item is received after 40 days, you will receive a merchandise credit rather than a refund.
Also note that the store will deduct a shipping and handling fee of $10.99 from any refund or merchandise credit. The refund will appear on your credit card or bank account 10 to 14 days after acceptance.
3. Check Return Information 
Although most online purchases can be returned, there are exceptions. Some items may be subject to restrictions, or marked as "final sale" in the returns information. Check the item's product description page to see if it is marked "final sale." This will also be noted on the receipt.
Restrictions on Returns
A limited number of items are ineligible for in-store returns at TJ Maxx. These include items priced at more than $1,000, handbags priced over $499.99, long occasion gowns and any cosmetics that have been opened or subject to tampering.
In addition, items that are purchased in a store cannot be returned online.
Holiday Return Policy
The holiday season is a busy time for TJ Maxx and its customers. For added convenience, the company sets an extended period for returns around this time of year. In 2022, the policy allows any purchase made in a TJ Maxx store between Oct. 9 and Dec. 24 to be returned through Jan. 25, 2023. 
TJX has extended the holiday return period further for online purchases. Feb. 3, 2023, is the deadline for any online purchase made between Oct. 9, 2022 and Dec. 25, 2022. 
FAQ
Here are the answers to some common questions about the TJ Maxx return policy.
Can I return something to TJ Maxx after 30 days?

You can return purchases to TJ Maxx after 30 days, but you won't be refunded to your original method of payment. Instead, you'll receive a store credit to use on a future purchase.

How long can you return something to TJ Maxx?

The official TJ Maxx return policy is 30 days for in-store returns and 40 days for online returns. However, TJ Maxx will accept returns in exchange for store credit after the 30 or 40 days have passed, as long as the item is in good condition and you provide the receipt.
Information is accurate as of Dec. 14, 2022.
Editorial Note: This content is not provided by any entity covered in this article. Any opinions, analyses, reviews, ratings or recommendations expressed in this article are those of the author alone and have not been reviewed, approved or otherwise endorsed by any entity named in this article.
Make Your Money Work for You