11 Unexpected Things You Didn't Know You Could Buy at Costco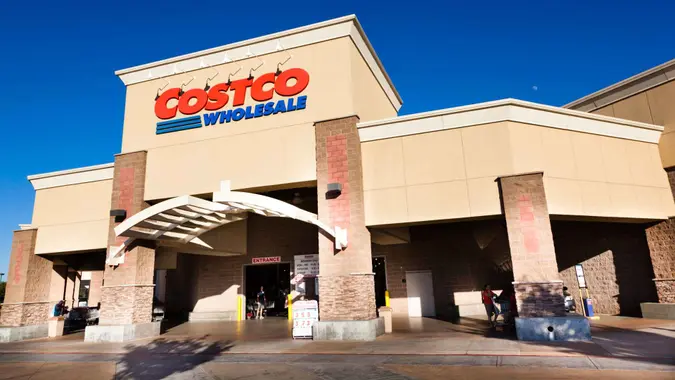 slobo / Getty Images
Alongside Sam's Club and BJ's Wholesale Club, Costco is one of the most well-known warehouse clubs in the United States. Currently, there are 591 physical Costco stores located throughout the country and Puerto Rico, with even more locations in other countries.
Costco offers discounted prices on a large variety of items to its members, including gas, groceries, electronics, and apparel. Many of these products, even those that fall under the retailer's private brand, have similar or higher quality when compared to other leading brands.
While you might be familiar with many of Costco's products, what you might not know is that Costco also sells an assortment of lesser-known items like washing machines, saunas, and even musical instruments. Here are some of the top unexpected items you can buy at Costco.
Gift Cards
If you're looking for discounted gift cards, Costco has those, too. Costco sells "gift cards to your favorite restaurants, spas, video games, and movie theaters," said Todd Stearn, Founder and CEO of The Money Manual. "These can be a great deal because they're often discounted. Plus, you get your executive member's annual 2% Reward."
Outdoor Equipment and Structures
Costco has a surprising variety of outdoor structures you can buy, including big outdoor barns, children's playsets, and greenhouses. "You can buy outdoor structures at Costco such as a Timber Frame Pavilion with Aluminum Roof," said Stearn. You can also get pop-up tents, gazebos, pavilions, pergolas, and replacement canopy roof covers.
Home Appliances
Among other things, Costco sells home appliances like washing machines, chest freezers, full-sized refrigerators, double-walled ovens, and more. This can be particularly useful if you need to update your current appliances or are moving into a new home that doesn't quite have what you need yet. In addition to larger appliances, you can also find smaller kitchen appliances like blenders, meat slicers, coffee machines, water coolers, and slow cookers.
Make Your Money Work for You
Jewelry
Falling under Costco's "keepsakes" category is an assortment of watches, necklaces, diamond rings, bracelets, and even sunglasses. Some of these items are simple, while others are more extravagant, meaning there's sure to be something for that special person in your life.
Garden Equipment
At Costco, you can also find the tools and supplies you need to satisfy your green thumb. This includes hydroponic grow systems, raised garden beds, fabric planters, and composting systems. You can even find an assortment of plants, seeds, and bulbs.
Affordable Medication and Medical Equipment
The Costco pharmacy is a great place to shop if you're looking for low-cost prescription medications. Conveniently, you don't even need to be a Costco member to take advantage of these deals.
"The store offers some of the lowest-price prescriptions, including pet medications, said Gigi Lehman, editor of Living on the Cheap. "Unlike most pharmacies, Costco puts prices of prescriptions online so you can find the best deal."
If you're a Costco member, free or discounted health screenings–including hearing and vision checks and vaccinations–are available. You can also get certain medical equipment, such as wheelchairs, from the warehouse club.
Home Improvement Items
Are you thinking about starting a DIY home improvement project? Costco could have what you're looking for–potentially at a lower price than what you'd find elsewhere.
"Costco's range of DIY home renovation items surprises many visitors. From stunning lighting fixtures to high-quality flooring options, shoppers can embark on transforming their living spaces with ease," said Devon Ferguson, senior editor at Carnivore Style.
Make Your Money Work for You
"Surprisingly, the store also offers power tools and equipment, aiding in everything from small repairs to larger-scale renovations," added Ferguson. "This often-overlooked selection caters to both the amateur DIY enthusiast and the seasoned handyman, making Costco a one-stop destination for home improvement needs."
You can also get new carpet and other finishes for your home at this warehouse club. "Need new carpet, flooring, or window treatments? Costco contracts with local providers to give you savings on home improvement items," said Lehman. "I got new carpet at a significant savings through Costco. The 2% executive membership rebate was another plus."
Outdoor Recreational Supplies
If you're an outdoor enthusiast who loves fishing or hunting, Costco sells things like outdoor chairs, fishing poles and other fishing gear, bear spray, hiking bags, vacuum sealed bags, coolers, and tents. Costco also has waterproof binoculars and pontoon boats.
Automobiles
"You might also be surprised to know that Costco has an auto program where you can buy new and used cars," said Stearn. The program is called the Costco Auto Program. Although Costco doesn't directly sell vehicles, this program makes it easy to shop for cars online. Plus, members get exclusive access to the current discounts and specials.
If you don't want to buy a car right now but are in the market to rent one, check out Costco Travel. This members-only platform helps people find the best deals on rental cars, hotels, cruises, and more.
Saunas
Did you know that you can buy indoor or outdoor saunas at Costco? "For those seeking relaxation and wellness, Costco's array of saunas stands as a testament to its commitment to diverse offerings. These saunas encompass various styles, catering to personal preferences and space constraints," said Ferguson.
"The luxuriousness of having a sauna in one's home isn't just a pipe dream, thanks to Costco's reasonably priced options," Ferguson added. "While saunas might not be an everyday purchase, their availability at Costco brings them within reach of a wider audience, allowing homeowners to create their own spa-like haven."
Musical Instruments
Costco also sells musical instruments such as ukeleles, saxophones, drum sets, pianos, and karaoke machines. "In a harmonious twist, Costco even extends its range into the world of music, featuring a collection of instruments that pique the interest of budding musicians," said Ferguson.
"From grand pianos to electric guitars, the store provides access to high-quality instruments that might otherwise require specialized visits," he continued. "This venture goes beyond providing mere products; it promotes artistic expression and encourages individuals to explore their musical talents."
More From GOBankingRates