12 Walmart Brand Items With the Best Bargains in April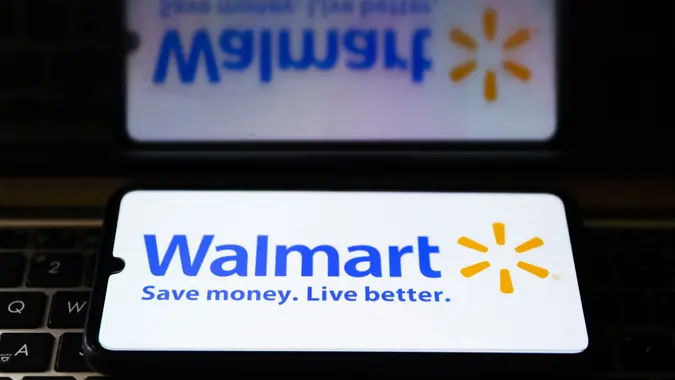 Beata Zawrzel / NurPhoto / Shutterstock.com
In an effort to give shoppers what they want (and need) at more affordable prices, Walmart has a slew of its own brands. The list keeps growing and now comprises dozens of brands.
These products aren't always cheaper than similar items offered by other retailers (hello, Amazon and Target), but quite frequently they are. This month, consumers can find a wide array of Walmart-branded items at competitively affordable prices. 
Here's a peek at 13 Walmart brand items with the best bargains in April. 
Also see great Walmart deals spotted by superfans.
Men's Flip-Flops by George 
These Men's Ocean Flip-Flops by George cost $6.98 right now. They come in black, green and blue and are available in sizes 7 through 13. Beach flip-flops can be paradoxically expensive; for example, Amazon has a pair for $75.
Men's Undershirts by George 
You don't need a fancy brand name for an undershirt. Get a six-pack of assorted men's tank tops by George for $9.94. A six-pack of tank tops for men (available in white only) on Amazon goes for $16.70 on sale. 
Make Your Money Work for You
Women's Plus-Size Floral Blouse by Terra & Sky 
A plus-size floral blouse that also features a black background costs $10.58 at Walmart. A similar blouse on Amazon sells for up to $30. 
Women's Plus-Size Leggings by Terra & Sky 
Women's plus-size leggings by Terra & Sky retail for $12.98 at Walmart, and they are available in a slew of colors and patterns. You can find plus-size women's leggings on Amazon (the Amazon Essentials brand), but at a higher price point and in fewer varieties. 
Chicken Bone Broth (Reduced Sodium) by Sam's Choice 
Bone broth has become a hit in the wellness world, but it can be pricey if you don't take the DIT path. Sam's Choice makes a reduced sodium version of chicken bone broth that currently costs $2.82 for 32 ounces. No sodium organic chicken bone broth by Good & Gather costs $4.49 at Target.   
Keto-Friendly White Bread Buns by Sam's Choice 
Another popular sensation in the wellness realm is the Keto diet, which emphasizes fats and protein over carbs. Naturally, bread can be a tough find in this world, but you can get a pack of eight keto-friendly white buns by Sam's Choice at Walmart for $3.98. Keto bread by Signature Select, which is sold at the supermarket chain Vons, goes for $5.99.
Make Your Money Work for You
Saltine Crackers by Great Value 
A 16-ounce box of saltine crackers by Great Value currently sells for $1.32 at Walmart, which highlights the item as a bestseller. The same amount of saltine crackers by Market Pantry at Target is $1.79, and the Premium brand item goes for $3.99.   
Ibuprofen by Equate 
A 100-count container of 200 mg Ibuprofen by Equate sells for $1.98 at Walmart. Meanwhile, a 300-count container of Ibuprofen by Up & Up (a Target brand) sells for $19.99. More product, yes, but at a substantially higher price.   
Flushable Wipes by Equate 
Flushable wipes by Equate cost $6.98, and you're getting a five-pack (240 wipes total). A three-pack of flushable wipes (180 wipes total) on Amazon costs $8.28. Less product for more money.
Unscented Natural Clay Cat Litter by Special Kitty 
When you first get a cat, you might be surprised by how expensive cat litter can be at some retailers. But it's pretty affordable at Walmart. A 25-pound bag of fragrance-free, natural clay cat litter by Special Kitty is priced at $5.28. A mere 10-pound bag of plain old (not clay) unscented cat litter by Jonny Cat is $16.90 on Amazon.
Make Your Money Work for You
Distilled Water (1 gallon) by Parent's Choice 
Distilled water is frequently recommended by pediatricians for making formula for bottle-feeding infants. Distilled water is generally pricier than regular botted water, but not by much at Walmart, where a gallon of distilled water by the brand Parent's Choice costs $1.16. At Target, the cheapest gallon of distilled water costs $1.29. 
Children's Basketball Set by Play Day 
At Walmart, a basketball set for little kids by Play Day is selling for $26.97. For that price, you get a basketball stand with a hoop, three small basketballs and an air pump to inflate the balls. A strikingly similar product sells on Amazon for $35.99 and doesn't include the air pump.
Editor's note: All prices are as of April 13, 2023.
More From GOBankingRates
Make Your Money Work for You