10 Secret Ways To Save Money With Walmart's Hidden Clearance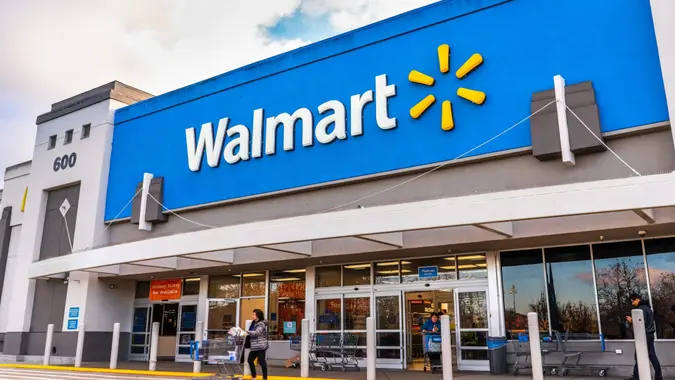 Sundry Photography / Getty Images
Did you know there are even more ways to cash in on Walmart's popular deals and money-saving offerings? Here's a little secret: There's a hidden clearance at Walmart that only the most in-the-know shoppers take advantage of.
If you want in on even more bang for your buck, all you have to do is be on the lookout for Walmart's yellow clearance stickers and be aware of a few more insider tricks. Here are 10 secret ways to save money with Walmart's hidden clearance.
Make Sure To Follow Walmart on Instagram
Pull out your phone, open up Instagram, and make sure you are following Walmart's official account along with 2.9 million other savvy shoppers.
If you want in on Walmart's hidden clearance, go one step further and follow some hashtags as well. The three to keep an eye on are #walmartclearance, #walmartclearancefinds, and #walmarthiddenclearance to get up to date details on Walmart's hidden clearance tips.
Check a Price on the Walmart App
Don't put your phone away yet. If you haven't already downloaded the Walmart app, do that and then open it up to get the most from Walmart's hidden clearance. Go into the app, click on "Services" and then click the "Check a price" tool.
Make Your Money Work for You
From there, James Rochester, CFO at CashBlog, says to "adjust the location settings within the Walmart app so that it displays the Walmart store in which you are currently located. He adds, "This changes from store to store, so before proceeding, you need to determine which store you are in. After that, you may rapidly scan the price of an item using the barcode reader, which will allow you to determine whether or not the price has been reduced."
Take Our Poll: What Are You Worth to Your Company?
You can use Walmart's price scanner on everything, including the yellow stickers on clearance items. The app can oftentimes show you a lower price than what's listed on the sticker. Now you're in the Walmart hidden clearance club.
Mark Your Calendar
Specifically, mark the first five days of the month. That's usually when Walmart's hidden clearance kicks in at stores. Markdowns, including seasonal inventory, typically happen in this time frame.
Know When To Go
Certain months are tailored toward marking down clearance items from the previous month. January is the perfect time to get holiday items and discounted winter gear while September is the time to clean up on all the summer products with significantly lower prices.
Make Your Money Work for You
Here's a few months to keep in mind for specific Walmart hidden clearances:
January — holiday items and winter apparel
July — toys
September — summer products
December — toys and seasonal items after Christmas
Each Department Has Its Own Clearance
Start your hunt for Walmart's hidden clearance items each month by knowing which departments to hit up first. These discounted products could be just out of sight, shelved on an endcap, or in hard-to-reach or see parts of the aisle. 
No matter what, make sure to stop by the "Home" section of Walmart, where lots of items are compiled from other departments, but all have that yellow clearance sticker.
'Best by' Foods
Getting food products — including produce, meat and bakery items — during Walmart's hidden clearance is a great way to stock your kitchen. However, it's worth noting that these items become part of Walmart's clearance a day before their "best by dates."
While they might be a yummy part of Walmart's hidden clearance, just make sure you are timing out when you plan to eat them to avoid any spoilage.
Dented Cans = Savings
If you want to save money on food for later, though, go to the canned food aisle and see if there are any dented products that have clearance markdown stickers. Walmart will most likely mark down these items in an effort to empty the shelves quicker.
Make Your Money Work for You
A dent or two in a can might make that item part of Walmart's hidden clearance, but you can still use Walmart secret promo codes, manufacturer coupons, and rebates — including Ibotta and Checkout 51 — on these products.
The Manager Is Your Friend
Don't see the items you are looking for during Walmart's hidden clearance? Make a new buddy with your local Walmart manager.
Rochester says, "While headquarters orders Walmart locations to decrease a price, it is ultimately up to the store manager to decide how much lower to take the price. This indicates that clearance pricing [is] not consistent across the board."
Because Walmart's hidden clearance sales are based on location, with each store determining which products to markdown, the manager could find more discounts on products they are trying to sell. All you have to do is ask nicely.
Shop IRL
While it might be good to have Walmart's social media and app on your phone, you won't find the same deals online. Walmart's hidden clearance happens in-store, changing from location to location.
There is, however, some prep work you can do online. On Walmart's homepage you can click on "Departments" then click on "Deals" and finally "Clearance." You can also use the search bar method by just putting in the word "clearance."
Make Your Money Work for You
From there, you can filter "in store" based on location to find what Walmart hidden clearance items are available at your local store.
No Hidden Numbers
While Walmart's hidden clearance might be, well, hidden, the numbers on the yellow clearance stickers are not a secret code. Rumors abound that price tags ending with "1" or ".00" have additional discounts, but that doesn't seem to be quite true.
More From GOBankingRates
Make Your Money Work for You