Walmart vs. Dollar Tree: Which Has the Better Prices, Selection, Quality & Return Policy?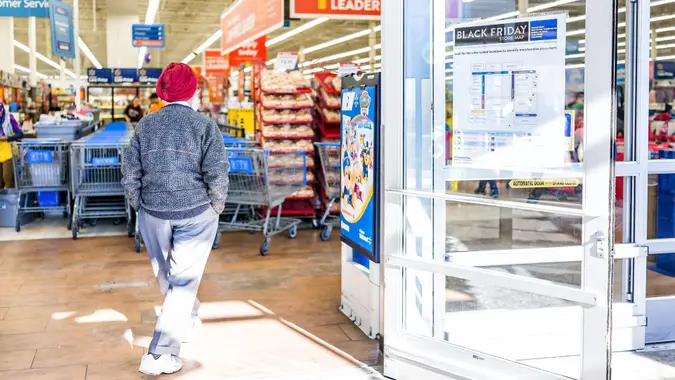 krblokhin / Getty Images
Finding low prices isn't the only factor people consider when shopping for everything from groceries to clothing to home supplies. Having a good selection, high quality products and other features like free shipping or same-day delivery might play into the decision on where to shop.
Walmart and Dollar Tree are both known for their low prices, so we compared them in several other categories as well to find out which of the two gives you the better bang for your buck.
Prices
At face value, Dollar Tree would seem to be the most affordable because of its $1.25 price tag on just about everything. However, according to Julie Ramhold, consumer analyst with DealNews.com, "While most of what Dollar Tree offers is $1.25 each, that doesn't mean it's always a good deal, especially when you consider unit price." Plus, not every product is available to purchase in-store and while you can order items online, you often have to do so in certain mass quantities.
Make Your Money Work for You
According to Ramhold, "This can mean you have to buy six outdoor welcome mats at $5 for a total of $30 or a case of 24 mirrors or canvas magnets at $1.25 each for $30 total." While that may sound like a decent price for that number of items, shoppers rarely need that many of those items unless they are buying in bulk for a specific reason. "Meanwhile at Walmart, you can find welcome mats starting at $4 with a ton of different designs available, mirrors from $7, and sets of refrigerator magnets for around $3."
So while Dollar Tree can be said to have the most consistently low prices — and The Krazy Koupon Lady blog does find individual products cheaper at Dollar Tree, such as Oroweat Bread and Bic pens (with manufacturer's coupons) — Ramhold still anoints Walmart the low price leader.
Take Our Poll: Do You Think AI Will Replace Your Job?
Selection 
While you can count on Dollar Tree products to be the expected low price of $1.25, their products and brands do not always stay the same. In order to offer such low prices, Dollar Tree will often vary up what is available.
Make Your Money Work for You
Ramhold added, "Even online Dollar Tree doesn't offer the same volume and variety of products that Walmart does, and Walmart has even more now because of its incorporation of a third-party marketplace." The marketplace allows third-party sellers to put up their own wares on Walmart's website. While not all of these third-party products are going to be great deals, the selection is pretty huge overall, Ramhold said.
Additionally, as GOBankingRates has previously reported, some things are worth buying at Dollar Tree, such as frozen veggies, personal care items, and milk and eggs. But other items are not a great buy at Dollar Tree, such as light bulbs, generic batteries, and vitamins and supplements. Once again, Walmart wins at selection.
Quality 
The answer to quality is going to depend on what it is you're shopping for. Ramhold pointed out, "Walmart is going to have items that are of sub-par quality in some cases, but because the selection is so huge in general, you can typically find an item you need in decent quality."
Dollar tree just has a much smaller selection of goods in general, not just in a particular category, so you're very limited in what you can buy there. "That means that whatever the quality is, you're stuck with it," Ramhold said. "It might not seem like a big deal when you pay $1.25 for something, but if you only get one use (or less) out of it, it still feels like a waste. And if you continue buying those cheaper items, then they're not so cheap after all as the cost and time to procure them adds up quickly."
Make Your Money Work for You
In this case, there's not a clear winner unless you're looking for brand name items, which you'll typically find in greater quantity at Walmart.
Return Policy
Another important factor when weighing which store to ultimately buy from is what kind of return policy it has. Dollar Tree's return policy isn't much of one. They state on their website that they reserve the right to limit quantities, will not offer refunds, and all sales are final. The only exception is that they will exchange unopened items with the original receipt for another item.
Walmart, in contrast, "has an actual return policy," Ramhold said. "That is, you can return most items within 90 days of purchase to receive a refund. Just be sure to keep relevant packaging and receipts to make the process easier."
While Walmart comes out ahead in all categories for the most part, Dollar Tree can't be overlooked for its convenience and affordability when you only need to pick up a couple of items. If you're not doing your full weekly shopping trip here, you can still come away with some great deals.
Make Your Money Work for You
More From GOBankingRates
Make Your Money Work for You