Which Dollar Store Chain Actually Sells Everything for $1?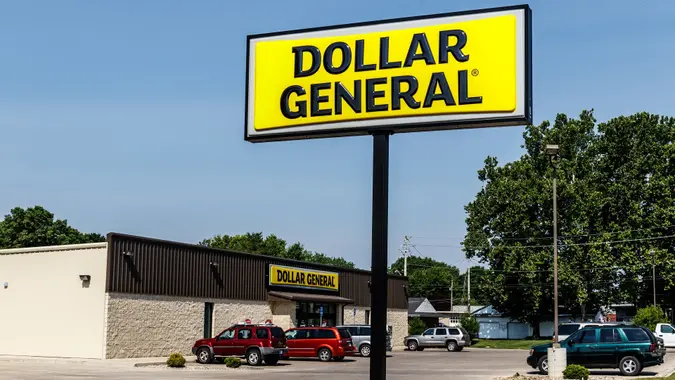 jetcityimage / iStock.com
Imagine if you could go to your local dollar store, grab a basket and fill it up with the confidence that every single item — from automotive supplies to toys — would ring up as a dollar. Unfortunately, for the most part, retailers that have the word "dollar" in their name aren't living up to the expectation. Sure, shoppers can find items that cost $1 in these stores, but there are also plenty of items that exceed that thrifty price point.
Sadly, it seems true $1 stores are a quickly dying breed. Even Dollar Tree, which is well known for its vast selection of $1 items, recently announced a change. In a Sept. 2021 press release, Dollar Tree's president and CEO, Michael Witynski, said the retailer would begin testing out more prices above $1 in its stores to allow customers access to a broader product selection. It followed that up with a price hike to $1.25 on a vast majority of its products last month.
Fortunately, there is still one true dollar store chain in operation. The catch? It might not be convenient to shop there.
Mighty Dollar
Mighty Dollar is a true dollar store. The homepage of the retailer's website proclaims "Everything's $1.00." So if you want the freedom of shopping while knowing that every item will add just $1 to your sales ticket, this is the place to go. As for Mighty Dollar's selection of products, its website lists the following categories of typical dollar store fare:
Flowers
Party Supplies
Cleaning Supplies
Beauty and Health Aids
Sunglasses/Batteries
Foil and Plastics
Gift Bags/Tissue
Toiletries
School and Crafting
Candy, Food and Snacks
Make Your Money Work for You
The problem is that while Mighty Dollar is a chain, it's not national. The retailer only has 13 locations in North Carolina and Kentucky. So, if you're not nearby one of its stores, you're out of luck. 
That's not to say that there aren't some mom-and-pop dollar stores in operation in various towns and cities across the nation. You just have to know where to look.
Items Big Dollar Stores Still Sell for $1
If you came here hoping to find out a few dollar store chains that actually live up to the $1 price point throughout every aisle, you're likely disappointed. 
However, the good news is that dollar stores like Dollar Tree, Dollar General and Family Dollar still feature dollar-priced items that deliver great value. Here's a look at some items you might find for $1 either online or at your local dollar store chain.
Dollar Tree $1 Items
Here is an example of a $1 item pulled from Dollar Tree website. However, as previously mentioned, most of the items listed at Dollar Tree are at a higher price point of $1.25 each, or as the company markets it, "$1.25 or Less."
Dollar General $1 Items
Dollar General advertises on its website that it offers over 2,000 items at $1 or less every day, which is encouraging. To find the items in a store, look for the green signs. Here are some of the many examples of $1 items pulled from its most recent ad flyer: 
Three-pack of stainless steel forks

Smart & Simple quart zipper freezer bags,16-count
True Dollar Stores Are a Dying Breed
While you'll be hard-pressed to find a dollar store where everything is actually $1 — unless you're near a Mighty Dollar location — it is possible to still purchase $1 items at dollar stores. 
Make Your Money Work for You
Also, you can take advantage of coupons and deals the different dollar store chains offer to help reduce the prices of items over $1. For example, Dollar General frequently offers online coupons for $5 off of a $25 purchase on specific Saturdays. You might also find the same coupon on the bottom of your most recent register receipt. 
To get the most bang for your buck and find those $1 deals you're interested in, monitor your local dollar store's online and flyer ads. Like with all good deals, the early bird gets the worm.
More From GOBankingRates