Universal Orlando vs. Universal Hollywood: Which Is Better Choice for Your Wallet?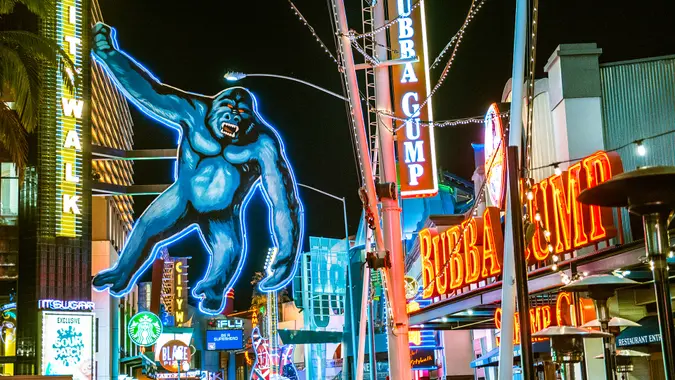 ferrantraite / Getty Images
Summer is here and major theme parks across the nation have reopened (with some COVID-19 restrictions in place). Disneyland has seen a huge surge of interest from consumers after being closed for more than a year, and The Walt Disney World resort has seen booming business since reopening in July 2020. But these aren't the only landmark theme parks in the U.S. vying for dollars in California and Florida: There is also Universal Studios Hollywood and Universal Orlando Resort, both of which have reopened. 
Tips: ​30 Theme Park Secrets Only Insiders Know
Find Out: How Much Does It Really Cost To Go To Disney World Now?
Recently, GOBankingRates assessed which Disney theme park (Florida or California) was best for a COVID-19 summer getaway, and now we're exploring which is the better option for Universal trip planners by consulting travel and theme park experts. 
COVID-19 Restrictions Are Virtually the Same in Both Parks
"As of the 15th of June, California lifted most COVID restrictions for those who are vaccinated, which brings it in line with Florida," said Andrew Lock, travel expert and presenter of The Travel Pro Show. "Essentially it's now on the honor system. If you're unvaccinated, you're still expected to wear a mask, but face coverings are optional for those who are fully vaccinated. Social distancing is still encouraged in both states."
Make Your Money Work for You
Be Prepared: 5 Ways Your Vacation Will Cost More Because of the Pandemic
See: 10 Money-Saving Summer Travel Tips Only Insiders Know
That said, there are some minor differences in COVID-19 protocol in either park. 
"Universal Hollywood advises all visitors, regardless of vaccination status, to wear masks indoors at all times," said Yulia Saf, founder of Miss Tourist. "They also have strict recommendations for guests to keep a safe distance, especially if they are visiting with a travel party."
Over at Universal Orlando, guests are not required to show proof of vaccination, "but they do expect guests who are not fully vaccinated to wear face-coverings while inside," Saf said.
Since COVID-19 is being addressed similarly by both Universal Studios Hollywood and Universal Orlando Resort, the answer to, "Which is the better park for a COVID summer getaway" comes down largely to your budget, your time and your interests. 
Helpful: Where To Skimp and Where To Splurge on Your Vacation
Universal Orlando Resort Is the Cheaper Option for Extended Stays
"For families, Universal Studios Orlando offers better deals," Saf said. "Universal Studios Orlando offers a 5-night hotel stay with a 3-park 5-day Park-to-Park ticket to Universal Studios Florida, Universal's Islands of Adventure and Universal's Volcano Bay, as well as early park admission to The Wizarding World of Harry Potter and Universal's Volcano Bay, beginning at $88. This package also includes admission to Universal CityWalk's live entertainment venues." 
Make Your Money Work for You
Over at Universal Studios Hollywood, only one-day tickets, annual and season passes are available, with prices ranging from $109 to $349 depending on the level of ticket you prefer, Saf told GOBankingRates. 
Take Advantage: 35 Things Your Hotel Will Give You for Free
Universal Studios Hollywood Is Better for a Short Trip
If you're visiting the Los Angeles area and have just a day to spare on fun, Universal Studios Hollywood is your best bet. 
"Universal Studios Hollywood wasn't conceived as a multi-day theme park resort. The park grew organically around the tour of the movie studio, and it's still an operating studio today," said John Gregory, owner of Theme Park Tribune. "It's also strictly a one-day experience, offering fewer attractions and no on-site, Universal-branded hotels. It certainly offers enough to fill out one day of a Los Angeles trip, or even a detour for anyone venturing out west to Disneyland, but it's not a destination resort like its counterpart in Florida."
Find Out: How To Save Money on Rental Cars for Your Upcoming Trip
Film and TV Buffs Will Get More Out of Universal Hollywood 
"If you're a serious movie or TV buff, head to Universal Studios in California," Lock said. "As a fully working movie and TV production facility, many well-known movies and TV shows are made at the studios. The backlot tour features a host of recognizable sets and buildings, and it's fascinating to get a behind-the-scenes look at a real working production facility. By contrast, Universal Studios in Orlando no longer handles any production; it's purely a theme park with rides, shows and attractions." 
Make Your Money Work for You
If You're Flying: 40 Pandemic Airport Secrets Only Insiders Know
Orlando Has More (and Arguably Better) Rides — Especially for 'Harry Potter' Fans
Now for the important part: the rides! More attractions within the park means more time needed to enjoy them all, but if you have the time and/or are a ride fanatic, Orlando comes out on top.
"As a California girl, I hate to admit it, but Orlando has the better Universal Studios park," said Kara Harms, a self-described "Potterhead" and owner of San Francisco-based lifestyle travel blog Whimsy Soul. "Orlando has not just Diagon Alley, but the Night Bus and the Hogwarts Express Train."
Take a Look: Here's How Much It Cost To Go To Disney World the Year You Were Born
Even if you aren't coming for the "Harry Potter" experience, Harms argues that Orlando pulls ahead on other rides. "Orlando's Skull Island ride is thrilling, and the ceiling of fire in their Mummy ride is a little bit more fun than Hollywood's version." 
In conclusion, if you have the time to maximize your Universal experience, you should probably set your sights on Florida. If you'd prefer a one-day, movie-history-packed experience, head on over to Hollywood.
Make Your Money Work for You