Life and Money
Outrageous Ways Real People Spent Their Tax Refund
Crazy stories about how people misspent their refunds.
fokusgood / Getty Images/iStockphoto
Vegas, Baby!
Why not hit the casinos with your refund and try to double it? Because you'll probably blow it, that's why. After all, gambling is a common way people go broke.
Even so, gambling with their refund is a common mistake that some people make, said Ben Barzideh, a wealth advisor at Piershale Financial Group.
"Even worse, I've seen people not only blow all of their tax refund in Vegas, but they also play on credit and lose, of course, which means they return from Vegas with a debt to pay off in addition to blowing their tax refund," he said.
As Barzideh points out, a tax refund is actually your hard-earned money. Don't think of it as free money from the government you can throw away at the casino.
Find Out: What Are the 2020-2021 Federal Tax Brackets and Tax Rates?
2/9
Igor Ovsyannykov / Unsplash
Expensive Equipment for a Sport You Don't Know How To Play
Trudy Turner, a senior wealth manager at United Capital, said a woman she knows made a New Year's resolution to take up golf. So she used her tax refund to buy expensive golf clubs, equipment and prepaid lessons with a golf professional, instead of making a resolution that doesn't cost any money to keep.
"She soon learned it was difficult to schedule time to play, much less find golf courses," Turner said. "After spending the entire refund, she realized that she couldn't commit the time."
The lesson here is not to use your refund to splurge on a new hobby without knowing whether you'll actually have time for it, Turner said.
3/9
Maurîcio Mascaro / Pexels
A Cruise … When You're Saddled With Debt
Jim Wang, founder of the personal finance blog Wallet Hacks, said he got a big tax refund the first year he started working after college "because I had no idea how to fill out a W-4." He didn't claim the right number of allowances on the form, so too much tax was withheld from his paycheck.
Rather than use that money to improve his financial situation, Wang said he blew it on a splurge. "I went on a six-day Carnival cruise to the western Caribbean out of Miami with my then girlfriend, now wife," he said. "The whole trip probably cost us close to $2,000. Not financially responsible at all."
Wang said it was worth it, but he could've used the money to pay down his student loans instead.
A High-End Computer for Gaming
A refund for a college student can be a source of much-needed income -- if the student is smart about how he spends it. But Joe Saul-Sehy, host of the Stacking Benjamins podcast, said he blew a refund he got while he was in college.
"I was paying my own way through school, had no money and a bunch of debt, and used my tax refund and a portion of my student loans to buy a computer," he said.
Of course, a computer is arguably a smart purchase for a college student. But Saul-Sehy didn't buy one with the goal of using it for schoolwork. "I'd just discovered computer games and sank all that money into a much better machine than I really needed so I could stay up all night and be tired at work," he said.
He would've been better off using that money to dig out of debt rather than buy a high-end computer to play games.
An Impulse Pet Purchase
Perhaps you've longed for a dog, your kids have been begging for a kitten, or you want to buy an expensive pet that's typically beyond your budget. A refund might provide the money you need to buy the animal companion you've been wanting. But you'd better think long and hard about what you're getting yourself into.
"A pet is not a one-time expense," Turner said. "I've heard of people dropping pets at shelters, through no fault of the animal, because they didn't take into account the weekly costs of caring for a companion animal: food, boarding or walking while everyone is at work and school, vaccinations, grooming and other expenses."
Those aren't the only expenses to consider. "No animal is going to be on its best behavior 100% of the time," Turner said. "You'll need to pay for furniture replacements, house cleanings, extra lawn maintenance and general repairs." So that impulse pet purchase you make with a refund could keep gobbling up your money for years to come.
At Least It Might Be a Source of Tax Breaks: 6 Tax Breaks for Pet Owners You Can Actually Get
6/9
Alexandra Maria / Pexels
Expensive Clothes and Handbags
Kellie, who doesn't want to be identified by her last name, said she doesn't usually spend her tax refund in a financially smart way. Like many, she thinks of a refund as forced savings for big-ticket items such as trips. But Kellie has also used the money for things she now regrets buying.
"Clothes and handbags were my dumbest purchases as they go out of style," she said. But this year, Kellie realized that the best way to spend a tax refund is to improve her well-being. "I am hiring a personal trainer/nutritionist to hopefully help get me on right track and help auto-immune issues," Kellie said.
A Romantic Getaway With a Partner Who Can't Get Away
Turner said a family friend used a tax refund to surprise a loved one with a romantic getaway. One problem: the loved one "had to attend mandatory work training during the surprise vacation," Turner said. "The buyer did not purchase trip insurance, so they faced airline change fees to salvage some of the ticket expense. And the hotel wasn't too accommodating with the date change, either."
Using your refund to take a loved one on a trip isn't dumb. But it's not smart to plan and pay for an expensive trip without knowing whether the other person can actually go.
A Loan for Friends or Family
Generosity can be a good thing. But using your refund for lending money to family or friends is a mistake, Barzideh said.
"One of the things some people have a hard time with is telling friends and family 'no' when it comes to borrowing money," he said. "I try to help coach some clients that are in this situation and make them realize that it's not their responsibility to repeatedly bail out irresponsible people. Besides sacrificing your financial future, you're also enabling that individual."
Leaving a Refund in a Checking Account
Don't let a refund go to waste. "Some people will just park the refund in their checking or savings account and earn almost nothing on that money," Barzideh said. "While that's better than blowing it on something impulsive, there are wiser ways to make that money grow."
Instead, you should invest your refund in an IRA or Roth IRA so the money can grow. "For example, if someone gets a $5,000 refund every year for 30 years and invests that money each year into a portfolio earning an average rate of 8% a year, that will have grown to $566,000 after the 30 years," Barzideh said. "That's the opportunity cost that many are missing out on by either spending their return frivolously or not investing it properly."
More From GOBankingRates
About the Author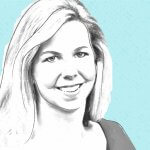 Cameron Huddleston is an award-winning journalist with more than 18 years of experience writing about personal finance.
Her work has appeared in Kiplinger's Personal Finance, Business Insider, Chicago Tribune, Fortune, MSN, USA Today and many more print and online publications. She also is the author of
Mom and Dad, We Need to Talk: How to Have Essential Conversations With Your Parents About Their Finances
.
U.S. News & World Report named her one of the top personal finance experts to follow on Twitter, and AOL Daily Finance named her one of the top 20 personal finance influencers to follow on Twitter. She has appeared on CNBC, CNN, MSNBC and "Fox & Friends" and has been a guest on ABC News Radio, Wall Street Journal Radio, NPR, WTOP in Washington, D.C., KGO in San Francisco and other personal finance radio shows nationwide. She also has been interviewed and quoted as an expert in The New York Times, Chicago Tribune, Forbes, MarketWatch and more.
She has an MA in economic journalism from American University and BA in journalism and Russian studies from Washington & Lee University.