Are Banks Open on Thanksgiving Day?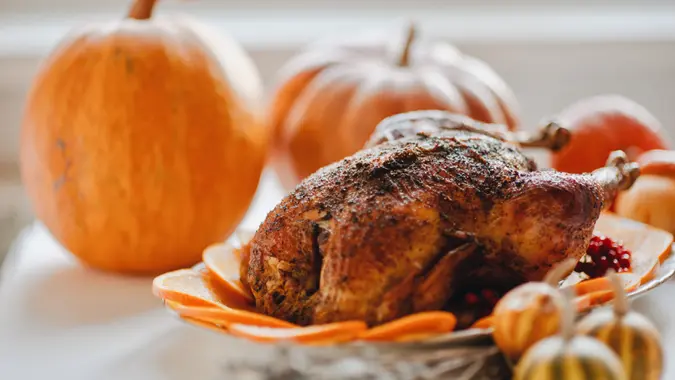 Olga Yefimova / Getty Images/iStockphoto
Thanksgiving Day is celebrated every year on the fourth Thursday of November, which is Nov. 24 this year. Thanksgiving is a federal holiday, which means financial institutions shutter their doors in order to let their employees celebrate. This also means you'll be out of luck if you need to run to the bank for whatever reason.
While ATMs will be available, more complicated transactions will be unavailable. GOBankingRates suggests you get your banking done early to save yourself the trouble.
Find out which banks will be closed or open for the celebration of Turkey Day by following this guide.
Are Banks Open on Thanksgiving?
Thanksgiving is one of the last 2022 bank holidays, meaning that banks are not typically open for business. It's also one of 10 federal holidays for which numerous organizations — such as schools, government offices and businesses — are closed for the day. This means that the majority of American workers have Thanksgiving off.
Although Thanksgiving is a bank holiday, customers can still access their online accounts, and they might even be able to get customer service over the phone. Check out GOBankingRates' list of major banks that will be closed on Thanksgiving Day and plan ahead so that your banking needs are handled before it's time to cook the turkey.
Are Banks Closed on Thanksgiving Day?
GOBankingRates contacted a number of banks to find out which ones are open on Thanksgiving Day. However, the unanimous answer was "we will be closed." No banks will open, meaning customers won't be able to fulfill their banking needs in person. Luckily, many transactions, deposits and other banking needs can be completed easily and quickly online.
Here's a list of banks that are closed on Turkey Day:
Banks Open on Thanksgiving Day 2022
None of the banks GOBankingRates contacted or researched will have standalone branches open on Thanksgiving, but customer service lines and online banking options are still available. It's always best to contact your particular branch before making a visit on any holiday, especially Thanksgiving.
Fortunately, most major banks return to their regular schedules the day after Thanksgiving, meaning customers won't have to wait too long before completing their banking needs.
Upcoming Bank Holidays
There's just one bank holiday left in 2022 — Christmas, which falls on Sunday, Dec. 25. But it's followed by two more in January:
New Year's Day: Sunday, Jan. 1, 2023
Martin Luther King Jr. Day: Tuesday, Jan. 17, 2023
Sean Dennison contributed to the reporting for this article.
Schedules are subject to change and may vary for individual branches. Information is accurate as of Nov. 23, 2022.