Newest Signature Bank Promotions: Best Offers, Coupons and Bonuses August 2020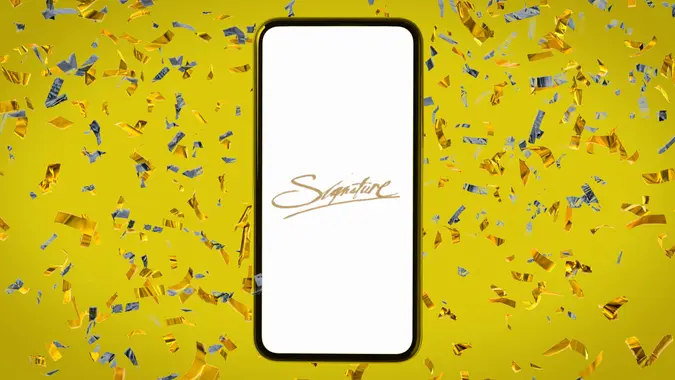 Signature Bank provides banking, wealth management, lending and insurance services to customers in select parts of New York, Connecticut and California. It tailors its services to a niche market that includes privately owned businesses as well as their owners and senior managers.
Signature offers the kinds of products and services you might find at large national banks, but with customer service typically reserved for smaller, community banks.
In this guide, you'll find the following information on Signature Bank's promotions and accounts.
Current Signature Bank Promotions
Signature Bank is not running any special promotions in June, but keep checking back to see what the bank might have on tap in future months. In the meantime, keep reading to learn more about Signature and what it has to offer.
What Types of Accounts Does Signature Bank Offer?
Signature offers several types of personal and business checking and money market accounts, each designed to serve different types of clients. You can scan the choices by visiting the bank's website. Maintenance fees for personal accounts range from $3 to $30. For business accounts, fees range from $20 to $30. You can avoid fees for select accounts by meeting minimum balance requirements.
The bank's checking and money market accounts all come with debit cards. Customers can use the cards at any ATM without incurring a fee from Signature Bank — something that can add up to significant savings if you stop at ATMs frequently.
What Are the CD Rates at Signature Bank?
Signature offers certificates of deposit with a minimum deposit of $5,000, and the CDs start earning interest immediately. The bank's website doesn't provide specific information about the terms and rates for its CDs. If you're interested in learning more, you'll have to call the bank directly and speak to a representative.
How Much Money Do You Need To Open a Bank Account at Signature Bank?
The Signature Basic Checking and Signature Flat Fee Business accounts do not have minimum balance requirements. All other personal checking and money market accounts require balances between $4,000 and $25,000. Other business checking and money market accounts have balance requirements ranging from $10,000 to $50,000.
How To Open a Signature Account
To open a Signature Bank account you'll have to speak to a bank representative. The bank's Client Care Services and Support line is available 24/7 at 866-SIGLINE. The representative can explain the process of opening an account. Calls may be monitored or recorded.
There is no Signature coupon code required to open an account, but you will need to provide information to verify your identity. This includes your name, address and date of birth. The bank might also ask to see your driver's license or other documentation to stay in compliance with federal laws for opening new accounts.
Should You Consider Signature Bank?
Because Signature targets a specific niche — high-net-worth clients who own or manage businesses — you'll first need to determine if you fall into that category before opening an account. The bank emphasizes its services over its products, which is why it's rare to find a Signature checking account bonus on its website.
Customers interested in basic financial products for managing their money are likely better served by more traditional banks. If you think Signature can meet your financial needs, it's best to contact the bank directly to learn more about its products and services before you make a final decision.
If getting free money from a bank is important to you, check out these current promotions from other banks to see how you can score cash bonuses.
This content is not provided by Signature Bank. Any opinions, analyses, reviews or recommendations expressed in this article are those of the author alone and have not been reviewed, approved or otherwise endorsed by Signature Bank.
This article has been updated with additional reporting since its original publication.