Newest Simple Promotions: Best Offers, Coupons and Bonuses August 2020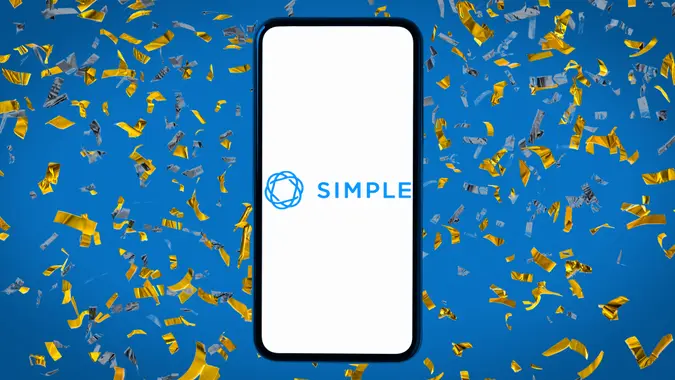 Simple is an online bank founded in 2009 by two friends who wanted to create a banking experience that was easy to navigate and empowered people to manage their money. Today, Simple combines banking and budgeting in an easy-to-use mobile app.
Current Simple Promotions
Simple doesn't have any special promotions on tap this month, but it does offer other ways to boost your bank account. Take a closer look at some of the options.
Round-up Rules
Simple makes saving money effortless with features like Round-up Rules. With this feature, each time you make a purchase, the bank rounds up the total to the next dollar amount. The rounded-up money goes into your Protected Goals account, which is a high-yield checking account where your money earns interest until you need to spend it.
No Simple coupon code is required for the feature, but you do have to sign up for it.
Fee-Free Banking
Many bank customers pay out hundreds of dollars a year in monthly maintenance and other fees, but that's not a problem at Simple because it doesn't charge fees. Account holders at the bank don't have to pay any of the following fees that are common at many other banks:
Monthly service fees

Insufficient funds (returned items)


Penalty for extended overdrafts

Return of deposited item


Stop payment

Account closure

Dormant account
Budgeting Tools
Simple's Safe-to-Spend budgeting tool automatically compares your available balance to your budget and lets you know what you can afford to spend. For some customers, this feature could be more valuable than a Simple checking account bonus because it helps them avoid late fees imposed by vendors when payments get returned for insufficient funds.
What Types of Checking Accounts Does Simple Offer?
Simple offers three checking accounts: Online Checking, High-Yield Checking and Shared Checking. All are digital accounts that you manage through the bank's app. Here are the details:
Online Checking
Online Checking is a basic checking account that comes with standard features like a Visa debit card and mobile check deposit. You also have the option of linking your account to external accounts or making automatic transfers to other Simple customers.
High-Yield Checking
With a high-yield checking account from Simple, your balance earns an annual percentage yield of up to 1.40%. The bank uses these accounts to help you save toward specific goals, whether it's making a major purchase or establishing an emergency fund.
If you sign up for the Round-up Rules feature, your spare change goes to a Protected Goals account, which is a high-yield checking account.
Shared Checking
Simple doesn't offer a traditional joint checking account. However, you can set up a shared account with anyone, even if they live in a different part of the country.
Shared accounts come with the same features you get with individual checking accounts, but you also retain your individual accounts.
How To Open a Simple Account
You can open a new account with Simple Bank by visiting its homepage and clicking the "Apply Now" button. Follow the prompts to create an account and provide the required information.
If you have questions and prefer not to interact online, you can call the bank at 888-248-0632.
Is Simple Worth a Closer Look?
Even without a cash bonus this month, Simple might be worth looking into if you're comfortable with an online-only banking experience. Simple's budgeting tools, savings features and fee-free banking make it an option for anyone trying to stick to a budget and manage their spending habits. Having the ability to set aside money for recurring expenses and create savings goals gives you more control over your money.
However, if you prefer the option of walking into a brick-and-mortar bank, you should look elsewhere. Similarly, if getting a bonus is a deciding factor in choosing a bank, consider other banks that are offering promotions.
Check back each month for updates and new promotions as they are available. If none of the above promotions seem like a good fit for you, there are also a number of other banks offering promotions this month.
This content is not provided by Simple Bank. Any opinions, analyses, reviews or recommendations expressed in this article are those of the author's alone and have not been reviewed, approved or otherwise endorsed by Simple Bank.
This article has been updated with additional reporting since its original publication.