Newest Zions Bank Promotions: Best Offers, Coupons and Bonuses August 2020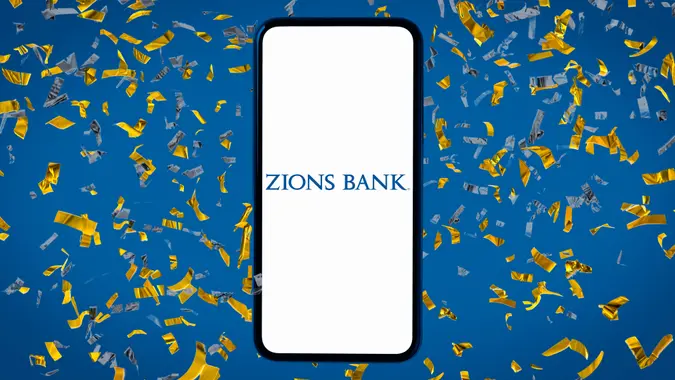 Zions Bank was founded in Salt Lake City in 1873 when the area was still just a territory. Today, Zions Bank boasts 122 full-service branches in its home state as well as Wyoming and Idaho.
Current Zions Bank promotions offer cash bonuses when you qualify for some of its most popular credit cards. Like other bank promotions, these offers are designed to put extra money in customers' pockets — but many probably won't take advantage. A recent GOBankingRates survey found that most respondents don't do much research when it comes to bank bonuses and end up missing out on free money when they open an account or apply for a new card.
If you're looking for a way to earn bonuses with new bank products, GOBankingRates has you covered. Keep reading to learn about the Zions Bank bonuses available in August 2020.
Zions Promotions at a Glance
Zions Bank offers eight different credit card options to cover every lifestyle, including rewards cards, travel cards and cards with low annual percentage rates. The Zions Bank promotions highlighted here involve travel credit cards. Zions Bank coupon codes are not required to participate. Here's an overview:
Best Zions Bank Promotions: August 2020
Account
Cash Value of Bonus
Expiration Date
Premier Visa Credit Card
$245
None
Elite Visa Credit Card
$400
None
Reserve Visa Credit Card
$750
None
Current Zions Bank Promotions
These ongoing Zions Bank promotions offer competitive cash bonuses and valuable travel credits when you qualify for one of the credit cards. Here what you'll need to know:
Premier Visa Card: $245 Bonus
The Zions Bank Premier Visa is a cash-back card designed to reward frequent travelers. You can earn your choice of the following: 2.5% cash back or 2.5 times the points on travel spending, and 1.5% cash back or 1.5 times the points on all other purchases. Once you're approved for the card and spend the required minimum, you'll get $150 cash back plus a waiver of the first year's annual fee of $95. Or if you prefer, you can opt for 15,000 rewards points. Either way, that's a total bonus value of $245. Here's more:
Elite Visa Card: $400 Bonus
The Elite Visa card lets you choose either rewards points or cash back when you make purchases. You'll be able to redeem the points for travel, merchandise or cash. If you love to travel and enjoy dining out, you can earn points even faster. You'll get 3% cash back or three times the points on travel and restaurant spending, and 1.5% cash back or 1.5 times the points on all other purchases. Take advantage of this Zions Bank offer and you'll also get 30,000 points or $300 cash as well as a $100 travel credit every year by meeting certain requirements. Here's more:
Reserve Visa Card: $750 Bonus
The Reserve Visa is Zions Bank's most exclusive travel rewards credit card. Cardholders have the following rewards options: 3% cash back or three times the points on travel and dining, and 2% cash back or two times the points, on everything else. You'll get additional perks as well, such as complimentary Priority Pass Select Lounge Access for yourself and up to three companions. There are no blackout dates for travel. After signing up, you'll receive 50,000 bonus points or $500 as a one-time bonus, plus $250 in travel credits every year. Here are the details:
How To Open a Zions Bank Account
If you're 18 or older, you can simply visit a local branch to open an account. However, most people find it much easier to open an account online because it only takes about five minutes. You'll need to provide the following:
Do You Qualify for These Zions Bank Promotions?
These premier credit cards are only available to those with high enough credit scores to qualify. To increase the chances of approval and earning the bonuses of up to $750, some customers will need to work on improving their credit scores. The best way to do that is to make your payments on time, order a credit report for review and dispute any errors you find in your credit file.
Check back each month for updates and new promotions as they are available. If none of the above promotions seem like a good fit for you, there are also a number of other banks offering promotions this month.
This content is not provided by Zions Bank. Any opinions, analyses, reviews or recommendations expressed in this article are those of the author alone and have not been reviewed, approved or otherwise endorsed by Zions Bank.
This article has been updated with additional reporting since its original publication.