Newest Regions Bank Promotions: Best Offers, Coupons and Bonuses August 2020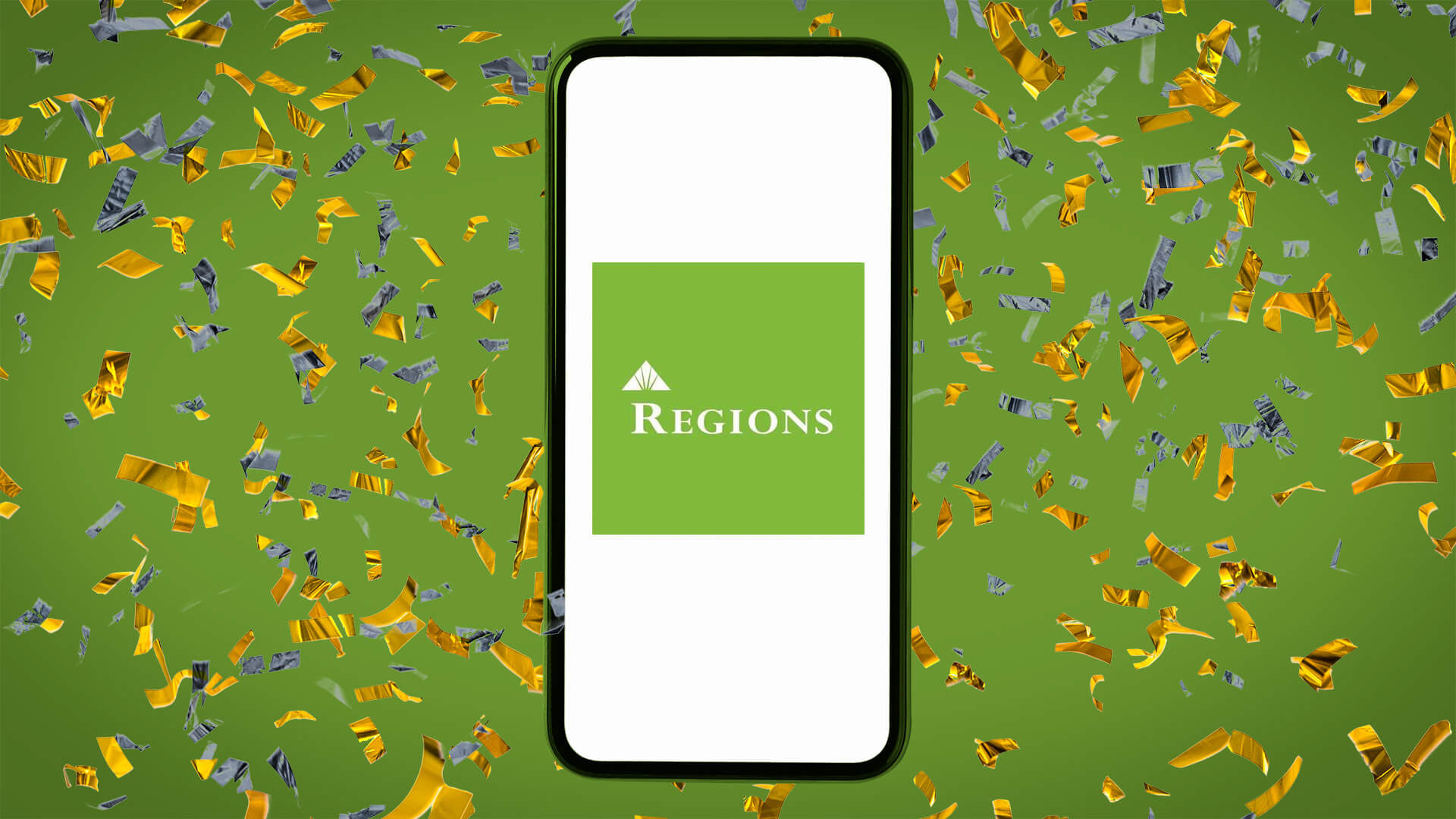 Regions Bank might not have the name recognition of some of the country's leading national banks, but it's still big enough to earn a spot on the S&P 500, and boasts operations throughout the South and Midwest. Like many banks, Regions offers promotions from time to time to lure new business — and the potential payoff for customers can be considerable.
Imagine that $50, $150 or $300 was yours for the taking. Would you turn your back on it and walk away? That's what many Americans do every day. According to a GOBankingRates survey, numerous Americans are missing out on free money from banks that offer bonuses and promotions.
For August 2020, Regions Bank is offering bonuses that could score you as much as $300 for meeting the requirements. Even if you're happy with your current bank, it might be worth taking a look at the Regions offers.
Regions Bank Promotions at a Glance
Regions Bank is currently running promotions for checking, savings and credit card accounts — none of which require a coupon code. Here are the highlights:
Best Regions Bank Promotions: August 2020
Account
Cash Value of Bonus
Expiration Date
Regions LifeGreen Checking
$50 Visa Reward Card
None
Regions Business Checking
$150
None
Regions LifeGreen Savings
$100
None
Cash Rewards Visa Credit Card
$100
None
Premium Visa Signature Credit Card
$300
None
Current Regions Bank Promotions
Bonuses and rewards should not be the only consideration when choosing a new bank. The bank should also meet your financial needs. Here's a closer look at the accounts that are part of current Regions Bank bank promotions.
Sponsors of
Regions LifeGreen Checking: $50 Visa Reward Card
Regions LifeGreen Checking is a basic checking account that offers unlimited check writing, online bill pay, a Visa check card and benefits for military service members. New and current customers can take advantage of the Regions Refer-a-Friend program and earn a $50 Visa reward card for each qualifying referral, up to $500. Here's more:
Regions Business Checking: $150 Visa Reward Card
The Regions Bank Refer-a-Friend program also applies to business checking accounts. You can choose from one of five business checking accounts with features like telephone and mobile banking as well as discounts on safe deposit boxes.
Regions LifeGreen Savings: Up To $100 Bonus
The Regions LifeGreen Savings account comes with no monthly fees and an annual savings bonus that rewards you for setting aside money for emergencies. You can open an account with as little as $50 online or $5 at a branch. Here are the details on the latest bonus offer:
Cash Rewards Visa Credit Card: $100 Cash Reward Bonus
With the Regions Cash Rewards Visa credit card, you earn points for purchases you make through Regions Relationship Rewards. The card also comes with an introductory 0% annual percentage rate for 12 months on purchases and balance transfers. Here are the details:
Premium Visa Signature Credit Card: 30,000 Bonus Points ($300 Cash Value)
Region Bank's Premium Visa Signature credit card does more than just earn rewards points. It also comes with features like lost luggage reimbursement, price protection and roadside dispatch. You'll get a 0% introductory APR while you earn 30,000 bonus points to redeem for cash, travel or merchandise. Here's more:
How To Open a Regions Bank Account
You can open a Regions Bank account online or at a local branch. You'll need your Social Security number, driver's license information, email address and funding account information when you apply. Here are the details for applying:
Open an Account Online
To open a Regions Bank account online, visit the bank's home page and click "Open an Account" at the top. Next, follow the link for the checking, savings or credit card account you want to open. Once there, follow the prompts.
Open an Account in Person
You also can visit your local Regions Bank branch to open an account. You can book an appointment in advance to reduce your wait time or just show up to speak with a representative. Check with your branch for its operating hours before heading out.
Are Regions Bank Promotions Right for You?
If you live in Regions Bank's service area and like the idea of a full-service bank that also offers online and mobile banking options, it might be worth your time to check out the bank's latest promotional offers. Regions has plenty of products and services to choose from, including deposit accounts, personal loans, home loans and investment options. The bonus cash you can earn by signing up for an account might make Regions the right bank for you.
Check back each month for updates and new promotions as they are available. If none of the above promotions seem like a good fit for you, there are also a number of other banks offering promotions this month.
This content is not provided by Regions Bank. Any opinions, analyses, reviews or recommendations expressed in this article are those of the author alone and have not been reviewed, approved or otherwise endorsed by Regions Bank.
Information on promotions was sourced from banks' websites on May 22, 2020. Additional requirements may apply. Offers and terms are subject to change.
This article has been updated with additional reporting since its original publication.