Here's Your Regions Bank Routing Number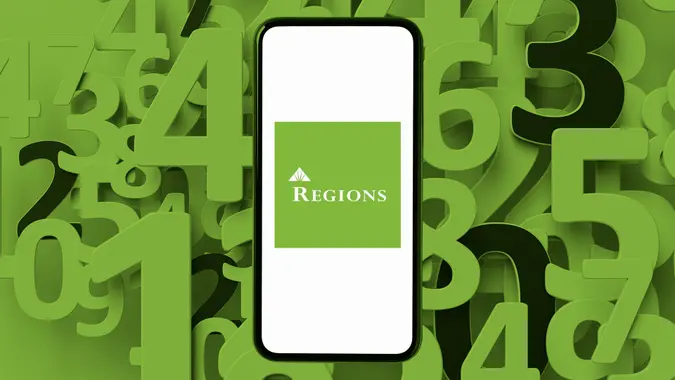 Regions Bank operates throughout the South and Midwest and provides customers with everything from traditional bank accounts to credit cards and mortgage loans.
Whether you're a Regions customer or need to complete a transaction with someone else who's a Regions customer, you'll need to find the right routing number associated with the bank to complete certain transactions.
Use the following chart to find different Regions Bank routing numbers by state.
Regions Bank Routing Numbers by State
| State | Regions Bank Routing Number |
| --- | --- |
| Alabama | 062000019 |
| Arkansas | 082000109 |
| Florida | 063104668 |
| Georgia | 061101375 |
| Illinois | 071122661 |
| Indiana | 074014213 |
| Iowa | 073900438 |
| Kentucky | 083901744 |
| Louisiana | 065403626 |
| Mississippi | 065305436 |
| Missouri | 081001387 |
| North Carolina | 053012029 |
| South Carolina | 053201814 |
| Tennessee | 064000017 |
| Texas | 111900785 |
| Virginia | 051009296 |
What Is a Routing Number?
Routing numbers were created more than a century ago by the American Bankers Association as a way to identify federal- and state-chartered banks in transactions. That's why they're also known as ABA numbers. No two banks have the same routing number.
Many smaller and online-only financial institutions have only one routing number, but bigger banks that operate across multiple states usually have multiple routing numbers. Regions Bank is among the financial institutions that have different routing numbers for different states.
You'll need to use your Regions routing number to set up certain types of transactions, such as direct deposit or online bill payments.
Regions' Routing Number and SWIFT Code for Wire Transfers
If you need to receive a domestic wire transfer to your Regions account, you'll need to provide the sender with Regions' routing number for such transactions: 062005690. Its SWIFT code for international wire transfers is UPNBUS44. For both types of transactions, you'll also need to provide the sender with your Regions checking account number.
How To Find Your Regions Bank Routing Number
There are a few ways to find a Regions Bank routing number. If you remember which state you opened your account in, just use the chart above. You can also do one of the following:
Refer to your checks and deposit slips: If you have a Regions checking account, you can also find your routing number on a check — the routing number is the first nine numbers in the lower left corner. Routing numbers are also included on your deposit slips.
Call customer service: Regions Bank's customer service number is 800-734-4667. A representative can look up the routing number for your account.
Send a secure message: To reach out via a secure message, log in to your account using the Regions online portal and click the "Message Us" link. Follow the prompts to send your inquiry.
Information is accurate as of April 6, 2023.
Editorial Note: This content is not provided by any entity covered in this article. Any opinions, analyses, reviews, ratings or recommendations expressed in this article are those of the author alone and have not been reviewed, approved or otherwise endorsed by any entity named in this article.