How Much Money Do You Need To Open A Bank Account? How Much Money Should You Put In?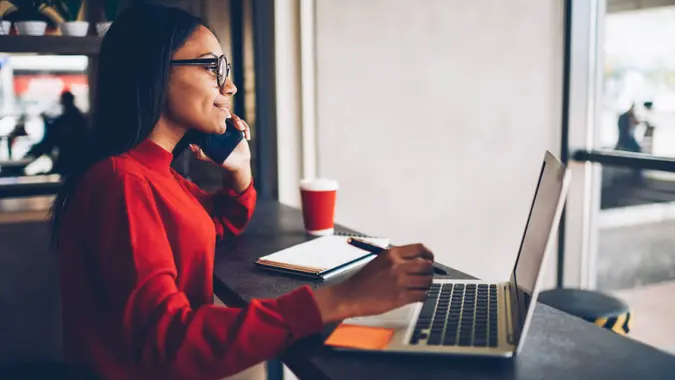 GaudiLab / Shutterstock.com
Opening a bank account is one of the most critical adult life decisions. It's imperative to be thoroughly familiar with the cost of opening a bank account and the recurring charges.
That brings up a question: how much does it cost to open a bank account? In short: nothing. Mostly, you don't need to pay a single cent to open a bank account.
However, that's a very generalized answer since banks have a couple of other fees you're often required to pay when opening your bank account. In this article, we'll make the costs easy to understand.
How Much Money Do You Need to Open a Bank Account
Generally, there is no cost for opening a bank account except the minimum deposit. The minimum deposit is the amount you must keep in your bank account at all times.
Some banks will charge you a fee if you cannot maintain the minimum deposit amount in your account. On the flip side, some banks don't require a minimum deposit at all.
Apart from this, some banks also charge an account maintenance fee. It's the amount you pay to "maintain" your bank account. The maintenance charges vary, depending on the bank and the checking account. In most cases, they range between $6 and $15 a month.
You can also avoid these fees if the bank gives you alternate routes. For example, some banks will waive the maintenance charges if you set up a monthly direct deposit.
Some banks do not require a maintenance fee or minimum deposit. Therefore, it could cost you nothing to open a bank account if you shop around for the right checking account.
How Much Money To Put In a New Bank Account
When you open a new bank account, there is no standard amount to put into it. Since everyone's finances and preferences are different, you can choose to put any amount you want into your bank account.
But if your financial decisions are savings-oriented, you should at least have three to six months' worth of expenses in your savings account. If the pandemic has given us any financial lesson, it's that we all need to have something saved up for a rainy day.
Lauren Anastasio, a SoFi certified financial planner, says: "This money should be kept separate from your regular checking account to avoid accidental spending or the temptation to use funds for anything other than an emergency."
As for your checking account, you can keep your monthly paycheck in it. As everyone's expenses and incomes differ, there's no one-size-fits-all answer to this question.
Keep Enough for Monthly Expenses
Shirley Yang, the Vice President of Goldman Sachs' Marcus, has more specific advice on how much to keep in your checking account. She says, "Consumers should determine their estimated monthly expenses and keep enough in their checking account to cover those expenses. Any additional funds left over; they should consider transferring to something that gets a higher yield."
If you don't have a CD or aren't investing in stocks, this higher yield option would be a savings account. It's better to move the extra money into a savings account rather than keeping it in a checking account because it will gather interest in the former.
But that doesn't mean you should empty your checking account completely.
Keep Enough To Avoid Fees
Some banks require you to have a certain amount in your checking account. If your funds go below that amount, you're charged a penalty.
According to Forbes, the mean value of money in all checking, saving and money market accounts was $42,000 in 2019, while the median was just $5,300.
Likewise, you might want to keep a certain amount in your checking account to avoid the monthly maintenance charges. Most banks charge a maintenance fee that's waived if you have a minimum balance in your account.
Check your bank's requirements to waive this fee and add money to your checking account accordingly. It's vital to go through your bank's guidelines and fee structures when determining how much money to put in a new bank account.
Good To Know

It may be best if you kept at least a month or two's worth of expenses in your checking account. Keep more significant sums in your savings account so that they earn greater returns. The rates have gone down since the pandemic, but you'll still be making something off your savings compared to nothing in the checking account.
Our in-house research team and on-site financial experts work together to create content that's accurate, impartial, and up to date. We fact-check every single statistic, quote and fact using trusted primary resources to make sure the information we provide is correct. You can learn more about GOBankingRates' processes and standards in our editorial policy.