Edward Jones CD Rates for November 2023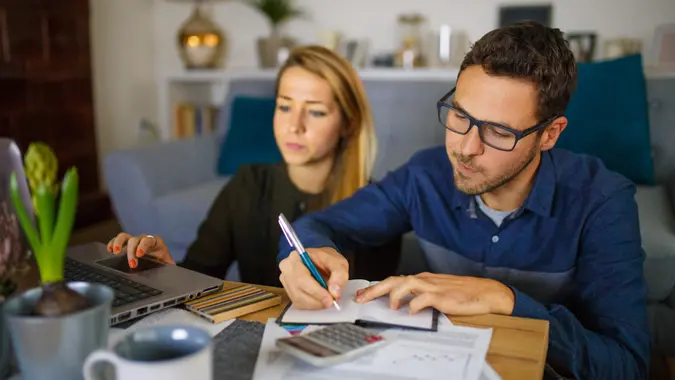 Milan_Jovic / iStock.com
With interest rates on the rise, CDs are becoming more attractive for investors. Shopping around for the best CD rates can be a chore, but if you have a brokerage account with Edward Jones, you can easily add CDs to your portfolio. Here's what you need to know.
What Is a CD?
A certificate of deposit, or CD, is a savings product that is sold by a bank or credit union. It has a fixed term, usually anywhere from one month to five or even ten years. It has an interest rate that is guaranteed for the length of the term. The money invested in CDs is guaranteed by the FDIC — in the case of those sold by banks — or by the NCUA — in the case of those sold by credit unions.
Edward Jones CD Rates for November 2023
Here are the current Edward Jones CD rates. Note that there is a $1,000 minimum investment to purchase a CD from Edward Jones.
| Account Type | APY |
| --- | --- |
| 3-month CD | |
| 6-month CD | |
| 9-month CD | |
| 1-year CD | |
| 3-year CD | |
| 4-year CD | |
Why Buy a CD From Edward Jones?
The CDs from Edward Jones are issued by banks but purchasing them from the brokerage has some advantages over buying directly from a bank. Here are some reasons to choose a CD from Edward Jones.
Buy CDs From Multiple Banks
You can purchase CDs from various banks in your Edward Jones brokerage account. This has a couple of advantages. First, you can easily compare rates and get some of the best CD rates in the market without having to shop dozens of different banks. In addition, since the CDs are FDIC-insured by the issuing bank, you can have more than the FDIC limit of $250,000 in your account and still be covered.
The FDIC, which insures bank deposits in case of bank failure, has a limit of $250,000 per depositor, per account type. So if you have $500,000 in your individual savings account at Main Street Bank and it goes out of business, you'll only get $250,000 back. But you can have a $250,000 CD from Main Street Bank, plus a $250,000 CD from Elm Street Bank, plus a $250,000 CD from Baker Street Bank in your brokerage account at Edward Jones. If all three of those banks go out of business, you would still get your entire $750,000 investment back.
Re-Sell Your CDs
CDs typically incur a penalty if the money is withdrawn prior to the end of the term. The penalty can range from three months' worth of interest to twelve months' worth of interest or even more. This means that, theoretically, if you withdraw the funds from your bank CD early, you could lose money, getting back less than what you invested in the first place.
When you buy a CD from Edward Jones, however, you can resell it on the secondary market. This provides a way to get your money back prior to the end of the term, and, depending on what interest rates are doing, theoretically make money doing it.
There's another difference as well, which some may consider to be a disadvantage. Interest on a CD from Edward Jones cannot remain on deposit — it has to be paid out, but it can be paid into your money market account or your bank deposit account at Edward Jones. It will continue to earn interest in that account, although it will likely be less than what it earned in the CD.
Work With a Financial Advisor
Since Edward Jones is a brokerage firm, they have advisors who provide financial advice. You don't have to work with an advisor if you don't want to, but they are available if you are looking for some help. There is a fee associated with working with an advisor, and in some cases, you will have to have a minimum amount of money to invest. But if you're looking for some help with investing to reach your long-range goals, an advisor may be able to help.
Edward Jones offers different types of accounts with varying levels of involvement on the part of an advisor, so you can choose the way you want to work with one and how much you want to pay.
Final Take
Certificates of deposit are becoming a more attractive investment for those who want the security of a guaranteed interest rate and are able to leave their money on deposit for a specified period of time. Having the ability to compare CD offerings from multiple banks, along with the other advantages provided by Edward Jones makes them well worth a look.
Rates are subject to change; unless otherwise noted, rates are updated periodically. All other information on accounts is accurate as of Nov. 3, 2023.
Editorial Note: This content is not provided by any entity covered in this article. Any opinions, analyses, reviews, ratings or recommendations expressed in this article are those of the author alone and have not been reviewed, approved or otherwise endorsed by any entity named in this article.