Cashier's Check Scams: How To Avoid Them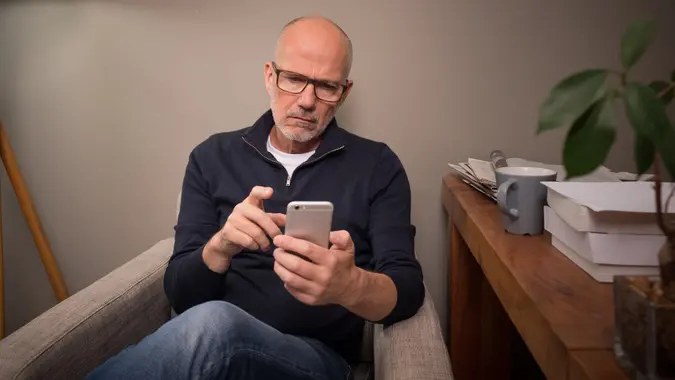 Christopher Ames / iStock.com
Unlike a personal bank check, which is drawn against the personal account of the individual who writes it, a cashier's check is issued by a bank or financial institution. Although cashier's checks are generally considered safer than personal checks, they're also used in fake check scams that leave the victim responsible for reimbursing the bank that deposited or cashed the check.
Learn more about cashier's checks, how to avoid cashier's check scams and what to do if you're a check fraud victim.
5 Cashier's Check Scams
Cashier's checks are generally considered a safe and secure payment method, but can you get scammed on a cashier's check? Yes — common cashier's check scams involve getting the victim to deposit a fake check and wire transfer the money back to the scammer. Here are five cashier's check scams to avoid:
Mystery shopper scam
Craigslist scam
Work-from-home scam
Property rental scam
Foreign lottery scam
1. Mystery Shopper Scams
Mystery shoppers get paid for making purchases and filling out reports about their experience. Legitimate companies use mystery shoppers to help them find opportunities for improvement.
Upgrade Your Checking Account
Scammers hire mystery shoppers for a phony bank or wire transfer service, for which the shopper gets a check to deposit in their account and is asked to wire funds to a third party.
2. Craigslist Scams
Craigslist scams consist of an offer to purchase your advertised product or service with a request to make a deposit using a cashier's check.
Alternatively, the scammer might offer a cashier's check worth more than the purchase price, seemingly as a show of good faith, and ask the seller to refund the extra money via wire transfer.
3. Work-from-Home Scams
Some scammers offer home-based jobs that pay you for processing payments through your own bank account or promise you a paycheck before you've done any work.
For these common scams, the scammer sends the remote worker a check and asks the worker to deposit it into their personal account and wire the additional money to the scammer or a third party.
4. Property Rental Scams
Property rental scams target both renters and landlords.
Scammers may advertise and accept a deposit for a rental property they don't actually own or manage.
Upgrade Your Checking Account
Posing as a renter, they may pay for the initial rent, deposit and fees with a cashier's check but back out of the deal at the last minute. When the landlord returns the money, they may discover that the cashier's check was fraudulent.
5. Foreign Lottery Scams
Foreign lottery scams take several forms, but the scammer often claims to have won a lottery, inherited money or saved a substantial amount of money in the bank.
Scammers will ask you to deposit a cashier's check in your account and wire a portion of it back to them. The check will not clear, and the victim will lose the money they wired.
Are Cashier's Checks Safe?
Legitimate cashier's checks are nearly risk-free and harder for scam artists to abuse. In fact, they're a preferred payment method for large transactions, such as real estate purchases. They're also useful for transactions with individuals you haven't done business with before.
How To Spot a Fake Cashier's Check
Although a phony cashier's check can look like the real thing, some fakes have telltale signs to tip you off. The Federal Deposit Insurance Corp. and AARP Bulletin offer these tips for spotting phony cashier's checks before depositing the check:
Upgrade Your Checking Account
How Can I Verify if a Cashier's Check Is Real?

Verify the name of the bank.
Call the bank's official phone number — not necessarily the one printed on the check — to verify the check.
Look for a perforated edge indicating the check was printed on a business printer.
Note stains, gaps and pen strokes that suggest the signature was scanned or forged.
Note a poor-quality logo or the absence of a logo.
Look out for mismatched check numbers found in the top right corner and at the bottom right corner.
Inspect the ink — fake checks often feature shiny ink used for the check, account and routing numbers at the bottom.
How To Report Cashier's Check Scams
Contact your bank as soon as you suspect you've been scammed and report the scam to the police in order to document the fact that you're a victim.
The Federal Trade Commission recommends filing complaints with:
You also should contact the bank whose name was used on the fraudulent check, as well as the website where you met the scammer.
Upgrade Your Checking Account
How To Protect Yourself From Cashier's Check Scams
Here are some tips for avoiding scams and protecting yourself from cashier's check fraud:
Avoid work-from-home jobs, and especially mystery shopping jobs, that require you to make deposits, wire money or transfer funds.

Research companies that hire home-based workers and mystery shoppers before you accept a position. Refuse any position that requires an upfront payment.

Don't agree to use wire services to send money to strangers.
If someone makes a purchase from you using a cashier's check, insist that the check be written for the exact purchase price.
Only accept cashier's checks from banks you can contact to confirm that the check is legitimate.
What Happens if You Deposit a Fake Cashier's Check?
If you cash a fake cashier's check, which could take weeks to discover, you can lose thousands of dollars or face criminal charges for check fraud. Not only do you have to pay back the amount of the check, but you also may need to pay additional fees to cover overdraft charges if there's not enough money in your account to cover the check.
However, now that you know how to spot cashier's check scams or other fraudulent activity, you are well on your way to avoiding being fooled by the fakes.
Upgrade Your Checking Account
Caitlyn Moorhead contributed to the reporting for this article.
Our in-house research team and on-site financial experts work together to create content that's accurate, impartial, and up to date. We fact-check every single statistic, quote and fact using trusted primary resources to make sure the information we provide is correct. You can learn more about GOBankingRates' processes and standards in our editorial policy.