How To Calculate the Exact Minimum Amount You Should Have in Your Checking Account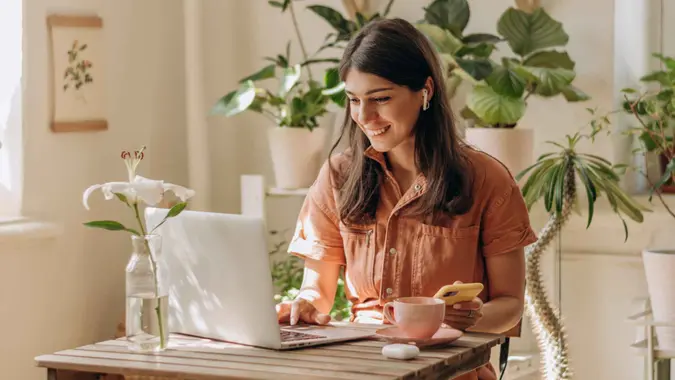 Tatiana Buzmakova / Getty Images/iStockphoto
A recent GOBankingRates survey found that the majority of Americans (37%) keep a minimum balance of $100 or less in their checking accounts, and an additional 20% maintain a minimum balance between $100 and $500. But how much do you actually need to keep in your accounts?
Here's how to calculate the exact minimum amount you should have in your checking account.
Everyone's Minimum Is Different
There is no one-size-fits-all minimum balance that everyone should keep in their checking accounts.
"The actual minimum amount will vary depending on the individual's financial situation and goals," said Dennis Shirshikov, adjunct professor of finance and economics at the City University of New York and strategist at Awning.com.
"To calculate your own minimum, you'll need to consider your monthly expenses and your income," he said. "Start by creating a budget to get a clear picture of your monthly expenses, including things like rent, utilities, groceries and debt payments. Then, subtract your expenses from your income to see how much money you have left over each month. The amount of money you have left over after paying your expenses is a good starting point for your minimum checking account balance."
You should especially be mindful of monthly expenses that get withdrawn automatically from your checking account, said Armine Alajian, CPA and founder of the Alajian Group.
Upgrade Your Checking Account
"If you have monthly subscriptions, automatic payments for utility bills, etc., calculate the total amount you spend each month on those and be sure to keep your account balance at or above that number," she said. "Remember that some of these bills will fluctuate month to month, so calculate an average for those bills and use that as an estimate for how much to keep in your account. It's always best to overestimate than to fall short."
It's a Good Idea To Have a Cushion
Remember that the number you calculate based on your needs is the absolute minimum to keep in your account — it's probably a good idea to keep a bit more.
"Keep a cushion of at least a few hundred dollars in your checking account to cover unexpected expenses or emergencies," Shirshikov said. "This will help you avoid overdraft fees and other financial problems if you encounter an unexpected expense or if your income is delayed for any reason."
As a rule of thumb, Gary Golden, CEO of BHCU, recommends keeping a cushion of 20% of what you've calculated to be your minimum balance.
"Keeping a month's worth of expenses, plus a little extra so that you can avoid overdraft charges if you make any mistakes, will ensure timely payments of your monthly bills," he said.
Keep Enough in Your Account To Avoid Fees
Your bank may have additional minimum balance requirements that you need to be mindful of.
Upgrade Your Checking Account
"Depending on your bank, you may be required to have a minimum daily balance in your checking account to avoid fees or account closure," Alajian said. "As long as you keep the minimum in your account by the end of each business day, you'll be in good standing with your bank. However, I advise clients to also keep more than just the minimum in their account to avoid overdrafts. If you overdraft your account, you could face a fee, depending on your bank's policies."
More From GOBankingRates
Methodology: GOBankingRates surveyed 1,000 Americans ages 18 and older from across the country between Dec. 7 and Dec.12, 2022, asking 19 different questions: (1) What category does your current financial institution fall under?; (2) Have you considered changing banks within the past year?; (3) If you have considered changing banks in the past year, were any of the following factors? (Select all that apply); (4) Which feature, perk or other offering is most important to you when opening an account with a new institution?; (5) Are you currently satisfied with all the banking products and services offered by your bank/credit union?; (6) Would you ever have different types of accounts across multiple banks? (i.e. checking at Chase, but savings at TD Bank); (7) What is your most preferred method of banking?; (8) Which of the following is the biggest factor for you staying with your current bank?; (9) Which of the following bank accounts do you currently use/have open? (Select all that apply); (10) How much is the minimum balance you keep in your checking account?; (11) How much do you currently have in your savings zccount?; (12) What amount of a sign-up bonus would make you consider switching banks?; (13) Have you considered using any app-only banking platforms (aka neobanks) in the past year (e.g. Current, Upgrade, Chime, Dave, etc.); (14) How important is it to you for your bank to be affiliated with a crypto exchange/platform?; (15) In the past year, how often have you written a physical check?; (16) When was the last time you visited your bank in person?; (17) Why would you choose to visit your bank in person? (Select all that apply); (18) When you think about banking, do you think of it as something you need or don't need?; and (19) What services/products do you expect from your bank and/or credit union? (Select all that apply). GOBankingRates used PureSpectrum's survey platform to conduct the poll.
Upgrade Your Checking Account