How and When To Cancel a Payment From Your Checking Account, and How It Impacts Your Finances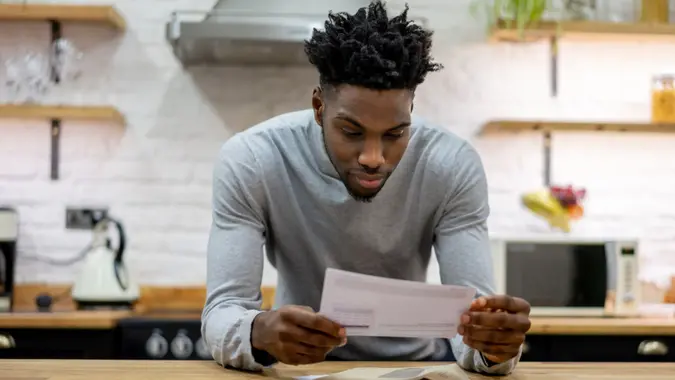 andresr / Getty Images
If you regret making a purchase that's scheduled to come out of your checking account, or you don't agree with a pending payment, you can give yourself a second chance in most cases by issuing a stop-payment order.
Experts: Here's How Much You Should Have in Your Checking Account
More: Here's How Much Americans Have in Their Savings Accounts in 2023
It doesn't work in all cases as it's not the same as a refund, and it could have consequences for your financial life. However, canceling a payment from your checking account is sometimes the best and only option for keeping your cash before a scheduled transaction disperses it on your behalf.
According to a new GOBankingRates study of 1,000 adults, more than nine out of 10 people have a checking account. But how many know how to intervene to interrupt a transaction that they no longer want to take place? Here's what you need to know.
What Is a Canceled Payment?
When you cancel a payment, you instruct your bank to stop a scheduled transaction against your checking account, whether initiated by a check or an electronic transaction. A few scenarios account for most stop-payment orders.
Earn Perks With A New Checking Account
"If you have an automatic payment set up for a bill that you no longer owe, or if you need to stop payment before it is processed, you will need to cancel the payment," said Adrian Lawrence, financial advisor, chartered accountant and CFO of FD Capital Recruitment.
How Do You Cancel a Payment?
Despite the banking industry's move toward app-based online access to just about everything, stopping a scheduled payment from going through is one of the rare analog-only exceptions.
"To cancel a payment from your checking account, you will need to contact your bank as soon as possible," said Tim Doman, investment analyst, former private equity investment fund executive, and newly appointed CEO of TopMobileBanks. "You can do this by calling your customer service line or visiting a branch in person. Be sure to have all relevant information about the payment, including the amount, date, and recipient."
Live Richer Podcast: Scamdemic — Don't Fall Victim to These Money Scams
Earn Perks With A New Checking Account
The Consumer Finance Protection Bureau (CFPB) confirms that stop-payment orders must be made in person or over the phone, and adds that some banks require you to follow up with a written request within 14 days of your verbal request.
Cancel Payments When Autopay Goes on Autopilot
You should be able to cancel recurring automatic payments by contacting the merchant without notifying your bank. If not, you can stop unwanted recurring charges by canceling the payment on your end, which you can do at any time with or without contacting the party receiving the payment.
According to the Consumer Financial Protection Bureau (CFPB), federal law allows you to stop automated payments at any time even if you authorized them in the past. "There may be times when you need to cancel a payment, such as when a merchant has charged you incorrectly or when you need to stop a recurring payment," said Doman.
Earn Perks With A New Checking Account
According to the Office of the Comptroller of the Currency (OCC), one common scenario is if you continue to receive monthly charges despite canceling a service after a free trial period expires. "In these situations, acting quickly is important to avoid any negative impact on your finances," said Doman.
That last part is important. According to OCC, you must notify your bank at least three business days before the payment is scheduled to take place in order to cancel it. Credit Karma adds that stop-payment orders are sometimes valid only for a set time, typically six months, after which charges might resume once more.
It Might Be Your Only Chance To Stop a Check From Bouncing
Many people stop checking payments to shut down unwanted recurring charges, but others might have to cancel a payment because they bought something without realizing that they didn't have enough money to cover the purchase.
"A while ago I was buying some shoes online but couldn't pay due to my checking account being overdrawn," said Lawrence. "I canceled the purchase and luckily still had time before they shipped it out so I wasn't charged for not paying."
That might work once or twice, but canceling payments to avoid bouncing checks is not a sustainable personal finance strategy.
According to the CFPB, many banks charge a fee to cancel payments, but the alternative is often worse. That's because insufficient funds fees and returned check fees can cost even more than stop-payment charges if the bank can't execute the cancellation in time.
Avoid Desperation-Based Cancellations With Sound Money Management
Automated charges that you can't turn off might leave you with no choice but to cancel a payment. But you can avoid bounced-check anxiety by not cutting it too close. Keep enough in checking to cover your purchases and then some, even if the extra cushion could be earning more in your investment account.
Also, back up your checking account with a linked savings account that provides overdraft protection in case you're in a pinch.
Finally, review your statements every month and watch out for unauthorized charges, forgotten recurring payments and unwanted subscriptions from lapsed free trials.
More From GOBankingRates
Earn Perks With A New Checking Account