How To Cancel a Check in 6 Steps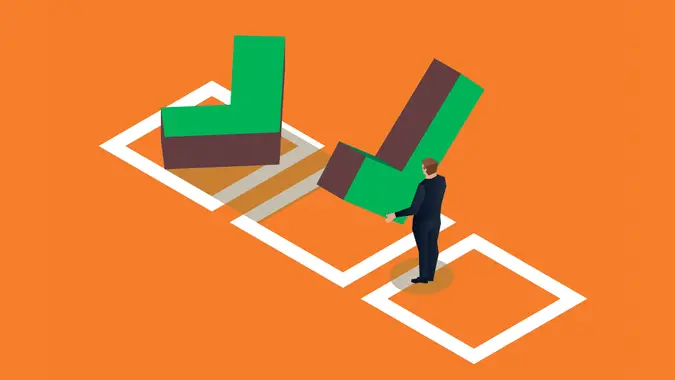 If you sent a check and want to cancel it before it is processed or your check was lost or stolen, you can contact your bank or credit union and request a stop payment on that check. Don't fret over this, canceling a check can be done in six easy steps.
A stop payment request is easy to make, and the steps are generally the same for all financial institutions. Consider the actions below to help guide you through this procedure.
How To Cancel a Check
Decide Whether To Cancel the Check: Before you cancel a check, you want to be clear why you are taking this action because most accounts have a stop payment fee. Are you close enough to the recipient of your check that you could ask them to kindly not cash the check and destroy it? Could you ask the company you're paying with the check to not process it? Or if you lost the check, perhaps giving yourself a day to search for it may be better than spending the stop payment fee.
See Whether the Check Has Cleared: If the check has already cleared, then canceling a check or stopping payment will not benefit you. Time is a major factor with this action because you need to give the bank enough time to process a stop payment on the check.
Collect the Relevant Pieces of Information: When you want to stop payment on a check you've written you must provide your financial institution the name of the check's recipient (or payee), account number, the number of your check(s), the date of the check and the dollar amount.
Contact Your Bank: For the quickest response to your request, you can call your bank, visit your bank's website or visit a physical branch.
Approve Any Stop Payment Fees: Most banks have a fee for stop payments, depending on the account tier you have. You must pay your fee in order for the process to go through, so do not hesitate to pay the fee.
Note the Expiration Date on the Stop Payment Order: The stop payment order will be in effect for six months with your bank. This is the case with most financial institutions.
Earn Perks With A New Checking Account
How Much Does It Cost To Cancel a Check?
The stop payment fee depends on not only your bank but the type/tier level of your account at your bank. For instance, if you have a Bank of America Advantage Relationship Banking account, which is a higher tier bank account, you will not have any stop payment fees.
While some accounts may have the perks of fee-free stop payments, most accounts at banks do charge. Consider the comparison fee rates:
The Cost of Canceling Checks at National Banks
Bank
Stop Payment Fee
Bank of America
$30
Wells Fargo
$31
Citizens Bank
$35
Capital One
$25
Citibank
$30
How Long Do You Have To Cancel a Check?
You want to cancel a check as soon as you possibly can before your payee cashes the check. You want to give your bank enough time to process the stop payment, which can be one full business day at the least.
Can You Stop Payment of a Cashier's Check?
While you do not have the right to stop payment on a cashier's check because it is a purchased bank product drawn from the funds of a bank instead of your account, you can fill out an official declaration form if your cashier's check was lost, stolen or destroyed. Simply fill out the account number of the cashier's check or certified check, check number, check date, check amount and to whom the check was made out.
Earn Perks With A New Checking Account
What if a Fraudulent Check Has Cleared My Account?
The check you just cashed may be "in the clear" but you are certainly not. Fraudulent checks can take weeks to discover, but banks show available funds from a deposited check within days. This means that you can spend your deposited funds from a check that you've cashed, but later be asked to repay that deposited amount of money by your bank. This is usually how check scams come to pass for personal checks as well as cashier's checks.
If you fear a fraudulent check has cleared your account, do not spend the funds and contact your bank at a branch or over the phone as quickly as possible.
Ultimately, canceling a check takes six easy steps. The most important thing to do is to communicate with your bank in a timely manner.
Earn Perks With A New Checking Account