What Are NSF Fees and How Can You Avoid Them?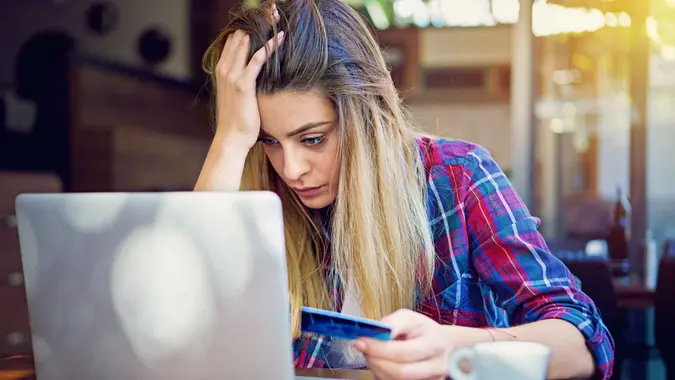 praetorianphoto / Getty Images
In 2022, banks generated nearly $8 billion in revenue from fees charged on overdrawn accounts, including NSF fees. Understanding how NSF fees work and the steps you can take to avoid them can help keep that money in your pocket.
See: How To Guard Your Wealth From a Potential Banking Crisis With Gold
What Is an NSF Fee?
NSF stands for non-sufficient funds, and it means you don't have enough money in your bank account to cover a payment. When that happens, the bank returns the check or denies the electronic payment and charges you an NSF fee. The average NSF fee in the United States is $34, but this fee typically ranges from $15 to $40, according to data from the Consumer Financial Protection Bureau.
NSF Fee vs. Overdraft Fee
An NSF fee is different from an overdraft fee, although one or both of the fees can show up on your statement if your balance falls below zero. When you have an overdrawn account, your bank may charge you an overdraft fee, depending on the account's terms and conditions. However, you usually won't see an NSF fee until you try to make a payment through that overdrawn account or submit a payment that will overdraw the account.
Upgrade Your Checking Account
What Happens When You Get NSF Charges?
What happens when you get an NSF charge depends on your bank's policy. It's possible the bank will deduct the fee from your account without sending you a formal notice, as it does not have a legal obligation to inform you of the charge. In that case, you may not know you were charged the fee until you see it on your bank statement.
If you don't know you have an overdrawn account and continue spending, you can quickly find yourself with a hefty bill to pay. Some banks restrict the number of fees they levy in a day, and others offer a grace period so customers have time to make a deposit to cover the transaction that overdraws the account. In some cases, banks charge an overdraft fee each day the account has insufficient funds, and that's when the charges add up.
The Hidden Cost of NSF Fees
Dealing with NSF charges — especially when the bank keeps deducting them — can be stressful. If you can't deposit money until you get paid at the end of the week and the bank charges you $34 per day, you're looking at $170 in charges on an account that already doesn't have enough money in it. In addition, the merchant you were trying to pay may also charge you a fee for a returned payment or a late payment.
Upgrade Your Checking Account
When your checking account is overdrawn, the bank may stop processing the automatic payments you have set up. This can leave you wondering, "Why did I get an NSF return fee?" for a payment you normally don't think about. Even if you do remember, you may have to pay to stop the payment from going through. Some banks will let you complete a point-of-sale transaction with your debit card even if you don't have the funds in your account at the time. Then they charge you an overdraft fee. These fees can quickly add up to hundreds of dollars.
How To Avoid NSF Fees
Fortunately, it is possible to avoid NSF fees. Here's how.
1. Look For a Bank That Doesn't Have an NSF Fee
One option is to open a checking account at a bank that doesn't charge this fee. Some of the biggest banks in the United States have already eliminated or plan to phase out NSF fees. These include Wells Fargo, Bank of America and Chase. You also can find regional and online banks that don't charge NSF fees, such as Ally and Capital One.
Upgrade Your Checking Account
Some banks give you a grace period that helps you avoid NSF fees. If you deposit enough money to cover the transaction within a given period of time — typically 24 hours — you can avoid the extra charge. This is why it's important to understand your bank's NSF policy.
2. Use Your Savings Account as Overdraft Protection
Some banks allow you to link your checking and savings accounts as a form of overdraft protection. If you don't have the funds in your checking account to cover a transaction, the bank withdraws the money from your savings account to make up the difference. This is a convenient option, but make sure you read the fine print. If the bank requires you to keep a minimum daily balance in your savings account, you may find yourself paying a maintenance fee if the transfer drops your balance below the minimum.
3. Pay Attention to Your Account Balances
Keeping track of how much money you have offers several benefits, including helping you avoid NSF fees. When you have a habit of checking your balance every day through the bank's app or using an old-school check register to manually monitor it, you can avoid overdrawing your account. If your bank offers a low balance alert service, you can sign up to receive a text or email notification when your balance drops below a certain threshold.
Upgrade Your Checking Account
Can an NSF Fee Be Refunded?
You can contact your bank and ask it to refund your NSF fee, but the decision to reverse or refund the charge is up to the bank. Anecdotal evidence suggests banks do refund fees, and you may have some luck if it's the first time you've incurred the fee or have multiple accounts with your bank.
How Do I Get My NSF Fee Waived?
Your bank may waive NSF fees under certain conditions. Sometimes the bank pays the transaction as long as it's under a preset limit if it's the first time you've overdrawn the account, or if you have an established relationship with the bank. If you sign up for overdraft protection, the bank may waive the NSF fee, but it may charge you an overdraft fee instead. Check with your bank to find out if it offers these services.
Final Take
Fees are big business for banks, but you don't have to keep giving away your money to boost their profits. Read your disclosures and make sure you understand the bank's policies on NSF fees and other charges. The more you know, the better prepared you are to manage your finances.
Our in-house research team and on-site financial experts work together to create content that's accurate, impartial, and up to date. We fact-check every single statistic, quote and fact using trusted primary resources to make sure the information we provide is correct. You can learn more about GOBankingRates' processes and standards in our editorial policy.