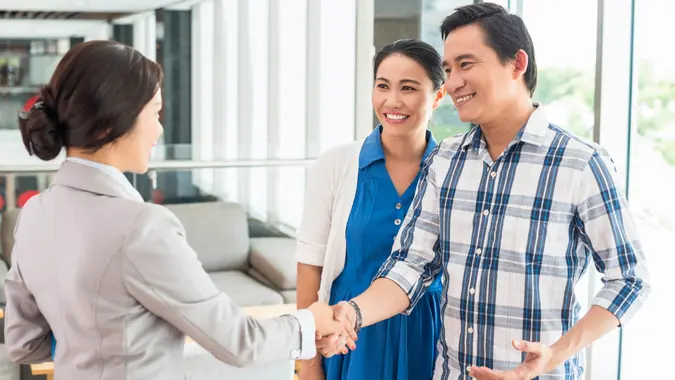 Dragon Images / Shutterstock.com
Credit unions are nonprofit financial organizations that exist to serve their members who are considered part owners. While they offer many of the same features banks do, credit unions are much more customer-focused, which can be of great benefit to customers who are looking to build credit or gain access to more flexible lending practices.
How Do Credit Unions Work?
On the surface, credit unions function in much the same way banks do, offering customers a safe place to deposit funds and a full slate of financial products, including checking and savings accounts and loans. However, credit unions tend to take a more personal interest in the financial growth of their members. Account holders pool their money into the credit union, which serves as the organization's funding.
Joining a credit union allows you the chance to participate as part-owner of a financial institution that values the insights of its members.
What's the Difference Between Credit Unions and Banks?
Credit unions and banks offer most of the same financial products and services to customers. However, you can have an entirely different banking experience with a credit union than you would encounter with a traditional bank. Here are some of the key differences between banks and credit unions to consider:
1. Organizational Structure
A credit union is a tax-exempt, member-driven organization that aims to share its profits with members. Those profits can come in the form of reduced rates for loans and perks like free checking accounts. Members cast their votes for a volunteer board of directors, which manages the credit union. A traditional bank, however, has a group of shareholders and investors at the helm of its operations with a goal of turning a profit; as a result, they may be more focused on charging higher rates.
2. Scale of Operations
Banks usually maintain a more national or regional presence. When you travel, you can enjoy the convenience of visiting one of the many branches of a large bank and using the ATM. Credit unions tend to have a smaller scale of operations and are usually concentrated in a single area. To compensate, credit unions allow members to deposit checks and access their funds in a network of cooperative credit unions across the country.
3. Rates
Because banks are more focused on maximizing profits for shareholders, they're more likely to charge higher interest rates for loans and credit cards as well as higher fees for standard financial products like checking accounts. A credit union, on the other hand, typically extends more wallet-friendly rates on loans and fewer fees.
4. Membership Requirements
Showing up with proof of identification is usually enough to qualify you for an account at a typical bank. Depending on the type of credit union, you may have to meet certain eligibility requirements. Certain credit unions only offer membership to those who share a common bond with the organization, such as individuals who work for a certain employer or organization, are related to a current member or are affiliated with certain groups or professional associations. In recent years, many credit unions have relaxed their eligibility requirements, making it fairly easy to find one that will offer you membership.
This chart, spotlighting the major differences between banks and credit unions, can help you decide what you're looking for in a financial institution.
| Feature | Banks | Credit Union |
| --- | --- | --- |
| Organizational Structure | For-profit; directed by shareholders and investors | Not-for-profit; owned and operated by members; volunteer board of directors |
| Scale of Operations | Depends on the bank; national and regional banks have a large-scale presence, while local community banks might have one or two branches | Typically, only a few branches within a certain area or community |
| Rates | Typically, lower interest rates on savings accounts and higher fees charged for products such as checking accounts | Tend to boast higher interest rates on savings accounts and lower interest on loans |
| Membership Requirements | Most can join  | May need to meet certain eligibility requirements, such as working for a certain employer, belonging to a church, being related to a current member or living in a certain geographical area |
Advantages of Credit Unions
Becoming a member of a credit union offers you a chance to participate in a financial organization that prioritizes the financial health and well-being of its members. Here are some of the major advantages of credit unions.
Better Rates
As a credit union member, you'll enjoy lower rates on loans and higher interest rates on savings accounts. That's especially true if you have had a more difficult or complicated financial history. Translation: More money in your pocket.
Lower Fees
Lower fees and discounted loan rates are among the top perks of credit unions. Because credit unions aren't focused on maximizing profits, those savings pass on to you in the form of lower rates.
Customer Service
As smaller organizations that depend on the participation of their members to succeed, credit unions can deliver exceptional customer service. You're more likely to develop relationships with credit union employees, especially if you frequent your local branch. Credit unions extend other benefits, such as budgeting tools and other guidance, to allow their members to achieve their financial goals.
Community Involvement
At the heart of a credit union is a shared interest in the community. Credit unions are founded to benefit the local community. Many credit unions spearhead charitable events, organize financial literacy programs and partner with other local organizations to support the community.
Ability To Participate
As a member, you earn the right to vote for the board of directors that runs your organization. That democratic premise extends to other benefits, too. For example, credit unions may solicit members' feedback for possible improvements or changes.
Disadvantages of Credit Unions
On the flip side, credit unions may not be the ideal choice if you are seeking out different priorities in your financial institutions. These are the major disadvantages of credit unions:
Locations
You're not likely to find your credit union in another city or town. Generally, credit unions concentrate in a specific geographical area, which can be inconvenient when you travel to a different area and need to access your funds.
Technology
Credit unions tend to lag a bit behind traditional banks in their tech-friendly features. Banks usually thrust their profits behind the latest technological developments, with mobile apps and websites aimed to create a smooth, user-friendly experience. You might not find emerging trends such as mobile deposits at your local credit union.
Membership Concerns
Becoming a member will cost a small upfront fee — usually between $5 and $25. However, certain credit unions require you to belong to a certain group or work for a particular employer. That could limit your options if you can't find a credit union in your area with more lenient membership criteria.
Services and Options
The menu of financial products and services is not quite as extensive as you would find in a traditional bank. Although credit unions have made excellent strides and many match the services of big banks, it is dependent on each credit union what products and services you will be able to find. Therefore, you might not be able to access all of your needs — such as a commercial mortgage loan, for example. Be sure to read up on what your local credit union provides before signing on, just like you would with a commercial bank.
What Are the Different Types of Credit Unions?
While credit unions offer similar financial services, some might cater to a different group or association, such as military families, police officers, teachers and government employees. Credit unions can have a local, regional or national presence and generally fall into two specific categories:
Federally chartered credit unions
State-chartered credit unions
Federally Chartered Credit Unions
Federally chartered credit unions ensure their members' funds with National Credit Union Share Insurance, which offers up to $250,000 in insurance protection per account. To determine whether a federally chartered credit union is backed by the U.S. government, look for the official National Credit Union Association insurance sign on its website or branch location or the word "federal" in the name.
State-Chartered Credit Unions
State-chartered credit unions use private insurance to protect deposits. Your funds will be in good hands, but keep in mind that the insurance is not backed by the U.S. government and may not be as reliable.
Do Credit Unions Use ChexSystems?
More than 80% of banks and credit unions rely on reports from ChexSystems or Early Warning Services to determine whether to approve applicants for accounts, according to the National Consumer Law Center. ChexSystems reports list your history as a banking customer, including the not-so-flattering details such as overdrafts, NSF checks, unpaid fees or fraudulent activity. Some credit unions may offer a "second chance checking account" to those individuals who may have been denied accounts elsewhere. These accounts might come with a steeper monthly fee, but you'll be able to graduate to a regular account if you can successfully manage your account for a certain time period.
Bottom Line

Just as not all banks use ChexSystems, there are credit unions that do not subscribe as well. Generally, credit unions are far more welcoming to customers with flawed financial and credit records.
How Do You Join a Credit Union?
Joining a credit union allows you to participate in a community-driven organization that exists to benefit the financial goals and interests of its members. If you belong to a certain group or class of professionals, you may want to join a credit union where you'll be banking alongside peers of similar backgrounds and occupations; alternatively, the credit union might extend membership based on your church, school affiliation or geographical location.
Once you determine that you meet the credit union's membership criteria, here are some steps to follow.
Steps To Join

Research a credit union in your area that meets your needs. For help locating a nearby credit union, check out the NCUA's Credit Union Locator.
Pay a one-time setup fee, usually between $5 and $25.
Is Joining a Credit Union Right for You?
Credit unions offer a personalized local alternative to traditional banking institutions. As with any other financial decision, choosing to join a credit union can have both benefits and drawbacks. Evaluate which factors matter most to you in a financial institution. Ultimately, it comes down to your own personal values and priorities.
Cynthia Measom contributed to the reporting for this article.
This article has been updated with additional reporting since its original publication.