Online Bill Pay: What It Is and How To Use It to Your Advantage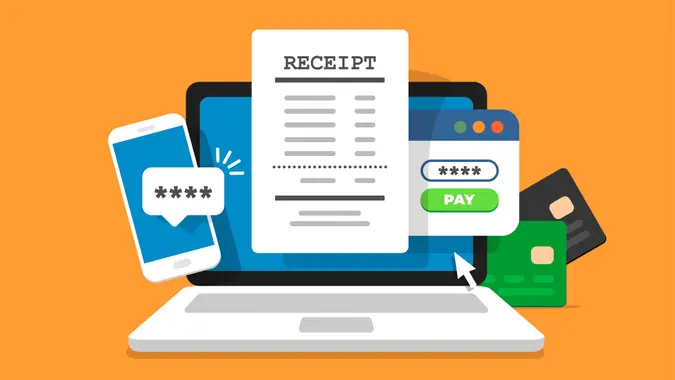 Алексей Белозерс / Getty Images/iStockphoto
Online bill payment is a secure electronic service that allows customers to pay bills from their checking account. You can set up online bill pay through your bank to have all of your bills scheduled and paid via your financial institution's payment service or you can pay your bills separately through each payee's payment site.
Whichever option you choose, it's important to understand what online bill payment is and how it works so you'll know if it's the right choice for managing your payments.
Here's a quick preview of what you'll find in this guide to online bill pay.
What Is Online Bill Pay?
Online bill pay provides a quick and easy solution for paying your bills online instead of sending payments through the U.S. mail. You can pay the majority of your bills — such as credit card, toll and utility bills — online.
Initially, you will have to take the time to set up online bill pay for each of the accounts you would like to pay. But the set up is a one-time occurrence, not something you'll have to do each month.
See: This Free App Will Keep Track of Your Bills (and Pay Them) for You
Is Online Bill Pay Safe?
Typically, online bill payments are safe. Both credit card companies and financial institutions ensure the safety of transactions with security protocols such as usernames and passwords, security layers, encryption and automatic signoff.
But it doesn't hurt to take some extra precautions. Whether you're paying your bills via your financial institution or on the payee's payment site, here are some things to keep in mind.
Always use a secure connection. Never use public Wi-Fi for paying bills or other financial transactions.
Check for "https" at the beginning of the website's URL to confirm the website is secure. Other signs of security are a closed lock or unbroken key symbol.
Read the website's privacy statement, which will detail how it protects and secures your personal and financial information.
Avoid using your debit card for payments. Credit cards offer better protection in case someone gets hold of your card's data and uses it for fraud.
Always follow up on your online bill pay transactions to ensure they were completed correctly and in the right amounts.
Compare: Best Checking Accounts of 2020
How To Set Up Online Bill Pay
Now that you're aware of what online bill pay is and whether it's safe, you might be wondering, "How does online bill pay work?" Here's everything you need to know, step-by-step.
1. Set Up Each Payee
Gather each company's name, online payment address, contact number and your account number to set up payees in the online bill pay system. Once you've set up each payee, you won't have to do it again because the information will be saved.
2. Schedule Each Payment
Schedule the payment amount and due date for each payee. Schedule payments at least five days in advance of the due date to allow payments to post on time. Otherwise, you could face late fees.
When paying a payee directly via its online payment solution, note the cutoff times for payments to be credited on the same day to avoid late payments and fees.
3. Sign Up for Payment Notifications
Take advantage of the option to sign up for notifications when your payments are about to be drafted and/or when they have been sent. Notifications remind you when money is going to leave your account and give you peace of mind that your bills have been taken care of each month.
Find Out More: How Long Does It Take To Have a Payment Post Online to Your Account?
Benefits and Drawbacks of Online Bill Pay
Still undecided if online bill pay is for you? It can help to consider the good and bad about this service. Here's a breakdown of the benefits and drawbacks of online bill pay to help you decide if it's worth it.
Benefits of Online Bill Pay
Online bill pay has multiple benefits. Here are a few to consider.
It's convenient: When you make online payments via your bank or credit union, you won't have to remember multiple logins and passwords for various payment websites associated with your bills. Some providers offer users the option of prescheduling payments so they happen automatically by the due date. Plus, when you opt to use your financial institution's online bill pay service, you can have all of your payments in one place. As a result, you'll be able to check your account balances and confirm payments with ease.
It's secure: Online bill payment solutions have various security protocols, including security layers and encryption processes, in place to help keep your bill pay transactions safe.
It's environmentally friendly: Electronic payments eliminate paper waste from billing statements, paper checks and envelopes. Just make sure to sign up for paperless billing across your accounts.
Find Out: Advantages and Disadvantages of Online Banking
Drawbacks of Online Bill Pay
When trying to make any decision, it's important to examine the drawbacks as well as the benefits. Here are some potential disadvantages of online bill pay to consider.
It's easy to set it and forget it: Although setting up online bill pay is convenient, it can allow you to be lax in reviewing your payments and adjusting them as needed. For example, you might forget you are subscribed to and paying for a service you no longer use. Or you might not catch an erroneous charge or a fee you weren't aware of.
It can cause your account to overdraw: When your bill payments are automated, you rely on them to happen as scheduled. But bill payment amounts can fluctuate from month to month, so unless you keep tabs on how much you owe, you could overdraw your banking account.
Is Setting Up Online Bill Pay Right for You?
Definitely consider signing up for the service if you could benefit from the convenience and ease that online bill pay affords you. Just keep in mind that, for best results, you need to regularly review your billing statements to make sure they are accurate and cancel any subscriptions or services that you are paying for but don't use.
Keep Reading: What Is Chase QuickPay With Zelle?
More From GOBankingRates