What Bank Is Cash App and How Does It Work?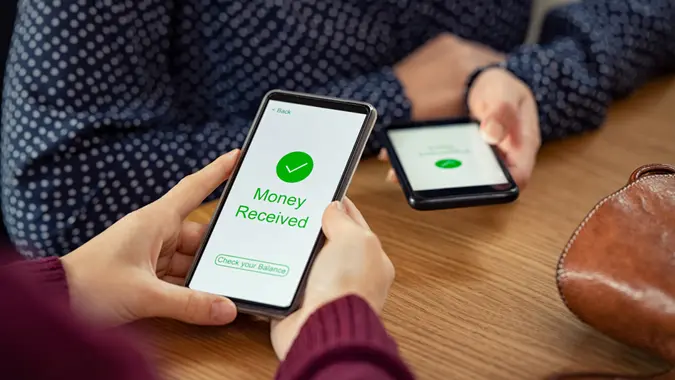 Ridofranz / Getty Images/iStockphoto
If you're wondering, "Which bank is the issuer for Cash App?" you've come to the right place. Cash App partners with two different banks — Lincoln Savings Bank and Sutton Bank.
Keep reading to find out more about Cash App and learn how to find out which bank handles your account.
What Bank Name Is Cash App?
Now that you know Cash App works with two different banks, you probably want to know which one is associated with your account. Generally speaking, Sutton Bank serves as the issuer for the Cash App Cash Card and Lincoln Savings Bank manages customers' direct deposits. 
Here's how to find out which one your account is associated with:
Open the app
Go to the banking tab
Tap the routing and account number below your balance.
Is Cash App a Bank Account?
Launched in 2013 as Square Cash, Cash App is actually a digital banking and mobile payment app, and it's very popular in the U.S, boasting 30 million active users. While the app is not a bank account, it offers banking services and debit cards through its bank partners. The Federal Deposit Insurance Corporation insures all account balances via the partner banks as well.
The app enables you to send and receive money, purchase stocks and Bitcoin. Through the Cash App Taxes feature, you can file your taxes for free and through Cash App Investing, you can make investments and buy Bitcoin for as little as $1. You can also set up direct deposits to your account and get a debit card.
If you do set up direct deposit, you can get your paycheck early — up to two days — and, if you have at least $300 per month in direct deposits, you'll get three free ATM withdrawals per month.
If you decide to make investments through the app, there are several advanced features you can take advantage of, such as using the company's metrics to make decisions, making custom orders to set your target price and investing on autopilot via recurring buys.
How Does Cash App Work?
It's simple to use Cash App. All you have to do is download the mobile app or sign up online. Next, link a bank account so you can send and receive money. Then, create a username, or a $Cashtag, so people can find you and you can find others. You can also search for people by using their email, phone number or name.
When you get money, it goes into your Cash App balance, which you can either keep there or transfer to the bank account you linked. Instant transfers will cost you a minimum of 25 cents or 0.50% to 1.75% of the transfer amount, whichever is greater. If you don't mind waiting for the transfer for one to three business days, you can do it for free.
If you want to add money to your account, just tap "Add Cash" in the banking tab, add the amount you want, then select "Add."
Does Cash App Offer a Debit Card?
You can get a Cash Card when you sign up for a Cash App account, which you can use for online and in-person purchases. You can also use your Cash Card at ATMs, but it will cost you $2 for each transaction, plus whatever fees the ATM owner charges. If, however, you opt for direct deposit, you'll be reimbursed for all ATM fees for up to three withdrawals in a period of 31 days. A nice bonus is the Cash Card is customizable, so you have choices for personalization.
How Much Is It To Use Cash App?
You won't pay a fee to download Cash App and create an account. As mentioned, you'll pay an ATM fee and typically a fee if you're dealing with Bitcoin, but you'll be able to see the fee before you make any transaction.
Are There Dollar Limits on Cash App?
As a new user, you'll have restrictions on how much you can receive or send in Cash App — you can send up to $1,000 per 30-day period and receive up to $1,000 per 30-day period. If you want higher limits, you can get your account verified by Cash App; your sending limit will depend on what you qualify for but you'll be able to receive an unlimited amount of money.
How Safe Is Cash App?
According to its website, Cash App uses state-of-the-art encryption and fraud protection technology to protect users' accounts. When you log into your account, you'll receive a one-time-use login code, plus you'll have access to settings that provide you with heightened security measures. For example, if you put a security lock on your account, you'll need to use your passcode for each payment you make.  
Final Thoughts
Cash App is one of the original forms of mobile payment apps. You can send and receive money through it, as well as bank and invest with it. That said, like any financial product, it has some limitations.
Keep in mind that there's $1,000 limit for sending and receiving money in a 30-day period — unless you get verified — which might not be enough. Also — and this applies to any mobile payment app — make sure you're extra careful if you're sending cash. If you send it to the wrong person, you might not get it back. So, before you hit send, double-check that $CashTag, email and phone number to make sure it goes to the right person.
Editorial Note: This content is not provided by Cash App. Any opinions, analyses, reviews, ratings or recommendations expressed in this article are those of the author alone and have not been reviewed, approved or otherwise endorsed by Cash App.
Our in-house research team and on-site financial experts work together to create content that's accurate, impartial, and up to date. We fact-check every single statistic, quote and fact using trusted primary resources to make sure the information we provide is correct. You can learn more about GOBankingRates' processes and standards in our editorial policy.