How To Protect Your Savings: 9 Top Questions Answered by Experts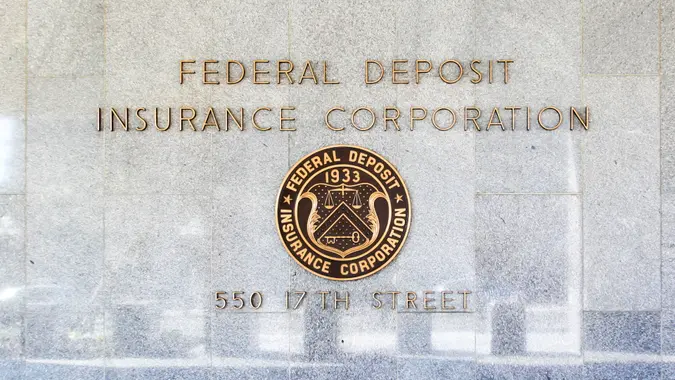 Since the sudden collapse of Silicon Valley Bank, consumers have developed burning questions about the safety of their money in banks. Google searches for "Is my money safe?" are soaring.
GOBankingRates gathered a number of top questions about savings from finance experts and then had those experts help answer them. 
Here's what you need to know about protecting your money — in particular, your savings.  
Should You Bank Only at Huge Banks? 
Silicon Valley Bank was the 16th largest bank in the U.S. That's big — but not nearly as big as Chase or Bank of America. Is it wisest to stash savings only in the biggest name institutions and ignore smaller banks?  
In short, no. Not if the smaller bank is FDIC insured. 
"As long as the financial institution is insured, consumers are safe; and, if they are not insured, then they face possible risk," said Howard Dvorkin, CPA and chairman of Debt.com. "People need to verify that their bank is FDIC insured and that they understand what happens with different types of accounts like joint accounts and retirement accounts.
"This is especially true if they have more than $250,000 in one bank. Federally insured credit unions are just as safe as FDIC-insured banks and members can rely on NCUSIF insurance protection. Again, consumers need to ensure that their accounts are covered and that they are below the maximum limits."
How Much of Your Deposits Are Insured? 
"If your regional or community bank is FDIC insured, that means up to $250,000 is promised to you in the event of a bank failure," Dvorkin said.  
Again, that $250,000 is a really important number to remember. It's the most insurance you can get on your money in any bank, across accounts.  
What If You Have More Than $250,000 in the Bank?
If you have more than the insured $250,000 across your accounts in a single bank, then you need to open another savings account to store the excess cash (if you don't want to invest it). Anything over $250,000 will not be guaranteed safe in the event of a bank's failure.  
"Coverage is calculated per bank, not per account," Dvorkin said. "That means insurance limits are applied to the combined balances of all accounts held by a depositor at a single bank. A single bank includes all branches and its internet divisions; so, if it does business under different names, you're not safe. You need to have accounts held at separately chartered banks that are insured separately."
Are Online High-Yield Savings Accounts Good Options?
Online high-yield savings accounts can be excellent options — provided they're FDIC insured. 
"The money is safe if federal insurance is available for these accounts," said Tom Koesternen, a chartered financial analyst with TGL Loans.  
What About Money Market Funds? 
Spreading out money between banks is not necessarily the best choice for those with significant amounts of cash. You could earn higher returns with a money market fund.  
"Money market funds can be a good option for many," said Eric Blattner, CFA, CFP, CIMA, a wealth advisor and partner at Divvi Wealth Management. "They can only invest in high-quality, short-term investments and in many cases will offer higher yields than savings accounts."
What About Treasury Securities? 
Treasury securities also might be a savvy, safe choice for those with jumbo savings accounts.
"Treasuries are issued by the U.S. government and are backed by the full faith and credit of the United States government," Blattner said. "They can be purchased to meet most maturity needs, are considered very high quality and are typically among the most liquid securities in the world.
"Buying individual bonds may sound a bit intimidating for some first-timers, but the process is fairly straightforward. And if this is the first time someone has owned individual bonds, they should understand how and why the price will fluctuate with movements in interest rates. Seeing prices move up and down is normal, but for folks used to stable value bank deposits, it could raise some initial questions."
Should You Put Savings Into Stocks, Gold or Real Estate Instead?
If you already have an ample FDIC-insured nest egg in the bank, it's tactical to put some of your money into investments such as stocks, gold or real estate.
"Investing in gold and stocks is a good option because the returns are excellent," Koesternen said. "Secondly, the investments are liquid. In contrast, real estate investments are illiquid but give better returns in the long run."
Now, don't pour all your savings into these investment vehicles. Make sure you have at least six months of cash set aside for an emergency.
Is Cryptocurrency Safe? 
With some worried about the safety of "real" money in banks, the question of whether cryptocurrency is a viable savings vehicle arises. The consensus is that crypto isn't a basket you want to place too many eggs in. So act with caution.   
"Cryptocurrencies look exciting, but they can be volatile," Koesternen said. "Therefore, I never advise investors to opt for crypto investments."
When Will You Get Your Insured Money Back If Your Bank Collapses? 
If your bank or credit union collapses and the funds are insured, the money is safe — because of the FDIC or NCUSIF backing.  
"The federal government, with backing from the U.S. Treasury, can replace the money that the bank loses," Dvorkin said. 
But how long do you have to wait to be replenished?  
"The process is usually quick, and many people don't even notice that it happened until the bank name changes," Dvorkin said.  
Note that bank collapses have become much less common.
"Since 2010, bank failures have been in a steady decline," Dvorkin said. "In 2020, four banks failed, but in 2021 and 2022, there were no bank failures."      
More From GOBankingRates