How To Transfer Money From Savings Into a High-Yield Savings Account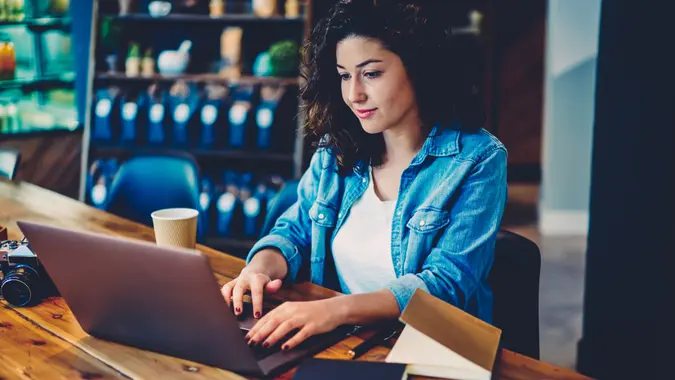 GaudiLab / Shutterstock.com
Switching banks is a chore that requires you to update your information for all direct deposits, automatic payments, subscriptions and recurring transfers to linked accounts. You'll be getting a new debit card, account number and routing number, and you'll have to download and navigate a new and unfamiliar app.
See the List: GOBankingRates' Best Banks of 2023
Experts: Here's How Much You Should Have in Your Checking Account
That's a headache — but for the first time in years, the juice might be worth the squeeze.
Despite aggressive Fed rate hikes, the national average savings rate is still just 0.33% — but you can earn 10 times that or more by transferring your money to a high-yield savings account.
Look to Small Banks for Big Yields
When the Fed began raising its benchmark rate to tame inflation, some banks followed its lead and paid their depositors higher yields after years of paltry returns — but others did not.
Earning 4% Or More On Your Money?
Each institution sets its own rates, but according to the New York Times, one clear trend has emerged. Big corporate banks with a national or global presence have not raised their savings yields in any meaningful way despite the Fed's action because they didn't have to. The giants are flush with cash and simply don't need to pay more to incentivize deposits. The little guys, however, aren't so fortunate.
If your savings are languishing in a big bank, you're probably earning somewhere between 0.01%-0.23%, which is their way of telling you they don't care if you stay or go. On the other hand, smaller institutions and online banks want your business so badly that they're willing to pay 3%, 4%, or — in at least one case — 5% to earn it.
It's time to recognize their efforts.
Steel Yourself for the Switch
Changing banks can be a stressful situation even if you're making a lateral move. But if you're switching from a big corporate bank to a small institution — especially an online bank, where many of the best rates are hiding — you'll have to prepare yourself for an entirely new banking experience.
Write Off Your Mileage? The IRS Expands the Deduction for Fuel Costs in 2023
Things to consider include:
How you'll make cash deposits
The size of your new bank's ATM network and reimbursement policies for when you go beyond it to get cash
Life without branches, including face-to-face customer service, safe deposit boxes and foreign exchange services
Adapting to technology like mobile check deposits and transfers
Earning 4% Or More On Your Money?
Don't worry, some changes will be much easier to handle. Not only do online banks typically offer higher interest rates, but their low overhead makes them more likely to eliminate fees, as well.
Shop Around and Look Beyond Rates
When comparing banks, make rates a priority — but don't develop tunnel vision on interest alone. Fees can quickly negate even the highest yields, so be on the lookout for rate-killers like monthly maintenance charges, deposit and balance minimums, overdraft fees and excessive transaction fees.
In fact, keep your mind open to more than just savings accounts. For example, the previously mentioned bank that's offering more than 5% — perhaps the best rate in America — is an interest checking account from Primis that has no fees and generous perks.
Make the Transfer and Let the Compounding Begin
Once you pick your money's new incubator, there's nothing left to do but open an account and transfer your funds from your old bank to its new home in high-yield heaven. There's not much to it, but you'll need your basic personal information — Social Security number, address, driver's license number, email, mailing address, etc.
Earning 4% Or More On Your Money?
Your new bank will instruct you on how to proceed. Some use test deposits to verify your account. Others don't.
From there, you just need to close your old account and do the grunt work of updating your information for all your automatic deposits, bill payments, transfers and subscriptions — and then, there's nothing left to do but watch your savings grow.
More From GOBankingRates
Earning 4% Or More On Your Money?