New Study: Your Savings Account Rate Depends on Where You Live
The Fed's recent announcement that it will roll back quantitative easing, combined with a new year and renewed focus on self-improvement, means saving money has become a top focus for many Americans in 2014. After years of rock-bottom rates, we're all hoping to see savings account rates rise again — and while we might not get our wish any time soon, some depositors will find that they can eke out slightly higher earnings on savings if they live in the right place.
Average Savings Account Rates in Each U.S. State
GOBankingRates recently analyzed savings account rates offered by banks and credit unions in 2014 and found the average rate in each state (and the District of Columbia), ranking them from highest to lowest. Although the current interest rate environment means variations between states are very small (the difference between the highest and lowest ranking state is just 0.169% APY), averages are indicative of the local savings climate and can help depositors determine whether banks are actively encouraging deposits in their area.
Below is a map of the rankings — find out where your home state stands.
(click image below for full size)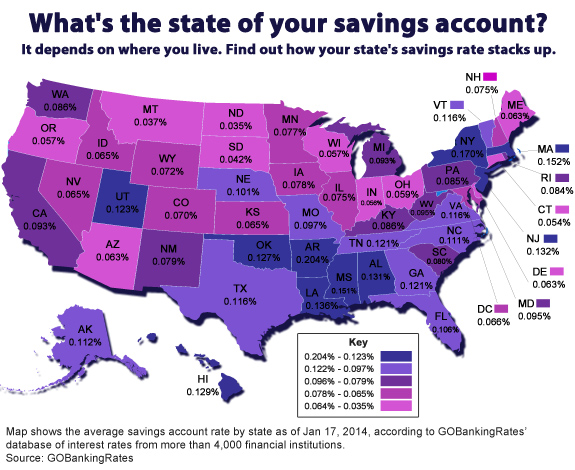 Related: 5 Best Online Savings Accounts of 2014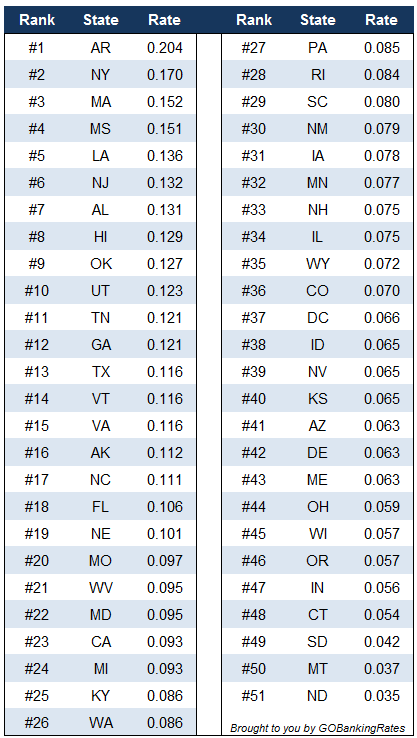 Compare 2014 Rankings Against Last Year's>> 
Average Savings Account Rates – Top 100 U.S. Cities by Population
GOBankingRates also performed the same analysis for the top 100 U.S. cities by population, ranking the average savings account rate in each from highest to lowest. See how the top 100 cities fared in relation to their states above.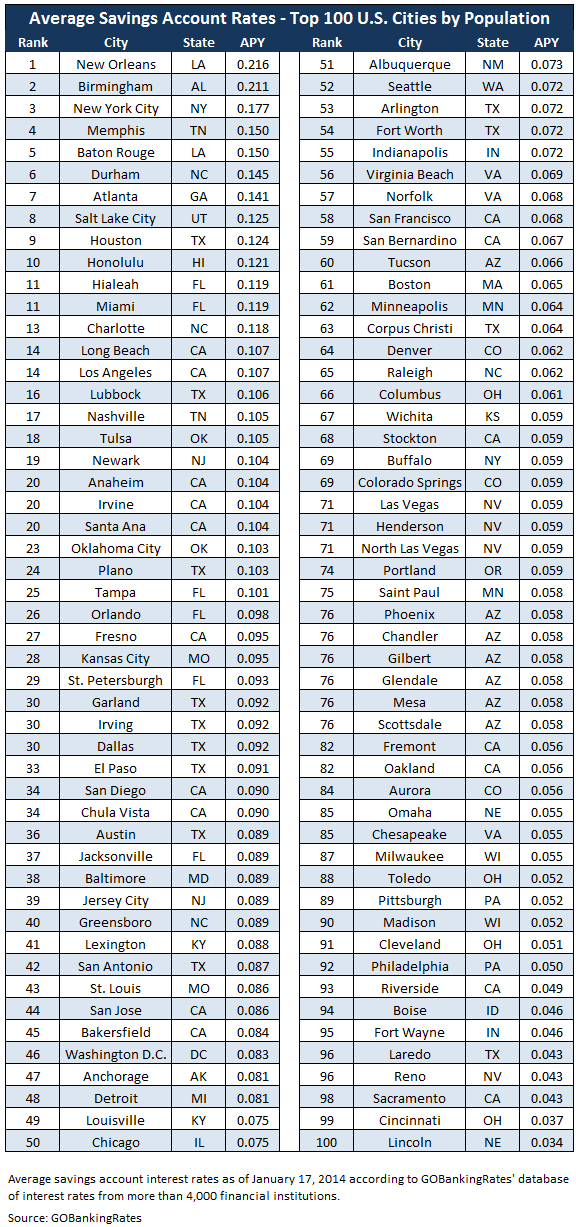 About These Rankings
Data referenced in this study was compiled from the GOBankingRates interest rate database, which in partnership with Informa Research Services Inc., aggregates bank account and interest rate information belonging to more than 4,000 U.S. financial institutions. This information has been obtained from various financial institutions, and Informa Research Services cannot guarantee its accuracy.
Averages above are calculated according to base rates offered on interest-bearing savings accounts from banks and credit unions located in the United States as of Jan. 20, 2014. Accounts offered through brokerage firms were omitted. Annual percentage yields were rounded to the nearest thousandth percentile, and actual returns may be slightly lower or higher than shown.

Additional interest rate promotions and/or account terms and conditions may apply. It is advised consumers verify all saving account options and rates with individual institutions prior to opening an account.