Almost Half of 45- to 54-Year-Olds Have $100 or Less in Their Savings Accounts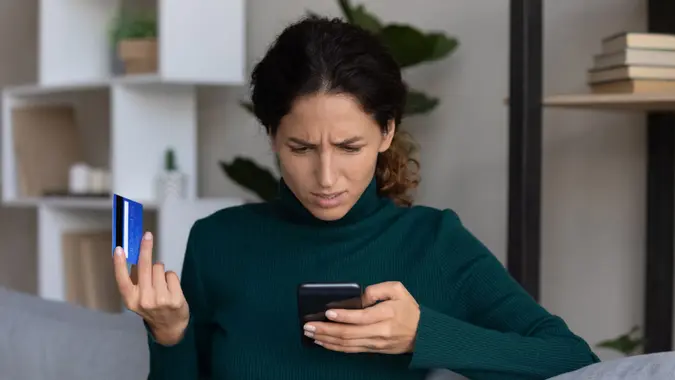 fizkes / Getty Images/iStockphoto
Your ability to financially endure what life throws at you is directly proportional to the size of your savings account — and that doesn't bode well for most of America. 
See the List: GOBankingRates' Best Banks of 2023
Find Out: Do You Have Too Much Money in Your Checking Account?
Check Out: GOBankingRates' Best Online and Neobank Savings Accounts 2023
A new GOBankingRates study of 1,000 adults showed that much of the country is woefully unprepared for unexpected financial fallout — but one demographic is more vulnerable than the rest. Those in the 45-to-54 age range (members of Generation X) are more likely than all the other age groups to have woefully inadequate savings. 
Here's a look at where middle-aged America stands regarding financial preparedness and how they compare to their younger and older peers. 
For One-Third of America, Saving Means Hoping For Small Emergencies
The study shows that 33% of people have $100 or less in their savings accounts, which most people use as their emergency funds. The problem is that most emergencies cost much more than that. 
According to the insurance comparison site The Zebra, for example, the average car repair costs $300-$500. American Family Insurance suggests an emergency home repair budget of $1 for every square foot in your house per year.
That means that 1 in 3 people have an "emergency fund" that can't cover even the most basic emergencies — much less something big like a medical catastrophe or a prolonged period of unemployment. 
That, however, is the population as a whole — but one age group is in such bad shape that it drags down the average for the entire group. 
Those in Middle Age Are Most Likely To Be Underprepared
Gen Xers are currently 43-58. People between the ages of 45 and 54, so the bulk of Gen X, are in their prime earning years — but they're also most likely to have aging parents and growing children tugging them financially from both ends. 
That dynamic might be part of why so many in that demographic have next to nothing in their savings accounts. Instead of one-third, like the overall population, about 45% of 45- to 54-year-olds have $100 or less in savings. That's nearly half — and another 10% have less than $500. 
Comparatively, the No. 2 lowest-saving group is 25- to 34-year-olds, and only 35% of them have $100 or less in savings. It's about 30% for ages 18-24, 35-44 and 55-64. For those ages 65 and up, it's less than 27%. 
The middle-aged are also the least likely out of all age groups to have healthy savings of $2,000-$5,000 or excellent savings of $5,000-$10,000. And when it comes to the top tier of savers, Gen X is less likely to have $10,000 or more in the bank than all but the youngest adults between 18-34.
The other demographic saving trend involves gender. Women reported having less money saved than men in all categories across the board.
Take Our Poll: How Do You Think the Economy Will Perform in 2023?
So, If $100 Won't Cut It, How Much Is Enough?
The good news coming out of the study is that around 43% of people across all age groups have $1,000, $2,000, $5,000 or even $10,000 or more in their savings accounts. 
So, if the sweet spot is somewhere between two figures and five, how can people find their target number as they approach middle age? How much is enough in your savings account?
"A good rule of thumb is to have at least enough to cover three to six months' worth of living expenses in case of an emergency," said Fluent in Finance founder Andrew Lokenauth. "A good way to strike the right balance is to keep a sufficient amount in your checking account for daily expenses and emergencies while also investing in higher-yielding savings."
Setting Savings Goals Is One Thing — Reaching Them Is Another
Saving three months' worth of expenses or amassing the standard $5,000 emergency fund are noble goals, but what's the best way to actually achieve them? 
Virtually all experts agree on a few key steps: 
Create a budget and a spending plan: You are sure to waste money that you could have saved if you don't maintain a basic accounting of monthly income and expenditures and plan your spending based on your wants and needs.
Put your savings on autopilot: Eliminate human error by automating transfers from checking to savings during each pay period.
Pay yourself first: If you treat your savings like a bill, you'll find a way to make contributions just like you find a way to pay the rent and utilities every month.
Spend less: This one is easy to say and hard to put into practice, but try to remember that every dollar you spend is one you don't save the next time you're considering BNPL at checkout. 
More From GOBankingRates
Methodology: GOBankingRates surveyed 1,000 Americans aged 18 and older from across the country on between December 7 and 12, 2022, asking nineteen different questions: (1) What category does your current financial institution fall under?; (2) Have you considered changing Banks within the past year?; (3) If you have considered changing banks in the past year, were any of the following factors? (select all that apply):; (4) Which feature, perk, or other offering is most important to you when opening an account with a new institution?; (5) Are you currently satisfied with all your banking products and services offered by your Bank/Credit Union?; (6) Would you ever have different types of accounts across multiple banks? (i.e. Checking at Chase, but Savings at TD Bank); (7) What is your most preferred method of banking?; (8) Which of the following is the biggest factor of you staying with your current bank?; (9) Which of the following bank accounts do you currently use/have open? (Select all that apply); (10) How much is the minimum balance you keep in your Checking Account?; (11) How much do you currently have in your Savings Account?; (12) What amount of a signup bonus would make you consider switching banks?; (13) Have you considered using any app-only banking platforms (aka neobanks) in the past year (e.g. Current, Upgrade, Chime, Dave, etc.); (14) How important is it to you for your bank to be affiliated with a crypto exchange/platform?; (15) In the past year how often have you written a physical check?; (16) When was the last time you visited your bank in person?; (17) Why would you choose to visit your bank in person? (Select all that apply); (18) When you think about banking, do you think of it as something you need or don't need?; and (19) What services/products do you expect from your Bank and/or Credit Union? (Select all that apply). GOBankingRates used PureSpectrum's survey platform to conduct the poll.