Is Apple Pay Safe? What You Need To Know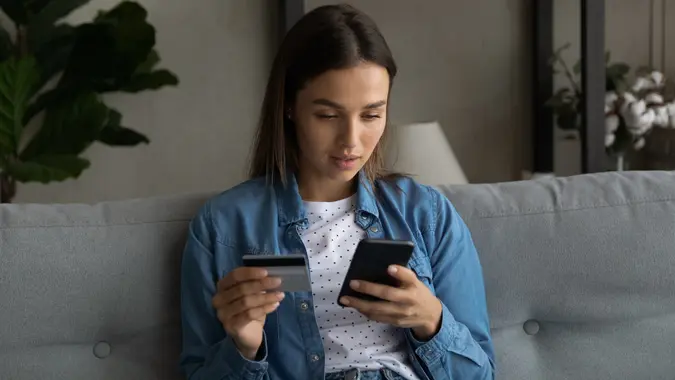 fizkes / iStock.com
Transferring money, for whatever purpose, nowadays seems so ethereal. As long as you are connected to a Wi-Fi network, you can send money to friends or family members or even go shopping without bringing your physical credit card.
Mobile payment technology has truly reshaped this consumer's market from points of sale right down to negating the need for card readers, but the question remains — is it safe?
Apple Pay: Quick Take 
As a mobile and contactless payment service, Apple Pay is becoming more widely accepted by vendors and retailers alike. All Apple devices, such as iPhones, iPads, Macs and Apple Watches, come equipped with Apple Pay payment technology, so you can store your personal information and credit or debit card information where it is conveniently located in your mobile wallet.
Having your payment information and credit card virtually stored is a secure way to shop and send or receive money.
Is Apple Pay Safe?
Yes — overall, Apple Pay is considered highly secure and safe. Though nothing is foolproof, Apple Pay uses a few key security features to protect your information:
Required Personal ID
Protected personal information
Unique encryption
Emergency protocols
1. Required Personal ID 
Before you can use Apple Pay, you must first provide some form of personal identification. This is to prevent the use of your Apple Pay account if someone else were to get access to your iPhone or other device. Here are some of the accepted forms of personal ID:
Facial recognition
Fingerprint
Unique PIN
2. Protected Personal Information 
Even Apple doesn't have access to your personal information. Essentially Apple blindfolds itself by not storing your entire credit card number or keeping full copies of transaction information as a form of protection for your account.
For example, if Apple were to be hacked, Apple not having access to your personal information would protect you from the hacker being able to access your account, even if the servers have been compromised.
3. Unique Encryption
Each time Apple Pay is used, the transaction is encrypted, and every encrypted transaction is different, so it does not get repeated or used again. This means potential thieves cannot duplicate your information to use fraudulently and cannot steal the card's magnetic strip information, as the encrypted code would be impossible to use.
This should give you comfort when using Apple Pay, as it makes it highly secure from external or internal hackers and thieves — even the store or vendor where you use the card only has the encrypted transaction information.
 

No Card Skimming

Card skimming is a way for people to steal credit card information by placing a card skimming device on the card reader at the point of purchase in a store or retailer. This would allow the thief to duplicate your card information stored on the magnetic strip. However, as Apple Pay is contactless, there is no magnetic strip to steal from, thus making your information a bit safer from this hack. 
4. Emergency Protocols
If you lose your digital wallet or even have your Apple device stolen, you can put your missing device into lost mode. You'll have to make sure you have the "Find My iPhone" feature activated on your device, but having it in lost mode makes any of the credit or debit cards you have stored in the wallet deactivated, while you can still use the physical version of the card.
This way, you don't have to cancel the cards unless you're positive it was stolen and not just misplaced.
Tips For Keeping Your Apple Pay Secure
In this cyber-world of data storing, money sending and general banking and consuming, it is easy to panic over who and what has access to your personal information. Even with all the safety measures Apple Pay has in place, nothing is infallible. Here are a few tips to further secure your protection with Apple Pay:
Never share your passcode for any device.
Use the biometrics option of Facial ID or Touch ID.
Only add your credit card information to Apple Pay when you're on a secured Wi-Fi network.
Activate the "Find My iPhone" feature on your device.
FAQ
What are the disadvantages of Apple Pay?

Though Apple Pay has a lot of benefits, here are some disadvantages of Apple Pay:

- Only compatible with Apple devices
- More vulnerable to cyber attacks
- Could have compromised security if using public Wi-Fi

Will Apple Pay refund my money if I'm scammed?

Whether or not Apple Pay will refund you if you get scammed depends on the transaction. For example, if you authorized the transaction, you may not get a refund from Apple Pay. You can dispute a charge or payment with Apple if you get scammed, but that doesn't guarantee you'll get your money back.

Is Apple Pay protected like PayPal?

Though Apple Pay is highly secure, you have less purchase protection than you would with PayPal. For instance, if you get scammed on PayPal, you can deal directly with its customer service to resolve the issue, while with Apple Pay, you would have better luck disputing a fraudulent charge with your bank rather than Apple Pay itself.

Is Apple Pay safe from skimmers?

Yes, as Apple Pay is a contactless form of payment, it is protected from card skimmers. Card skimming works by skimming the information stored on a card's magnetic strip. Because there is no magnetic strip used with Apple Pay, it is protected from skimming.

Does Apple Pay ask for my Social Security number?

Yes, you do have to enter your Social Security number the first time you verify your identity with Apple Pay, but you do not have to enter it every time you use Apple Pay for personal identification.
If you are contacted by someone claiming to be from Apple or Apple Pay and told they need your Social Security number, though, do not give it to them. This is a common tactic used by scammers aiming to steal your identity.
Editorial Note: This content is not provided by any entity covered in this article. Any opinions, analyses, reviews, ratings or recommendations expressed in this article are those of the author alone and have not been reviewed, approved or otherwise endorsed by any entity named in this article.