10 Best Ways To Send Money Quickly and Safely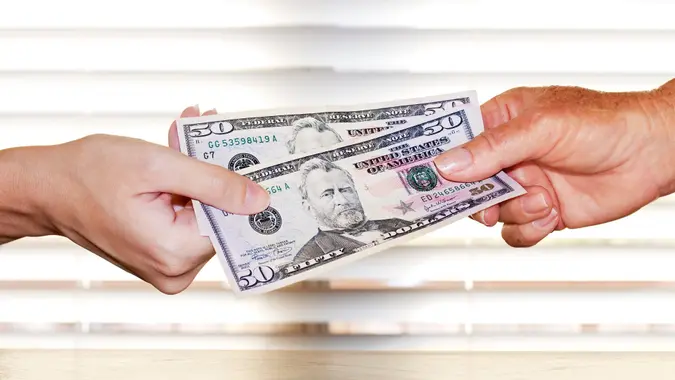 bttoro / iStock.com
With peer-to-peer service apps like PayPal and Venmo offering simple ways to send money digitally, it's not much of a surprise that four out of five consumers transfer money this way, according to the Consumer Federation of America. Considering the modern convenience of making an online money transfer, these numbers might not be a surprise.
Whether you want to pay a friend back for your share of dinner, remit payment to your landlord for the rent or give a financial gift to a niece living in another state, you'll need to know exactly how to wire money. There are several ways to send money in 2023. Here are 10 of the best.
Top 10 Online Money Transfer Apps and Services
Before you can wire money, you'll need to choose which money transfer service you'd like to use. Each offers something different in the way of exchange rates, fees and speed of the transaction.
1. Western Union
Best for: In-person money transfers
Pros
Can send or receive physical cash
Fast transfer options
Cons
When you use Western Union to send money online, you'll be joining the company's 70 million customers. Fees range from $2 to $35, not including exchange rates for an international money transfer. You'll need to use Western Union's online calculator to figure the exchange rates, as the company works with 200 countries that utilize 130 different currencies.
Western Union delivers cash transfers made in person or over the phone within minutes. However, when you send money online with a credit card, you'll have to wait one to three days for delivery. Money sent through your bank account can take up to five days.
2. Xoom
Best for: Transparent pricing
Pros
Low transfer minimum
Speedy transfers
Cons
No live chat support option
Slow delivery for some destinations
Xoom is a PayPal service with top-tier security measures that protect your money transfers. The company can also complete the majority of transactions in a matter of minutes. Customers have the option to send or receive money from 160+ countries. There is a minimum transfer fee of $1.99 for credit or debit card transactions although bank fees may be waived depending on the amount. Exchange rates depend on the country but are considered to be average.
It costs $4.99 to send the money from your PayPal balance, $2.99 to send it from your bank account, and $7.99, give or take, depending on your amount. to send funds from a credit card or debit card. There is a promo transaction fee of up to $1.99, depending on the amount.
3. Zelle
Best for: Fee-free transfers
Pros
Available through most major financial institutions
No fees
Cons
Zelle is a fast and free way to send and receive money between two bank accounts. Most banks offer Zelle, which makes it possible to send money using someone's phone or email address. Even if the bank doesn't support Zelle yet, you can download the mobile app to access the service. Banks set their own limits on how much you can transfer. If you use the mobile app, you can transfer up to $500 per week.
4. Wise (formerly Transferwise)
Best for: Easy use of multiple currencies
Pros
Hold up over 40 currencies in a single account
Easy to use
Cons
If you need to send money overseas, Wise sets the bar other transfer services follow. Wise is transparent about the low fees they charge. Enter the amount you'd like to send and you'll see a breakdown of how much it will cost you. For example, sending $1,000 in Euros will cost you $5.52 in fees. If you agree to the fee and rate, you can pay by bank account, debit or credit card. For the fastest transfers, card payments are instant; bank transfers may take two business days.
5. Bank Wire Transfer
Best for: Secure payments
Pros
Secure payments
Fast delivery
Cons
Steep fees
Limited recourse if you make a mistake
If you need to send a large amount of cash quickly, a bank wire transfer is a worthwhile option. You can move thousands of dollars within a matter of minutes or hours. The downside is that bank wire transfers often come with relatively high fees. But the fee could be worth it if you need to send money quickly to someone you trust.
6. Walmart MoneyCenter
Best for: International transfers
Pros
Send money to over 200 countries
Estimator tool to determine exact fee in advance
Cons
Walmart customers can send money online through the Walmart MoneyCenter. In fact, their MoneyGram service allows for domestic and international transfers to more than 200 countries, including India, Mexico, and the Philippines.
Funds can arrive within minutes, or they can take up to three days depending on the method used to send the cash. For most transfers the fee is under $20, however, it can be as high as $500. Walmart MoneyCenter has a free estimator tool that will not only tell you the exact fee you can expect to pay, but also the exchange rates.
7. PayPal
Best for: Widespread use
Pros
Easy to use
No fees for sending money to family and friends
Cons
Scams prevalent
Fees for instant access to the funds
PayPal has several ways to send money quickly. Send a transfer to an email address, request funds or use a custom PayPal.Me link. If the person you send money to does not have a PayPal account, they can open one from free right away.
There are no transfer fees when you use a linked bank account or PayPal balance to send money. You can also use a debit or credit card for a fee of 2.9% of the amount. Instant transfers are available when you need to exchange money right away. Standard transfers into a bank account take one to three business days.
8. Venmo
Best for: Sending funds in a social setting
Pros
Social elements can make it fun
Free to send funds from a debit card or bank account
Cons
Can't cancel transactions
Limited to the U.S. only
Venmo calls money transfers "sharing payments" due to the social nature of the service. Over 70 million people use Venmo to send and receive money from friends and family. You can split bills and invite Venmo users to chip in, send or receive money and pay a growing number of businesses. Opening a Venmo account is free — and so is sending and receiving money unless you fund the transfer with a credit card. Card transfer fees are 3% but the fee can be avoided, thanks to the other options available to send money.
9. Cash App
Best for: Low fees
Pros
Relatively low fees
Easy to use
Cons
No FDIC insurance, unless you have a Cash Card*
Limited to U.S. and U.K.
Cash App was developed by Square as a good way to send money between app holders for free — if you don't mind the funds arriving in one to three business days. You could always pay the 0.5 to 1.75%% fee ($0.25 minimum) if you need the funds deposited into a debit card right away. To use Cash App, you need is a phone number, email address or $Cashtag, which uniquely identifies you or your recipient. Cash App only supports transfers within or between the U.S. and the U.K at this time.
10. Google Pay
Best for: Robust digital wallet
Pros
Useful digital wallet features
Refunds might be available for fraudulent activity
Cons
Limited to a handful of countries
Google Pay aims to make money transfers easy as long as you use your Google Pay balance, a bank account or debit card — credit card transfers aren't supported. All you need is an email address and phone number to send or receive funds. If you receive cash via Google Pay, you can transfer it from your wallet straight to your linked debit card for free in minutes. Transfer up to $5,000 per transaction if you're verified. Otherwise, you're limited to $500.
How To Send Money Online
Use one of the following methods via one of the top money transfer services mentioned above to send money online to friends instantly:
Money in Minutes
Download Western Union's app or bring up your account on a laptop.
Log in and select the "Money in Minutes" service.
Enter the name and address of the intended recipient in the appropriate boxes.
Select the debit or credit card you'd like to use to send the money.
Enter the amount and submit your request. You'll receive a tracking number in your email once the request has been processed.
Send Money Online Using Bank Account
Log in to the money transfer service of your choice.
Choose the bank account or debit card you wish to send money from.
Insert the dollar amount and the other party's bank information in the required boxes.
Confirm the transaction.
Send Money to Mobile Phone
Log in to your money transfer service account.
Select a dollar amount and a destination.
Add the recipient's name and cell phone number.
Choose whether you'd like to pay with your credit or debit card.
Select the send to a mobile phone option and click submit.
Watch for a confirmation alert, which will come by SMS notification.
Send Money Internationally
Sign in to your money transfer service account.
Choose your payment method and enter the amount you'd like to send.
List the receiver's location and how you'd like them to get the funds.
Review the fees and exchange rates before submitting.
Make the payment and wait for confirmation to show up in your email inbox.
Customers sending money internationally would do well to use each money transfer service company's estimator tool to compare costs. Next, you'll want to add the transfer fees to see which organization is truly the cheapest. Of course, if time is a factor, you might not mind paying a few dollars extra to get the money to your recipient within minutes instead of days.
Send Money to an Inmate
Open your money transfer app or visit the company's website to log in.
Select the correctional facility where the inmate is currently lodged.
Enter the inmate's name and inmate number.
Type in the amount of money you want to send.
Choose whether you'd like to pay with your bank account or credit card.
Submit the information.
Final Take
Sending money to someone else is often a necessary chore. The good news is that choosing the right money transfer platform or mechanism can keep your transactions safe and make your life easier. Explore all of the ways you can send money before moving forward with the best choice for your situation.
Sarah Sharkey and Alicia Bodine contributed to the reporting for this article.
*Prepaid debit cards issued by Sutton Bank.
*Balance is FDIC-insured through Wells Fargo Bank, N.A., Member FDIC for up to $250,000 per person.
Our in-house research team and on-site financial experts work together to create content that's accurate, impartial, and up to date. We fact-check every single statistic, quote and fact using trusted primary resources to make sure the information we provide is correct. You can learn more about GOBankingRates' processes and standards in our editorial policy.