5 Best Forex Brokers for 2022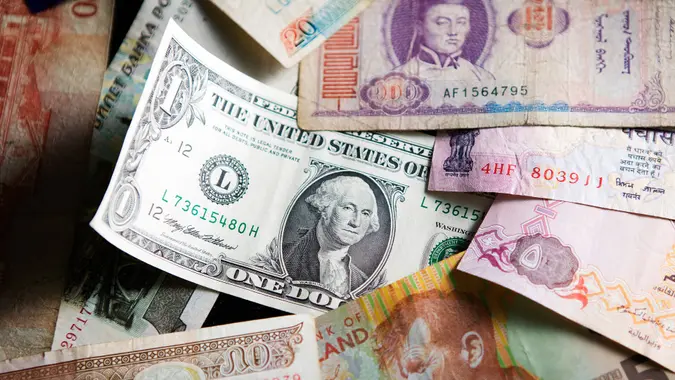 st_lux / Getty Images/iStockphoto
Foreign exchange, or forex, trading is the process of trading one currency for another and, hopefully, making a profit by doing so. It's a complex combination of art and science and is suitable for experienced investors only. Forex is a fast-paced business that can turn on a dime — or pence, or peso.
If you decide to dabble in forex, it's important to choose the right broker.
Comparing Brokers
Forex is all about the trading, so consider how you will trade when choosing a broker. If you'll be trading in many different currency pairs, that may be your criteria for choosing a broker. Or you may look for the broker that gives you the greatest leverage. For most forex traders, it's all about the platform, and this is where the biggest differences between brokers can be seen. Test-driving a few platforms will give you the best idea of which broker offers the features you like.
Currency Pairs
When you trade forex, you are exchanging one country's currency for another's. These trades occur in pairs. For example, you might trade British pounds sterling for U.S. dollars, a trade which would be expressed as GBP/USD. Or you could trade Swiss francs for Hungarian Forints — a trade expressed as CHF/HUF. Each broker offers a fixed number of currency pairs, and some offer more than others. If you want the flexibility to trade a lot of different currencies, look for the broker that offers the most currency pairs.
Trading platforms
Each forex broker has their own trading platform. Many offer access to research, the ability to chart results to predict trends and test strategies. In the end, the best way to choose a platform is to test drive it. Most brokers offer trial access to their trading platform so you can try it out.
Leverage Maximums
Forex traders use margin, or leverage, so they can trade more value than the balance in their account. Leverage offered by forex brokers is often higher than for equity trades or futures trades. Remember that leverage increases the risk in forex, which is already inherently risky. So, the forex broker that offers the highest leverage maximum may not necessarily be the best broker for you.
Costs
There are two ways forex brokers earn money: commission and spread markup. Some brokers charge a commission on each trade, which is usually a flat dollar amount or a percentage of the trade. Others earn money by marking up the spread, which is the difference between the price they pay for the currency –the bid — and the price they sell it for — the ask. It can be difficult to compare pricing between brokers that mark up the spread — you may have to make a few trades in the demo platforms to figure it out.
Best Forex Brokers
The biggest differentiator between forex brokers is the trading platform, and that's more a function of personal taste than anything else. However, those brokers with the most bells and whistles are more likely to have the features you want. That said, here are the five best forex brokers for 2022.
TD Ameritrade
Customers of TD Ameritrade trade on their thinkorswim platform, which includes equity, futures and forex capabilities. The platform is available in web, desktop and mobile versions. In addition to 24/7 support, traders have access to the wisdom of other traders in chat rooms, on social media and in on-demand workshops and webinars.
TD Ameritrade offers over 70 currency pairs. TD Ameritrade does not charge commissions, rather, they make money on the spread. Maximum margin is 50:1 for major pairs — such as USD, EUR and JPY and 20:1 for minor pairs.
Interactive Brokers
Interactive Brokers offers a forex trading platform called FXTrader, with detailed trading information for each currency pair you're watching. Increasing prices are shown in green and decreasing prices in orange, for a visual representation of the forex market in real time. 20 different order types, including limit if touched, trailing stop limits, one cancels all and more.
Interactive Brokers offers over 100 currency pairs. A commission is charged on each trade, from 0.08 to 0.20 basis points times trade size. Margin requirements are determined for each currency and range from 1:1 to 50:1.
Ally Invest
Ally Invest offers three platforms for trading forex. The advanced desktop platform offers a customizable interface, charting functionality with over 80 technical indicators and order management features. The web trading platform is accessible from anywhere, with real-time quotes and instant position, margin and account balances. The mobile app has easy trade entry with advanced order types, charting tools and real-time news.
Ally Invest offers over 80 currency pairs. Commissions are not charged on trades, rather, Ally is compensated via the spread. Margin requirements vary by currency pair and range from 1:1 to 50:1.
Oanda
Oanda is a pure-play forex trading platform — forex is all they do. The OANDA trading platform offers desktop, web-based and mobile options. The web platform features robust technical analysis tools and analytics. The desktop platform is fully customizable with one-click trading. The mobile app is also customizable and includes charting features and real-time news and analysis. You can add the MetaTrader4 platform to automate your strategies and get expert advice.
Oanda offers over 70 currency pairs. Margin rates vary by pair and range from 4:1 to 50:1.
Oanda offers new customers a welcome bonus of $500 when you open an account and deposit at least $500, or up to $5,000 when you deposit at least $50,000. You must meet the minimum trade volume requirements of $50,000 for deposits of up to $50,000 and $15,000,000 for deposits of $50,000 or more.
Oanda's Advanced Trader program offers cash rebates or commission markdowns with a minimum deposit and trading requirements. For example, if you have a $10,000 balance or net deposits of $10,000 in a calendar year, and you trade over $10 million monthly, you can get a rebate or commission reduction of $5 per million traded. Advanced Traders also get premium account services, a dedicated relationship manager and other features.
Forex.com
Forex.com claims to be the number one U.S. broker for forex trading by client assets and has been serving forex traders in the U.S. since 2001. It is a forex-specific platform, although the company is owned by StoneX Group, Inc.
Forex.com offers a web trading platform with integrated tools, market analysis, advanced charting features and seamless account management. The mobile trading platform lets you trade anywhere and supports multiple order types and real-time alerts. Forex.com also offers MT4 apps.
Forex.com offers over 80 currency pairs. Customers can choose from 3 different account types. The standard account uses spread pricing, and there is a MetaTrader option. The commission account, as its name implies, offers commission-based trades. The STP Pro account is recommended for high-volume traders. There is no MetaTrader option on commission or STP Pro accounts.
The Forex.com Active Trader program provides cash rebates of up to 15%, up to $10 per million traded. You can also get up to 1% interest on your average daily available margin balance. Active traders also get support from a dedicated market strategist, no wire transfer fees and more.
Takeaway
Forex trading is risky, complex and exciting. If you feel you're ready to take the leap, take a test drive of some of these platforms to find the best one for you, and then buckle up and enjoy the ride!
Joel Anderson contributed to the reporting for this article.
Information is accurate as of June 19, 2022.