7 Best Crypto ETFs To Buy in 2022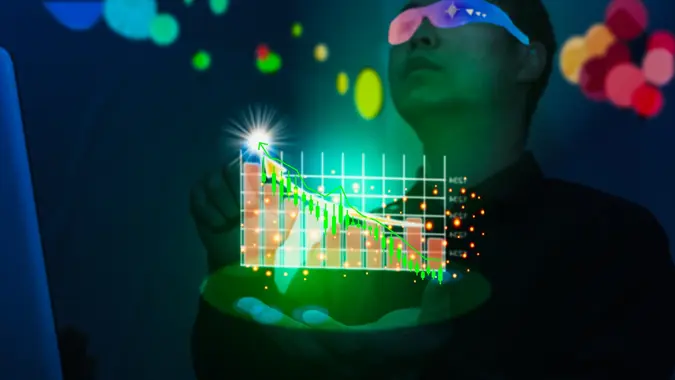 VacharapongW / iStock.com
In spite of the ongoing crypto winter, which is driving down the price of bitcoin and alt-coins in the cryptocurrency marketplace, cryptocurrency ETFs can provide a more stable way to invest in cryptocurrency with somewhat less risk. As with any investment, there is an element of chance involved — this is especially true in the volatile crypto market.
However, by spreading funds across a variety of similar investments in the industry, crypto ETFs reduce the risk involved. In addition, it may be easier to invest in an ETF, which are available on most investing platforms and apps, than to buy crypto coins, which requires technology like a storage wallet to protect your investment.
Top Cryptocurrency ETFs
| Cryptocurrency ETF | Price | Expense Ratio | YTD Total Daily Return |
| --- | --- | --- | --- |
| ProShares Bitcoin Strategy ETF (BITO) | $10.55 | 0.95% | -64.30% |
| VanEck Digital Transformation ETF (DAPP) | $2.77 | 0.50% | -85.03% |
| Amplify Transformational Data Sharing (BLOK) | $15.29 | 0.71% | -61.36% |
| Siren Nasdaq NexGen Economy ETF (BLCN) | $21.15 | 0.68% | -49.32% |
| Bitwise Crypto Industry Innovators ETF (BITQ) | $3.50 | 0.85% | -83.35% |
| Valkyrie Bitcoin Strategy ETF (BTF) | $6.64 | 0.95% | -63.58% |
| Fidelity Crypto Industry and Digital Payments ETF (FDIG) | $10.48 | 0.39% | N/A |
Prices are accurate as of market closing on Dec. 20, 2022.
What Is a Cryptocurrency ETF?
A cryptocurrency ETF, or exchange-traded fund, is a basket of stocks or investments related to the cryptocurrency industry. A cryptocurrency ETF may also track the price of specific crypto coins or may track prices of crypto futures, such as the ProShares Bitcoin Strategy ETF.
These are some of the top crypto ETFs investors are talking about in 2022.
ProShares Bitcoin ETF (BITO)
ProShares Bitcoin ETF was the first U.S.-based crypto ETF tracking the price of Bitcoin futures. According to ProShares, the fund has "performed as designed, providing returns closely aligned with spot bitcoin."
In light of the crypto winter, the ETF had returned -36.5% in mid-year 2022, compared to -33.5% for Bitcoin. Although its return is now down below -60%, as bitcoin bounces back, so should this ETF.
VanEck Digital Transformation ETF (DAPP)
Rather than tracking the price of a specific cryptocurrency, the VanEck Digital Transformation ETF tracks 24 stocks related to crypto and blockchain technology, including the popular cryptocurrency exchange, Coinbase Global Inc. Thirty-one percent of the ETF's holdings are non-U.S. companies, giving this ETF greater diversification than some on this list.
VanEck is a global investment management firm with a solid track record and a diversified portfolio that includes ETFs in industries ranging from biotech to gaming.
Amplify Transformational Data Sharing ETF (BLOK)
If you're looking for a well-diversified crypto ETF with a relatively long history, consider the Amplify Transformational Data Sharing ETF. In addition to blockchain-related stocks like Hut 8 Mining and Coinbase Global, the fund includes traditionally high-growth technology stocks like Nvidia, which experts say could be near its bottom price.
If you want to invest in crypto but aren't fully secure in your decision, the Amplify Transformational Data Sharing ETF enables you to put your faith — and money — into some crypto-related stocks but also into heavy hitters like Visa, PayPal holdings and Overstock.com.
Siren Nasdaq NexGen Economy ETF
Similar to Amplify, with diversified holdings that span e-commerce, Fintech and, of course, crypto-related companies, the Siren Nasdaq NexGen Economy ETF, managed by SRN Advisors, is also worth a look. Its top holdings include JP Morgan Chase & Co. and Mastercard, along with blockchain-related stocks like Block. Its largest assets are weighted toward fintech, which might be more stable in the long-term than cryptocurrencies.
Bitwise Crypto Industry Innovators ETF
Likely to be more volatile than Siren or Amplify due to its emphasis on blockchain pioneers and innovative tech companies, Bitwise is currently one of the largest crypto asset managers. According to the company website, Bitwise tracks "the pioneering companies that generate the majority of their revenue from their crypto business activities."
Be aware that the fund only holds 30 stocks, which can also contribute to its volatility. However, with a price under $4, its low entry point could make it enticing for beginning investors.
Valkyrie Bitcoin Strategy ETF
If you are looking for exposure to bitcoin without hassling with crypto exchanges, the Valkyrie Bitcoin Strategy ETF, which tracks Bitcoin futures, could be what you need. It's not as diversified as some other ETFs on this list, but assets not held in Bitcoin futures are diversified in more stable investment vehicles like bonds, U.S. securities and money market funds.
Be aware that this fund has a relatively high expense ratio of 0.95%, but it's still under 1%. For an ETF trading at less than $7 per share, with a 52-week high of more than $20, there is plenty of room for this fund to rise.
Fidelity Crypto Industry and Digital Payments ETF (FDIG)
A newcomer in 2022 to the crypto ETF market, the Fidelity Crypto Industry and Digital Payments ETF offers exposure to solid fintech companies like Block, as well as crypto-related companies like Coinbase and Marathon Digital Holdings. Sixty-three percent of the fund's stocks are related to tech, while 33% are focused on financial services.
With a low expense ratio of just 0.39%, this passively managed fund is a good way to diversify your portfolio with crypto-related stocks.
Why Invest in Crypto ETFs?
If you are interested in cryptocurrency but are looking for an investment that may carry less risk and is also easier to trade, a crypto ETF could be the answer. Of course, crypto ETFs could be part of a well-balanced financial portfolio that also includes bitcoin or alt-coins.
If you want to buy, sell or invest in crypto, you will need to invest in technology like a crypto wallet to store your crypto safely. You will also need to learn how to trade on a crypto exchange like Gemini or Coinbase. Finally, it may not always be easy to buy and sell crypto; it is not as liquid as stocks.
A crypto ETF offers the advantage of putting your trust — and money — into cryptocurrencies without the hassle of trading crypto. You can buy and sell crypto ETFs easily on most trading apps or through an investment firm.
What To Look For in a Crypto ETF

When you're evaluating an ETF, you want to consider the:

Companies that make up the fund or coin it tracks
Price per share
Expense ratio
Average expected return over a year
Fundamentals of the ETF

Finally, you'll need to find an ETF that trades on your preferred platform.
Final Note
Crypto ETFs offer investors an easy way to gain exposure to crypto investments without holding digital coins. As with cryptocurrencies — and any investment, for that matter — there is no guarantee of financial gain with these funds. Never invest more than you can afford to lose, and understand your risk tolerance as you build your portfolio.
Information is accurate as of Dec. 21, 2022, and is subject to change.
Our in-house research team and on-site financial experts work together to create content that's accurate, impartial, and up to date. We fact-check every single statistic, quote and fact using trusted primary resources to make sure the information we provide is correct. You can learn more about GOBankingRates' processes and standards in our editorial policy.