Crypto Opposition: Why Majority of Fund Selectors Apprehensive To Recommend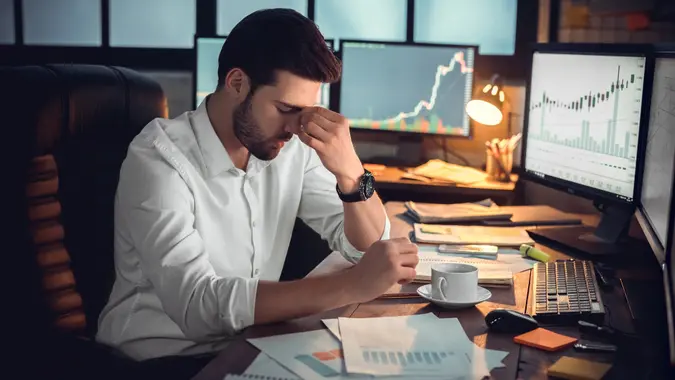 Victoria Gnatiuk / iStock.com
While cryptos have become more mainstream in the past year and saw a rapid increase in both adoption and interest, a majority of fund selectors — investment professionals responsible for fund selection and portfolio construction at leading US wealth management firms, private banks and wirehouses — say they won't recommend crypto investments, according to a new survey.
See: 10 Cheap Cryptocurrencies To Buy
Find: Bitcoin and Crypto Taxes in 2022: What You Need To Know
The new Natixis Investment Managers survey found that while 40% of fund selectors reported clients are increasingly demanding cryptocurrency solutions and 45% feel pressure to add cryptocurrencies specifically to appeal to younger investors, 68% of them don't think individual investors should have exposure to cryptos.
Dave Goodsell, Executive Director of the Natixis IM Center for Investor Insight, told GOBankingRates that "87% of the fund selectors we surveyed believe digital currencies need more transparency, and 84% believe they need more regulation."
"As fund selectors have a duty to recommend products that make good financial sense, we believe they may be more reluctant to recommend cryptocurrencies for both of these reasons: lack of transparency and a need for government regulation," Goodsell added.
Related: Samsung Galaxy S22 Includes New Digital Wallet To Store Crypto and More
The survey also noted that 70% say their firm needs more education in digital assets and cryptocurrencies before investing in them.
Cryptos are top of the list in terms of correction concerns, as well, with 62% predict a correction for cryptocurrencies, followed by bonds at 49%; stocks at 46% and tech at 43%.
Despite fund selectors' reluctance, the demand for Bitcoin has risen in 2021, according to the new Grayscale Bitcoin Investor study, which shows 55% of those polled started investing in the crypto over the past year, as GOBankingRates previously reported.
"The findings from this year's study affirmed a trend we've witnessed all year: growing mainstream adoption of Bitcoin and digital assets, more broadly, marked by heightened focus on this asset class and increased institutional interest and allocations," David Grider, Grayscale's Global Head of Research, told GOBankingRates in December. "26% of surveyed investors noted that they already own Bitcoin, really reinforcing that 2021 was a pivotal year for this ecosystem, at large."
Explore: 5 Biggest Mistakes To Avoid When Filing Taxes for Crypto
Discover: 10 Numbers You Need To Know About Crypto
In fact, the Grayscale Bitcoin Investor study found that the slice of Americans who own bitcoin has increased to 26% in 2021 from 23% in 2020. And most of these investors are "hodling," with 66% of those who purchased bitcoin more than 12 months ago still owning it today.
More From GOBankingRates