Kraken vs. Coinbase: Which Cryptocurrency Exchange Is Better?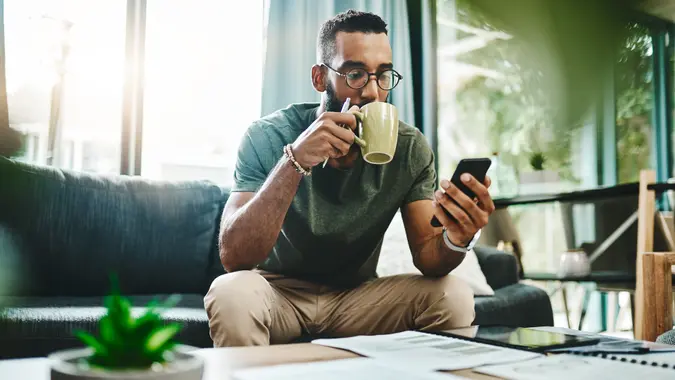 katleho Seisa / Getty Images
If you trade cryptocurrency, such as Bitcoin, you've likely already visited a cryptocurrency exchange — a digital marketplace where buyers and sellers meet to trade. Here, we'll compare two popular exchanges, Kraken vs. Coinbase.
What Is a Cryptocurrency Exchange?
A cryptocurrency exchange is a digital marketplace where customers can trade cryptocurrencies or digital currencies for cash or other assets. It functions in a similar way to how the U.S. stock exchange operates for those buying traditional securities.
Just as your trades on the U.S. stock exchange would be sent to your online portfolio, your trades on a cryptocurrency exchange can be sent to a digital cryptocurrency wallet, which is an online storage space. A cryptocurrency exchange can typically take credit cards, wire transfers and other types of payments as a means of purchasing cryptocurrency.
Cryptocurrency exchanges differ in terms of whether or not they allow you to withdraw your cryptocurrency. Some exchanges allow you to buy it but not to transfer it to a digital wallet.
Cryptocurrency Exchanges in the News
Recently, some cryptocurrency exchanges have made the news for their struggle to stay up-and-running during a sell-off of Bitcoin and other cryptocurrencies. For cryptocurrency investors, the outages made it hard to exit investments quickly — likely not an easy reality for many to stomach, given the potential for volatility that comes with cryptocurrency.
The IRS has begun to monitor cryptocurrency exchanges and has summoned customer records from Kraken for each U.S. taxpayer who traded more than $20,000 on the platform between 2016 and 2020. Coinbase and others are under similar scrutiny.
What Are the Factors in Rating a Cryptocurrency Exchange?
Traditional securities have been around long enough that fees and rules are pretty standard by now. Cryptocurrency, in comparison, is still new enough that your experience as a consumer may vary significantly from one exchange to the next.
We'll review two cryptocurrency exchanges here but, in general, you'll need to do your homework before investing in cryptocurrency. There are differences in allowed transaction types and the fees for each, depending on your chosen cryptocurrency exchange, as well as varying storage options or a lack thereof.
Kraken vs. Coinbase: Key Differences
We will delve into each of these exchanges in full later, but for now, let's explore the 10,000-foot view to find out what the main commonalities and differences are between these cryptocurrency exchanges.
Factor
Kraken
Coinbase
Platforms
One global platform but operates with some restrictions
Two platforms: the original Coinbase and Coinbase Pro
Availability
Across the U.S., except in New York and Washington
Across the U.S., except in Hawaii
Minimum Balance Requirements
There's a minimum balance requirement per deposit and a setup fee for some cryptocurrencies. If a deposit is below the minimum, your account will not receive the credit.
Transactions can be a minimum of $2. There is a deposit limit of $25,000 per day.
Trading Fees
Trading and transaction fees can range from 0.9% to 1.5% depending on the type of transaction.

0.5% online bank processing fee and credit card processing fee of 3.75% + €0.25 for trades purchased with credit.

Transaction fees are charged at a spread of around 0.5%, but they get locked in when the price is quoted, so actual spread could change due to market fluctuations before the order executes.
Safety
Kraken uses two-factor authentication to keep unauthorized users away from customer accounts. 95% of customer assets are offline, in what is called "cold storage" (a safe or otherwise secure offline location).
Less than 2% of customer funds are kept online, and the rest is stored in cold storage.

All digital currency on the platform is insured for some circumstances, like individual account breaches or theft by Coinbase employees.
What Is Kraken?
Founded in 2011, San Francisco-based Kraken is a longstanding player in the cryptocurrency space. Kraken has been a leader in Bitcoin trading since 2013. The company serves cryptocurrency investors in 48 U.S. states and 176 countries. Kraken is known for the role it played in trying to help investors recover money lost in the 2014 bankruptcy of Mt. Gox, which was formerly the largest global Bitcoin exchange.
Kraken's website is easy to navigate and well thought out, offering support for cryptocurrency investors of all experience levels. Kraken allows users to:
Buy and sell more than 50 types of cryptocurrency
Have an opportunity for margin trading, futures trading, and limit orders
Monitor their accounts on Kraken's mobile app
Receive 24/7 chat support
Fees are charged on a per-trade basis at Kraken, and are calculated with regards to volume. Kraken's focus on volume-based discounting is purposeful, meant to equalize the playing field and make cryptocurrency investing widely accessible.
On Kraken, stablecoins trade for a 0.9% fee and crypto or FX pairs trade for a 1.5% fee. Payment card processing fees are 3.75% + €0.25, and online bank processing costs 0.5%. For specifics on Kraken's approach to fees and frequency, visit the fees section on its website.
What Is Coinbase?
Founded in 2012, U.S.-based Coinbase offers cryptocurrency newcomers an easy way to wander in. Coinbase refers to itself as "the easiest place to buy and sell cryptocurrency" and allows users to:
Buy and sell more than 50 types of cryptocurrency; can also schedule your purchases if you'd like
Earn cryptocurrency
Store your own cryptocurrency in a digital vault with time-delayed withdrawals
Spend cryptocurrency on cards and earn rewards
Monitor your account on Coinbase's mobile app
Email support
Coinbase also offers users $5 in free Bitcoin when they register on the site.
It's the Dominant U.S. Cryptocurrency Exchange
Coinbase is the biggest cryptocurrency exchange in the U.S., with more than 56 million verified users in over 100 countries and about $223 billion in assets.
With Coinbase, Your Cryptocurrency Is Insured
Coinbase gathers funds from customer accounts and sets these aside as insurance protection. In the U.S., the money can be held in custodial bank accounts, money market funds, or U.S. Treasuries. For the funds held at banks, the institutions chosen are backed by the FDIC and thus are insured for up to $250,000 per individual.
Outside of the U.S., money gets held in dedicated custodial accounts.
There's a Pro Version
Advanced users can try Coinbase Pro. The pricing here is based on your monthly trading volume.
Here's a look at the fees Coinbase charges based on your trade amount:
| Trade Amount | Fee |
| --- | --- |
| $10 or less | $0.00 |
| More than $10 and up to $25 | $1.49 |
| More than $25 and up to $50 | $1.99 |
| More than $50 and up to $200 | $2.99 |
Depending on the source of your payment, Coinbase also charges different fees. Here are the charges for the different payment methods:
| Source of Payment | Fee |
| --- | --- |
| U.S. bank account or Coinbase wallet | 1.49% |
| Debit card | 3.99% |
| Instant card withdrawal | Up to 1.5%; minimum fee of $0.55 |
| ACH transfer | No fee |
| Wire transfer | $10; $25 outgoing |
Kraken vs. Coinbase: Which Is for You?
Both Kraken and Coinbase are large, well-established cryptocurrency exchanges. They operate in most U.S. states and offer access to more than 50 cryptocurrencies, including Bitcoin, Cardano (ADA), Bitcoin Cash (BCH), Chainlink (LINK), Ethereum (ETH) and Litecoin (LTC). Both exchanges have full support in place for cryptocurrency investors.
Good To Know

Cryptocurrency exchanges don't receive protection from the Federal Deposit Insurance Corporation or the Securities Investor Protection Corporation, like traditional cash and securities assets do. However, both Kraken and Coinbase have developed approaches to security.
Final Take
Although Kraken's low, flat trading fees make it more accessible, its fee structure can tempt investors to invest in cryptocurrency at a higher volume than they might otherwise — which can invite scrutiny from U.S. regulators and potentially increase an investor's exposure to the immense swings that are associated with cryptocurrency.
On the other hand, the digital vault with timed withdrawals and the asset insurance offered by Coinbase seems to offer investors a more comprehensive approach to security. Beyond that, Coinbase users can rest assured that they're trading on the largest cryptocurrency exchange in the U.S. It is also possible for investors to earn cryptocurrency via Coinbase.
Kraken is likely to be the better exchange for investors interested in lower fees and Coinbase is best for those who want to invest in cryptocurrency while also keeping risk at a minimum.
Our in-house research team and on-site financial experts work together to create content that's accurate, impartial, and up to date. We fact-check every single statistic, quote and fact using trusted primary resources to make sure the information we provide is correct. You can learn more about GOBankingRates' processes and standards in our editorial policy.