VeChain Price Prediction 2022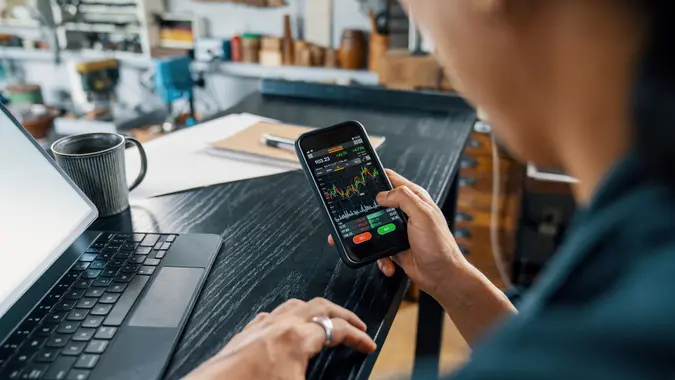 tdub303 / iStock.com
Many investors studying digital currencies feel hard-pressed to explain what sets these currencies apart or what their real-world use might be. New crypto appears, but besides speculating on that new asset in a volatile and risky market, what exactly can be done with it? The creator of the VeChain platform, Sunny Lu, has an answer.
But is VeChain a good investment? Read on for VeChain price predictions from crypto experts.
What Is VeChain?
Once the chief information officer for Louis Vuitton in China, Sunny Lu saw a need for businesses to more efficiently track their goods, control inventory, fight counterfeiting and communicate. In 2015, he introduced a new system using blockchain technology, which relies on a decentralized, peer-to-peer digital ledger.
Technically, VeChain is a "smart contract" platform, not a cryptocurrency. Two businesses, or many businesses, can use the platform to share data or keep records.
For transactions, the platform uses two digital tokens, known as vechain token (VET) and vethor (VTHO). Two parties on the blockchain can store value or buy, sell and trade using VET, and they pay "gas," or transaction, fees with VTHO. These tokens have a floating exchange rate with "fiat," or traditional, currency.
Who Uses VeChain?
Several major corporations have adopted the VeChain platform, including PriceWaterhouseCoopers, Renault and Walmart China. These companies use VeChain to streamline and improve their operations.
Since its creation, the platform's essential function has been supply chain management, in which companies track the movement of their resources and products. This is done using RFID tags or sensors attached to physical objects. RFID tags can transmit information about location, temperature, chain of custody and other data to a central database set up on the VeChain blockchain.
The goal is better handling and control of goods as they move worldwide. For example, the burgeoning new wine industry in China adopted VeChain. Plagued by counterfeit high-value wines, wholesalers and producers now use a VeChain platform to track and authenticate cases and individual bottles using RFID tags.
No matter the business, any shipping and logistics system generates a lot of data, much of which is scattered, incomplete and unreliable. The result is inefficiency: late-arriving, damaged, stolen or missing goods. This causes rising costs and lengthening delivery times. VeChain aims to solve that problem by streamlining and improving communication data within a fully independent blockchain system.
VeChain Price Prediction
Given its functionality and growing adoption, the VET token has a promising future in the crypto world. But the value of the token fluctuates rather dramatically. As of Nov. 10, 2022, VET was trading at $0.0218, down more than 90% from the token's all-time high of $0.2782 on April 17, 2021, according to CoinMarketCap. The supply of circulating tokens has reached 72.51 billion out of a total supply of 85.99 billion and a maximum supply of 86.71 billion.
As for the future price of VeChain's tokens, predictions are varied and many.
What Will VeChain Be Worth in 2025?
DigitalCoinPrice sees VET at a maximum of $0.0625 by December 2025, following a fairly steady climb beginning this October. TradingBeasts predicts a maximum price of $0.0671 at the end of 2025 — about a 200% leap from its current price.
Capital.com's projection is less bullish. It is a maximum price of $0.0472.
Will VeChain Reach $10?
It seems unlikely that VET will reach $10 — at least, not anytime soon. Even the most bullish predictions tend to settle the token's worth under $1 for at least the next eight years.
Capital.com, for example, sets a price prediction of $0.11 for 2030. This would represent an increase of about 400% on an investment made in November 2022.
VTHO Price Prediction
As for the VTHO token, which has a circulating supply of 45.6 billion, its price in early November stood at $0.0012. Like many other digital currencies, VTHO has seen a downtrend in value since late 2021.
An Optimistic Future
The market for VeChain tokens and other digital monies is susceptible to swings in investor sentiment, much like the market for stocks or bonds. By 2022, crypto and the traditional markets were linked; periods of investor confidence created a "risk-on" market that boosted the value of stocks and crypto while more pessimistic times depressed prices.
But the key to the future of any digital money is its usefulness. Those tokens and coins that can find a real-world application will naturally be more highly valued. At the same time, those with no use outside of speculation by financial risk-takers will, in all likelihood, continue to decline.
Given this primary trend, VeChain tokens and their practical use in business and logistics should find some support among investors and the cryptocurrency market. Just keep in mind that the cryptocurrency market is volatile. Never invest more than you can afford to lose.
Daria Uhlig contributed to the reporting for this article.
Information is accurate as of Nov. 10, 2022.
Our in-house research team and on-site financial experts work together to create content that's accurate, impartial, and up to date. We fact-check every single statistic, quote and fact using trusted primary resources to make sure the information we provide is correct. You can learn more about GOBankingRates' processes and standards in our editorial policy.