10 Best Commodity ETFs To Invest In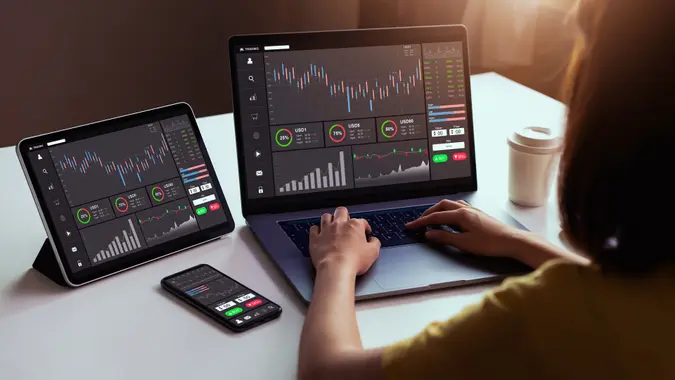 Sitthiphong / iStock.com
One of the main advantages of exchange-traded funds is that you can use them to gain exposure to a particular sector of the market. This is especially valuable if you're looking to invest in commodities, which are often quite volatile and may be hard to invest in as a retail investor.
Commodities are often seen as a hedge against inflation, which is why many investors have flocked to them in 2022. And while the nominal inflation rate has been tracking lower over the past few months, it still remains stubbornly high, over 7% as of December 2022.
10 Best Commodity ETFs
If you're still looking to own commodities into 2023, here are some of the best commodity ETFs that you can buy.
Invesco DB Commodity Index Tracking Fund (DBC)
The Invesco DB Commodity Index Tracking Fund is something of a one-stop shop when it comes to investing in commodities, as it tracks the futures contracts on 14 of the most heavily traded and important physical commodities in the world. Currently, this includes commodities ranging from wheat and copper to gold, silver, natural gas and soybeans.
iShares S&P GSCI Commodity-Indexed Trust (GSG)
This ETF is another broad-based commodity fund that offers investors instant diversification within the space. The fund attempts to replicate the performance of the S&P GSCI Total Return Index, which consists of metals, agriculture, livestock and other commodities.
Invesco DB Commodity Index Tracking Fund (DBC)
A third option when it comes to diversified commodity index funds is the Invesco DB Commodity Index Tracking Fund. The fund tracks changes in the DBIQ Optimum Yield Diversified Commodity Index Excess Return, which, like one of its competitors, tracks prices of 14 major commodities, from grains and gold to energy and livestock.
Invesco DB Agriculture Fund (DBA)
Those looking to invest in agriculture without having to pick a specific commodity within that sector can use an ETF like the Invesco DB Agriculture Fund. This ETF provides investors with exposure to a wide range of agricultural raw materials, from sugar and corn to cattle, soybeans, wheat and others. At the present time, no single commodity comprises more than 13% of the fund's overall portfolio.
SPDR Gold Shares (GLD)
Precious metals are one of the most popular commodities for individual investors. The SPDR Gold Shares ETF is a great way for retail investors to own gold because it can be difficult and cumbersome to buy and store individual gold bars or coins. The SPDR Gold Shares ETF is as straightforward as it sounds: Investors who buy shares own a fraction of the fund's underlying gold bullion assets.
United States 12 Month Oil Fund LP (USL)
Oil is one of the most popular commodities for investors, perhaps because it is one of the most accessible. Oil drives the price of gasoline, which is an essential part of most Americans' lives. The United States 12 Month Oil Fund LPis about as straightforward of an ETF as you can find. All that USL does is track the price movements of West Texas Intermediate light, sweet crude oil. 
Of course, not all oil-based ETFs are the same. This ETF uses the near-month futures contract, along with futures for the following 11 months, to base its prices on the daily movement of the average price of WTI for those 12 months, weighted equally.
Teucrium Corn Fund (CORN)
Agricultural products are another type of commodity that is popular for investors but that can be hard to acquire individually. For example, if you want to place a bet on the direction of the price of corn, it's much more realistic to buy the Teucrium Corn Fund than to physically buy bushels of corn. The Teucrium Corn Fund tracks the price of corn futures, which historically have a low correlation with the price of U.S. stocks and can be a good diversification tool.
abrdn Physical Palladium Shares ETF (PALL)
If you want to track the price of one of the most popular precious metals — palladium — the abrdn Physical Palladium Shares ETF may be a good option for you. As with gold or other precious metal ETFs, the abrdn Physical Palladium Shares fund provides investors with access to the physical commodity without having to worry about delivery, transfer or storage fees.
United States Copper Index Fund (CPER)
The United States Copper Index Fund tracks daily changes in the SummerHaven Copper Index Total Return. The ETF is a pure play on the price of one of the most useful and actively traded metals in the country.
United States Natural Gas Fund (UNG)
The United States Natural Gas Fund tracks natural gas prices, but it's a short-term instrument. The ETF derives its value from short-term gas futures contracts that expire in the current or following month. However, for many investors, this is a plus, as it is the only "real-time" natural gas fund trading in the U.S. It is also a pure play on gas prices, while investing in natural gas stocks incorporates additional variables. 
The Bottom Line
Commodities ETFs offer an easy way for investors to gain access to assets that may be hard to own or store for individual investors, such as gold bars, barrels of oil or bushels of corn. However, most of these funds are nondiversified and susceptible to bouts of extreme volatility, just like their underlying assets. You should always consult with a financial advisor to assess your risk tolerance and investment objectives before you load up on commodity ETFs.
FAQ
What is the best commodity ETF?

Just as there is no single best stock for everyone, there is no best commodity ETF. The correct answer for you personally is based on your investment objectives and risk tolerance. Some investors want direct exposure to a specific commodity, while others prefer a more diversified approach. 

Does Vanguard have a commodity ETF?

Although Vanguard offers a number of different commodities-related mutual funds, at the present time it doesn't offer any ETFs devoted exclusively to the asset class. 
Information is accurate as of Dec. 15, 2022.