Starter Home or Dream Home? How To Decide If You Should Buy Now or Save Longer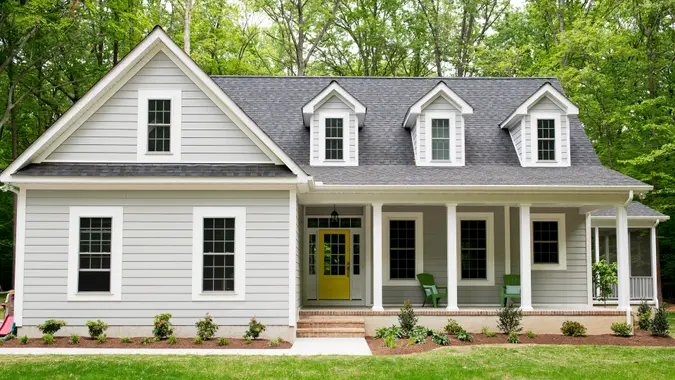 Robert Kirk / Getty Images
You're thinking about buying a home, but you're not completely sold on the idea. If you decide to go for it now, you'll have to purchase a starter home due to your current financial situation.
Find Out: Here Are 34 Tips To Make Household Items Last
Read: Common Real Estate Myths That You Need To Know
While you're not opposed to a more modest property, it's not the dream home you really want. This makes you wonder if it's best to keep renting and continue saving for your ideal home.
This is a tricky situation because there's no one-size-fits-all answer. For some people, it probably is best to buy a starter home now, but for others, waiting it out is likely the better choice.
See: Why Now Is an Ideal Time To Consider Buying a Home
Here's some advice from real estate professionals to help you understand the pros and cons of both choices.
Buying the Starter Home Now
There's a great deal of value in homeownership, so getting started with the right property now can set you up for future success.
"Buying a starter home now allows you to start building equity sooner than waiting for your dream home," said Orlando Miner, CCIM, CEO of Miner Capital Funding. "It also allows you to get into a home sooner, as a down payment is lower based on starter home prices."
He said using a two-step process also allows you to use equity to purchase your dream home. This can help you avoid having to come up with a hefty down payment on the higher-priced property that might take you much longer to save.
Once You Own: Craziest Things That Kill Your Home's Value
You might be hesitant to purchase a starter home because it likely won't check all your boxes. However, from a financial standpoint, it might offer more than you realize.
"In many cases, your first home won't be your dream home, but it can still help you get on your way," said Luke Smith, founder of We Buy Property In Kentucky. "When you buy something you can afford, you can get a favorable interest rate from lenders and avoid PMI costs."
Read: Cutting Out These 25 Expenses Will Save You $16,142.08 a Year
He also applauded the ability to build equity in your first home, as well as increasing your credit score through consistent on-time payments.
"This will help provide you more credibility in the future when you do look to purchase your dream home," Smith said.
See: In Less Than a Decade, You Won't Be Able To Afford a Home in These Cities
Saving Up for Your Dream Home
There's also a case to be made for continuing to rent while saving up for the home you really want.
"The number one determinant of whether someone should buy now or save up for their dream home is how long they can realistically expect to stay in the starter home," said James McGrath, co-founder of New York City real estate brokerage company Yoreevo. "There are a lot of transaction costs involved with buying and then selling a home, and if you don't give the home enough time to appreciate, there's a good chance you will lose money."
Find Out: 50 Cheapest Places To Buy Land in America
He recommends buying if you can plan to stay in the home for at least five years.
"That should give the home enough time to appreciate and at least offset your transaction costs," he said. "If that's not realistic, renting and saving up for that dream home is the better bet."
More: This Is the Living Wage You Need in All 50 States
Therefore, if you think you can save up enough money to afford your dream home in less than five years, you might consider waiting it out. This is, of course, assuming you would put the property on the market as soon as your ideal home was within reach.
It's also important to consider your personal plans during the next five years. For example, if you think your family could outgrow the house within a few years or you're considering relocating, it might be best to hit pause for now.
Read: 22 Side Gigs That Can Make You Richer Than a Full-Time Job
Essentially, there's no right or wrong answer when it comes to buying a starter home now or saving up for your dream home. The best choice is different for everyone, so weigh the pros and cons of your unique situation to make the best decision for you.
More From GOBankingRates
Last updated: Aug. 10, 2021