5 Things That Happened In The Market on Monday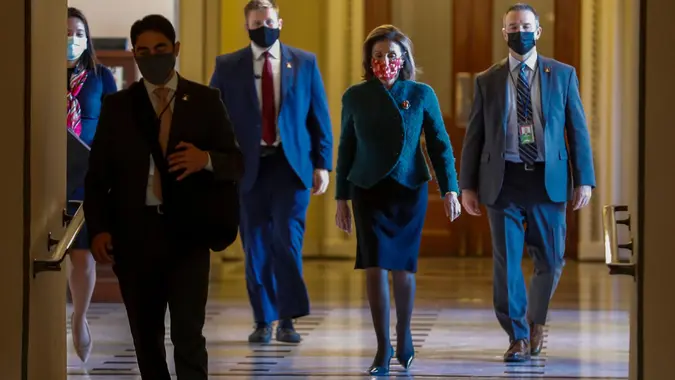 SHAWN THEW/EPA-EFE/Shutterstock / SHAWN THEW/EPA-EFE/Shutterstock
The stock market continues to look euphoric despite the rest of America being mired in the pandemic and economic slowdown. On Monday, the S&P 500 closed up 0.87%, the Dow Jones Industrial Average was up 0.68%, and the NASDAQ Composite was up 0.74%. What's going on?
The stimulus passed:

Although the market was closed for most of the time that President Trump threatened to veto the stimulus package, the fact that it finally passed was a relief.

Alibaba's antitrust issues continue: The Chinese government is investigating online retailer Alibaba and its payments subsidiary Ant Financial for antitrust violations. This may be good for US tech companies and thus helping to support share prices for the biggest stock market names.
A look-ahead to January 20:

The bubble might be about to burst. CNBC conducted a survey of more than 100 chief investment officers, portfolio managers, and CNBC contributors and found that two-thirds expect the market to underperform in a Biden administration.

 But the problem of where else to invest remains, given that the 30-year treasury rate is 1.67%.

Bitcoin holds up:

The current price of a bitcoin is $26,868.20, slightly down today. The cryptocurrency continues to hold mystique, if not widespread commercial acceptance.

Sunday was a record travel day: The US Transportation Security Agency reports that Sunday was its busiest day. It screened 1.3 million air passengers, the most since pandemic shutdowns began in March. This is good for airline stocks, but maybe not so good for the rest of us.
More From GOBankingRates