Cannabis Gets High, Tesla Set to Tumble in the Stock Market Wednesday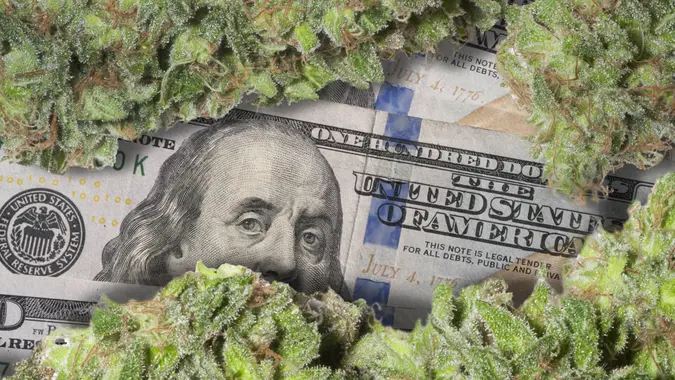 ©Shutterstock.com
With a Coronavirus stimulus deal expected "soon," as reported by Senate Majority Leader Mitch McConnell, the Dow, Nasdaq and S&P 500 futures all rose yesterday. The markets are expected to continue their climb today. The Dow closed 337 points up yesterday, a 1.1% increase. The S&P 500 and Nasdaq gained 1.3% and 1.25%, respectively.
Which stocks are at their buy points, and what should you watch as Wednesday progresses?
1. Apple climbs.
Upon news of its new Fitness+ app, Apple (NASDAQ: AAPL) started to climb yesterday and exceeded a new buy point, said Investor's Business Daily. It closed up 5%.
See: Apple Goes Toe to Toe with Peloton on the Stock Market — Is Now a Good Time to Invest in Fitness?
Explore: Apple's Net Worth: How Much Is Apple Worth Right Now?
2. AMD approaches buy point.
Investor's Business Daily featured chip manufacturer Advanced Micro Devices (NASDAQ: AMD) as one of the 50 stocks to watch this week as it approaches a buy point. With a 100% surge this year, AMD earned a 99 composite rating from IBD and a 99 earnings per share rating, with a five-year compound earnings growth rate of 151%.
3. Cannabis stocks are high.
Marijuana stocks are typically favored by the pros at The Motley Fool, and investors found news of a potential merger between two notable names "exciting," according to a Fool report yesterday. After hours Tuesday, Bloomberg announced that Canadian cannabis companies Tilray (NASDAQ: TLRY) and Aphria (NASDAQ: APHA) could merge as soon as this week, likely taking the Tilray name but keeping Aphria CEO Irwin Simon on board. Tilray closed 6.8% higher and Aphria rose nearly 3.1%.
See: What States Will Make from Marijuana Legalization
Explore: Marijuana Investing — How to Navigate the Opportunities and Pitfalls in This Budding Industry
4. Is Tesla stock "too high" again?
Tesla (NASDAQ: TSLA) stock dropped more than 1% yesterday, and analysts say the stock could "plummet" after it enters the S&P 500 Monday. Gordon Johnson, founder and CEO of GLJ Research, said that inclusion in the S&P 500, along with losing government-backed electric vehicle credits to competitors, could cause the stock to fall even more.
Buckle your seatbelts; it could be a wild ride next week, but at least it will give fans an
excuse to parade around in their Tesla short-shorts.
More From GOBankingRates