15 Best Long-Term Dividend Stocks To Buy in 2023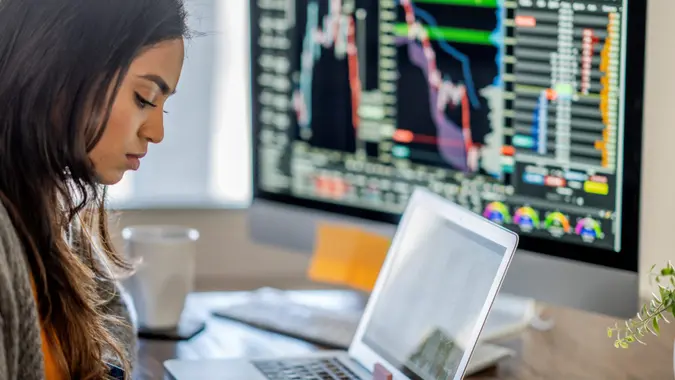 FatCamera / Getty Images/iStockphoto
Dividend stocks are generally tied to mature, stable companies with significant, predictable cash flows. This makes dividend stocks a good bet for the long term for more conservative investors, as they typically aren't as volatile as the general market and can deliver both income and capital gains for patient investors.
All stocks carry investment risk, and there is no single best stock to own for the long term. Before you make any investment choices, you should always speak with your financial advisor for added insight.
What Are the Best Long-Term Dividend Stocks?
Here are 15 long-term dividend stocks that consistently pay dividends and offer the potential for long-term capital appreciation as well. 
1. Sherwin-Williams (SHW)
Sherwin-Williams has been providing high-quality paints and coatings to the world since 1866. The company has increased its dividend for 44 consecutive years, making it a dividend aristocrat. The current yield on the stock is 1.07%. Analysts have a consensus "buy" on the stock.
2. Waste Management (WM)
Waste Management is the type of company that keeps its business running no matter what the economic circumstances. In addition to its traditional waste and disposal services, the company is also moving in the direction of recycling and recapturing and creating renewable resources, which should position it for future growth. The company currently pays a 1.66% dividend yield.
3. Iron Mountain (IRM)
Iron Mountain might be under the radar of many investors, but it provides invaluable services, storing, managing and protecting information and assets for companies around the world. The company pays a solid dividend of 4.44%, and analysts have a consensus "buy" on the stock.
4. Apple (AAPL)
Apple isn't the first name most people think of when looking for dividend stocks, but it does qualify by virtue of its small dividend. However, it's true that most investors buy Apple for its market-leading position in technology and its status as the most valuable company in the United States — and occasionally in the entire world, depending on how the markets are on any given day.
5. Microsoft (MSFT)
Microsoft has dominated the software world almost since its inception, and it's still one of the most successful companies in the world. It's also one of the prestigious 30 stocks in the Dow Jones Industrial Average — and it pays a small dividend to boot, at 0.88%. Analysts are bullish on the company both in the short term and in the long term, with a consensus "strong buy" rating and an average 12-month price target of $331.45, about 5.5% above current levels.
6. Colgate-Palmolive (CL)
Colgate-Palmolive is a traditional blue-chip stock, offering products that are found throughout American households and that are purchased even in tough economic times. Name brands ranging from Speed Stick, Ajax and Softsoap to its namesakes Colgate and Palmolive keep the cash flowing in to support the company's 2.37% dividend. The company has paid a dividend every year since 1895, increasing it annually for the past 60 consecutive years.
7. Home Depot (HD)
Home Depot yields 2.90% and is the world's largest home improvement retailer. Although the home improvement industry can be cyclical, over the long run, demand for housing, construction and home improvement remains high, benefiting an industry leader — and Dow Jones Industrial Average member — like Home Depot. 
8. Blackstone (BX)
If analysts are correct, 2023 could be a home-run year for alternative asset manager Blackstone. While more aggressive than some of the traditional blue-chip stocks on this list — the stock is down over 22% year over year — Blackstone also offers a higher potential return. On top of the stock's impressive 4.69% yield, analysts are bullish on the company's capital appreciation potential as well. The average 12-month price target on Blackstone is $99.34, almost 19% above current levels.
9. Merck (MRK)
Merck had a great year in 2022, gaining about 32% in the midst of a fierce bear market. While this may limit its near-term upside, it proves the stock's defensive characteristics. Over the long run, the pharmaceutical giant should continue to provide good returns to investors, along with nice dividends. The stock's current yield is 2.51%.
10. McDonald's (MCD)
Regardless of your opinion on its product, there's no doubt you've heard of McDonald's — and this name-brand recognition helps keep sales consistently high at this blue-chip member of the Dow Jones Industrial Average. The company's dividend currently sits at 2.05%. While not expecting big gains in the coming year, analysts are bullish on McDonald's overall, with a consensus "buy" rating on the stock.
11. Service Corporation International (SCI)
Service Corporation International is another company that isn't tossed about in the financial press as often as some other more well-known names, but its position as North America's leader in funeral, crematory and burial services is valuable. Analysts have a consensus "strong buy" on the stock, which currently pays a 1.65% dividend.
12. JPMorgan Chase & Co. (JPM)
JPMorgan Chase is the largest commercial bank in the United States. In addition to its retail and commercial banking divisions, the company also offers a wide range of hugely popular rewards credit cards. Its services will likely remain in high demand for the foreseeable future — and the stock pays a hefty 2.96% dividend to boot.
13. Realty Income (O)
If you're looking to diversify your holdings a bit, a solid real estate investment trust like Realty Income could fit the bill. The company funds its generous 4.94% dividend with cash flow from over 12,400 long-term leases with commercial clients. The company has declared 635 consecutive monthly dividends throughout its 54-year operating history, increasing that dividend 120 times since it went public in 1994.
14. Costco (COST)
Costco isn't a company you'd pick for its cash flow, as its dividend is a relatively meager 0.81%. However, that dividend is likely to increase over time, and it would be a mistake to bet against one of the most successful retailers in the world, with a rabid following of supporters who actually pay to shop there. Analysts are hot on the stock, expecting a pop of about 10.7% over the coming year.
15. NextEra Energy (NEE)
Utilities often appear in lists of best dividend stocks, but NextEra Energy has something going for it besides its 2.41% dividend yield. Rather than relying on outdated and possibly overworked infrastructure, NextEra has been investing heavily in renewable energy, which should position it well for the coming move toward wind, solar and other alternative energy sources.
Final Take
Dividend stocks come in many sizes and shapes. From traditional utilities, banks and defensive consumer staples stocks to companies poised for significant future growth, there's a wide range of income-generating stocks that might serve you well for the long term. Talk to your financial advisor to pick a portfolio in line with your investment objectives and risk tolerance. 
Daria Uhlig contributed to the reporting for this article.
Data is accurate as of May 17, 2023, and is subject to change. Information on analyst ratings was sourced from Yahoo Finance.
Our in-house research team and on-site financial experts work together to create content that's accurate, impartial, and up to date. We fact-check every single statistic, quote and fact using trusted primary resources to make sure the information we provide is correct. You can learn more about GOBankingRates' processes and standards in our editorial policy.