9 Stock Picks That Billionaires Love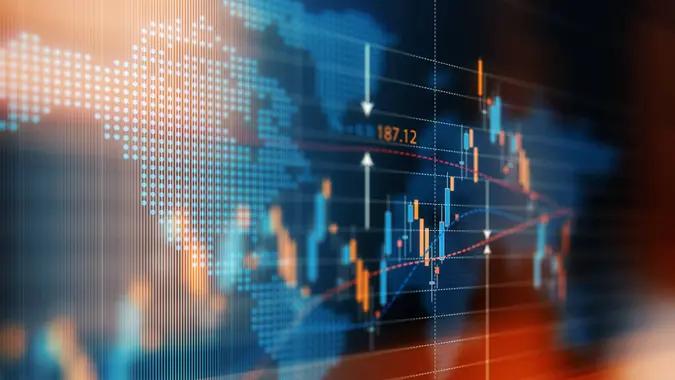 MicroStockHub / iStock.com
Having a billion dollars — or multiple billions of dollars — almost borders science fiction. There is a small percentage of humans on this earth that have accumulated such wealth. Becoming one of the richest people in the world is aspirational, but are there things you can do to mimic their success?
There is no one path to becoming wealthy, and there is probably no stock or investment that all billionaires would agree upon, or advise upon. Sometimes, it is better to watch what they do instead of listening to what they say.
Learn: 5 Things You Must Do When Your Savings Reach $50,000
What Are Billionaires Investing In?
It has been a hard couple of years for the economy, and this is reflected in the ups and downs of the stock market. Without risk, there is no reward, and that is the sentiment of highly successful billionaires. Sure, when they invest they have a cushion, and investing like them does not mean you'll become a billionaire, but it never hurts to take a step in that direction.
Here are nine of the current stocks the wealthiest people in the world are buying.
Alphabet (GOOG)
Amazon (AMZN)
Colgate-Palmolive (CL)
Constellation Energy (CEG)
Dollar General (DG)
Meta Platforms (META)
Microsoft (MSFT)
PayPal Holdings (PYPL)
Snowflake (SNOW)
1. Alphabet 
Intrinsic value: $136.15
Current market price: $98.85
Not only was Alphabet founded by such billionaires as Larry Page and Sergey Brin, but it is invested in by other members of the Bloomberg Billionaire Index, such as Chris Hohn. Hohn manages the hedge fund TCI Fund Management.
Alphabet, Inc. was created in the restructuring of Google in 2015. It is a multinational technology conglomerate based out of California. Subsidiaries of Alphabet include Google, Google Fiber, Waymo, Deepmind and more. This stock is a heavy hitter and boasted a revenue of $257.6 billion in revenue in 2021.
2. Amazon 
Intrinsic value: $101.79
Current market price: $97.12
You may have heard of this little online book retail business turned megastar e-commerce multinational technology company. Amazon is famously associated with billionaire — and current fourth richest person in the world — Jeff Bezos. However, Bezos isn't the only billionaire investing in Amazon. Recently other billionaires such as Jeff Yass of Susquehanna International, Ken Griffin of Citadel Advisors and Philip Laffont of Coatue Management all snatched up shares. 
Amazon reported revenue of $469.8 billion in 2021, and its domination doesn't seem to be petering off anytime soon. You are already a Prime member, might as well grab a share and hop on this moving train.
3. Colgate-Palmolive 
Intrinsic value: $31.24
Current market price: $76.01
Billionaire Dan Loeb's firm just bought nearly $1 billion worth of Colgate-Palmolive stock. Colgate-Palmolive is a multinational consumer goods company based out of New York. You can find many of their health and personal care products throughout your home.
4. Constellation Energy 
Intrinsic value: $127
Current market price: $91.68
David Tepper, hedge fund manager and billionaire, just bet on Constellation Energy by investing. Constellation Energy is the United State's number one producer of carbon-free energy. 
5. Dollar General
Intrinsic value: $123.08
Current market price: $256.19
If you are looking for an investor to emulate, than look no further than Warren Buffett. He invested in the discount store in 2011. Dollar General is a chain of variety stores based out of Tennessee.
6. Meta Platforms 
Intrinsic value: $172.86
Current market price: $113.23
Formerly known as Facebook, Inc., and TheFacebook, Inc., Meta Platforms is a multinational technology conglomerate based out of California. Billionaire Mark Zuckerberg founded the company and still owns around 400 shares of Meta.
7. Microsoft 
Intrinsic value: $109.19
Current market price: $241.73
The multinational technology corporation powerhouse that is Microsoft has made four men billionaires. This billionaire club includes founder Bill Gates, Paul Allen, Steve Ballmer and Charles Simonyi.
8. PayPal Holdings 
Intrinsic value: $67.05
Current market price: $87.04
PayPal Holdings, Inc. is an American multinational financial technology company. PayPal serves as a convenient replacement for paying someone with cash or checks. Billionaire Paul Singer of Elliot Investment Management has been busy buying shares in 2022.
9. Snowflake
Intrinsic value: $0.00
Current market price: $154.15
Snowflake Inc., is a cloud computing-based data cloud company out of Montana. Warren Buffett, the active billionaire investor, is also an investor — Buffett's Berkshire Hathaway bought 2.1 million shares.
Takeaway
The stock market can be difficult to navigate, especially in tougher economic times. There is comfort in making the same moves as those who have so grandly succeeded.
Investing as a billionaire does won't guarantee you follow in their footsteps, but it is not necessarily a misstep to follow the financial guidance of people who have made billions of dollars investing the same way. Keep in mind all reported intrinsic values and market prices are estimations and subject to change.
FAQ
What stocks do billionaires buy?

There is no one set standard for what stocks billionaires are investing in. They often disagree or go in opposite directions. What shares they buy will depend on the current stock market. However, recent trends show billionaire investors showing interest in the following stocks, in addition to those listed above:

–

Biohaven Pharmaceuticals

–

Eli Lilly

–

Freeport-McMoRan

–

Healthcare Realty Trust

–

Nexstar Media Group

–

Qorvo

–

S&P Global

–

Seagen

–

T-Mobile US

–

Taiwan Semiconductor Manufacturing

What assets do billionaires buy?

Good investments come in all shapes and sizes, but billionaires seem to all invest in common areas such as real estate, land, gold and art work.

Who is the richest investor ever?

The current richest man in the world is Elon Musk. His portfolio is varied. He is a known cryptocurrency advocate and invests in dogecoin. He even has a meme coin based on him called dogelon mars (ELON).
Other billionaires include Amazon's Jeff Bezos and Google's Larry Page who both have founded and currently invest in popular stock options.
Information is accurate as of Nov. 16, 2022, and is subject to change.
Our in-house research team and on-site financial experts work together to create content that's accurate, impartial, and up to date. We fact-check every single statistic, quote and fact using trusted primary resources to make sure the information we provide is correct. You can learn more about GOBankingRates' processes and standards in our editorial policy.