How To Buy Amazon Stock (AMZN)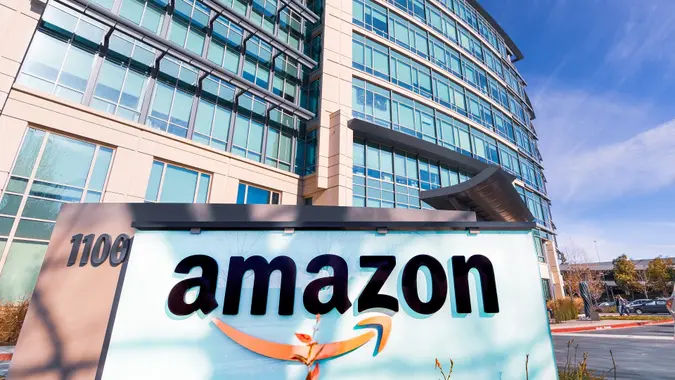 Sundry Photography / iStock.com
Hindsight is said to be always 20/20, so it's easy to say now that buying Amazon stock (AMZN) when it first became available would have been a good idea. In fact, a single share of Amazon, which sold at a split-adjusted price of $0.08 in May 1997, was worth, as of March 9, 2023, $95.42. That might not seem all that impressive until you consider that $1,000 invested in Amazon in 1997 would be worth about $1,192,750 today.
Read: 3 Things You Must Do When Your Savings Reach $50,000
It's pretty unlikely that Amazon will see the same rate of growth in the next 25 years, but that doesn't mean it won't still make money for investors. Here's what you need to know about how to buy stock in Amazon.
Do Your Research
The first thing to consider is whether Amazon stock is right for you. There are two factors at play here. One is whether the stock is one you want to own because you know the company, believe in its mission and believe it will continue to increase in value.
Most people know Amazon as the ubiquitous e-commerce retailer that can deliver just about anything to your door in two days, but Amazon has other products and services as well, and you can learn all about them on the website and in their SEC filings. Do a little homework to be sure you know what the company stands for and how they intend to continue to grow.
The other consideration is how Amazon fits into your portfolio. If you have a high percentage of your current investments in technology stocks, you may not want to increase that percentage by adding Amazon. Conversely, if your portfolio is weighted toward other sectors, you may want to increase your position in technology by adding Amazon.
Decide How Much To Invest
If you decide that Amazon would be a good stock for you to own, the next question is how much to buy. As with any investment, you only want to invest discretionary funds. Any investment, even Amazon, can lose value, so keep that in mind when you are deciding how much to invest.
If you have a current stock portfolio, you can add to it by purchasing Amazon shares, or you can sell another investment and purchase Amazon shares with the proceeds. Regardless of which route you take, make sure that your investment in Amazon doesn't result in a portfolio that is more heavily weighted toward tech than you are comfortable with.
Most trading platforms will allow you to buy fractional shares, which means that you can specify the dollar amount you want to invest, and it doesn't have to equal an exact number of shares. In fact, you can buy less than one share if you only have, say, $50 to invest. At current prices, that would buy you a little more than half a share.
Decide When To Invest
Most experts believe that timing the market is a fool's errand, so if you want to buy stock in Amazon at the current price, you may want to go ahead and make your purchase. If you are concerned that the price may fluctuate, you can invest by dollar-cost averaging.
Good To Know

Dollar-cost averaging is a technique by which you invest a percentage of the total amount each month for several months. This has the effect of averaging out your costs so you don't invest a big chunk of money only to have the share price fall the next day or week.
Here's an example. If you want to invest $10,000 in Amazon, rather than dumping all your cash in at once, you can invest $2,000 per month for five months. At the end of five months, you'll still have invested $10,000, but by averaging out your costs, you'll buy more shares when the price is lower and fewer shares when the price is higher, reducing your overall cost per share.
Make Your Purchase
Once you decide how much and when to invest, it's time to place your order. You can purchase Amazon stock through any online brokerage account or stock trading app. You will need to enter the ticker — AMZN — and the number of shares you want to buy or the amount of money you want to invest.
Finally, you'll need to indicate the type of order you are placing.
Market order: Which means you are buying at the price that is current at the time you place the order.
Limit order: This will place the order at a price that you set. If you think the current price is high and will drop, you can place a limit order for the price you are comfortable paying. If the stock does not reach the price you set, the order won't be fulfilled, and you won't own the stock.
Final Take
Once you have performed your due diligence and determined that buying stock in Amazon is a good thing for you, and you have made your purchase, be sure to keep an eye on the stock. You want to be sure it's performing as you expect, and that it is likely to continue to do so. At some point in the future, you may want to sell your position in Amazon or add to it, and you'll be well poised to do either of those things if you've been watching the company all along.
FAQ
Here are the answers to some of the most frequently asked questions about buying Amazon stock.
Can you buy Amazon stock?

It is possible to buy Amazon stock by going through an online brokerage account or a stock trading app.

 How much does it cost to buy one share of Amazon stock?

As of March 9, 2023, it costs $95.42 to purchase one share of Amazon stock.

 Can you invest $5.00 in Amazon stock?

Yes, since Amazon stock costs more than $5.00 per share, you will have to buy fractional shares. This can be done through most trading platforms.

What would $10,000 invested in Amazon be worth today?

This would depend on when exactly you invested in Amazon stock. For example, if you invested $10,000 in Amazon stock in May 1997 when a single share was $0.08, you would have $11,927,500 on March 9, 2023.
Data is accurate as of March 9, 2023, and is subject to change.